Content

Message from the President

As the lead story in this issue of NewsBrief reports, NAREIT's Investor Outreach group actively took the REIT story to investors in 2012. Additionally, as the industry's 2012 results make clear, our message should be even stronger in the year ahead.

REITs outperformed the S&P 500 for the year, delivering a nearly 20 percent total return compared to the S&P 500's 16 percent gain. Of course, the real value of REITs in a portfolio isn't measured in one-year performance numbers. It is built on delivering consistently solid returns over time. Equity REIT returns now have exceeded those of the S&P 500 for the past 1-, 3-, 5-, 10-, 15-, 20-, 25-, 30-, 35- and 40-year periods.

The REIT story also is one of an investment with a strong track record of delivering income – an attribute that is becoming increasingly important in our continuing low-interest rate environment, especially for those who are preparing for or are in their retirement years. Equity REITs yielded 3.5 percent at year-end, and mortgage REITs yielded 12.93 percent, compared to 2.2 percent for the S&P 500 and 1.75 percent for 10-year U.S. Treasuries.

Importantly, listed REITs' participation in the public capital markets enables them to provide investors the benefits of real estate investment with moderate leverage and complete liquidity. Access to the equity markets enabled listed equity REITs to reduce their debt ratio to less than 34 percent in last year's third quarter, near its historical low, and REITs' average daily trading volume in December was more than $4 billion.

REITs are an important component of a well-constructed portfolio for investors from all walks of life, as well as a critical conduit to channel investment capital to support the growth of the real estate market and the broader economy. That is a message we will be taking not just to investors, but also to policymakers, the media and all of our industry's audiences in 2013.








Steven A. Wechsler
President and CEO

 
U.S. REITs Outperformed the Broader Market in 2012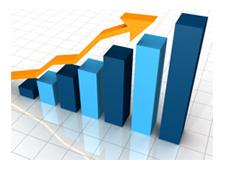 U.S. REITs outperformed the broader market in 2012, as the FTSE NAREIT All REIT Index closed the year up roughly 20 percent, compared to total returns of 16 percent for the S&P 500 in the same time period.

Timber REITs had the strongest 2012 of any REIT sector, finishing the year up 37 percent. They were followed by the infrastructure sector, which climbed nearly 30 percent.

Looking globally, the FTSE EPRA/NAREIT Global Real Estate Index climbed nearly 30 percent.

The Asia-Pacific region led the way in 2012 with total returns of 48 percent, while the Europe region was up more than 31 percent.

(Contact: John Barwick at jbarwick@nareit.com)
REIT Dividends and the "Fiscal Cliff" Legislation

On Jan. 2, President Barack Obama signed the American Taxpayer Relief Act of 2012 legislation to avoid the "fiscal cliff" of automatic spending cuts and tax increases that were set to occur absent legislation.

Among its measures, beginning in 2013, the legislation permanently extends the maximum tax rate applicable to "qualified dividends" and capital gains of 15 percent for individuals with annual income below $400,000 and couples with annual income below $450,000. For taxpayers with incomes in excess of those thresholds, the maximum tax rate will be 20 percent. Additionally, a 3.8 percent rate (enacted pursuant to the Patient Protection and Affordable Care Act, commonly known as Obamacare) on investment income (such as dividends and capital gains) will apply to individuals with adjusted gross income in excess of $200,000 and couples with adjusted gross income in excess of $250,000.

Except in certain defined cases, REIT dividends do not constitute qualified dividends, and, therefore, they continue to be taxed at ordinary income rates. Under the legislation, these rates revert to a maximum of 39.6 percent, plus the 3.8 percent surtax on investment income as a result of the Obamacare legislation, for a total maximum rate of 43.4 percent.

NAREIT has created a primer on REIT.com outlining the effect of the legislation on REIT dividends.

(Contact: Dara Bernstein at dbernstein@nareit.com)
REIT.com Videos: CEO Spotlights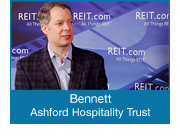 While Ashford Hospitality Trust (NYSE: AHT) has seen strong RevPAR growth among its transient customers, founder and CEO Monty Bennett said there is still plenty of room to make up in the group segment. "The industry suffered tremendously in this downturn. It's about halfway back to its prior peaks. Since the falloff was so deep, halfway back is not that great," Bennett said. "It's not bad, but it's not great. So, we've still got a lot of running room in this recovery."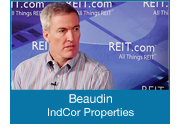 After growing the company's portfolio by 37 million feet in 2012, Tim Beaudin, president and CEO of IndCor Properties, said he expects that IndCor will to continue to acquire large portfolios in 2013. This is due in part to IndCor being part of The Blackstone Group. "The one thing you will see change is IndCor take the lead on doing some one-off acquisitions" in the range of $25 million to $75 million, he said.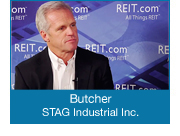 Having increased its portfolio 94 percent since its April 2011 IPO, STAG Industrial Inc. (NYSE: STAG) still has room to grow, according to Ben Butcher, chairman, president and CEO. "We have done quite a lot of acquisitions," he said. "We see persistent market inefficiencies in the kind of assets we buy so we've always seen good opportunities in the assets we focus on," said Butcher, adding that he expects that trend of continuous acquisition opportunities to hold up in the New Year.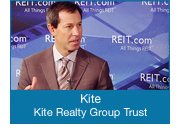 John Kite, president and CEO of Kite Realty Group Trust(NYSE: KRG), said development and redevelopment continue to be cornerstones of the company. The firm currently has roughly $200 million of in-process development split up between two new developments and three redevelopments. Kite said the company has created "momentum" in its leasing on the projects. "There's very little development going on in the country, so the fact that a company our size has about $200 million in process is a good thing for us," he said.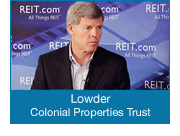 Colonial Properties Trust (NYSE: CLP) has been working to not only grow the size of its portfolio but the quality of its assets as well, according to Tom Lowder, chairman and CEO. Lowder explained that the company has been focused on moving its portfolio to primarily multifamily assets. "We think overall that 90 percent of our income will come from the multifamily business in 2013. So we've reached that primary goal," Lowder said. "We've also been recycling some of our older multifamily product and we anticipate that we'll have another four or five properties that will probably be sold by the end of this year or first of next year."

(Contact: Matt Bechard at mbechard@nareit.com)
Investor Outreach Team Concludes Busy 2012
During 2012, NAREIT's Investor Outreach team conducted 409 meetings with many of the largest and most influential investment organizations within the institutional investment marketplace.

Collectively, these entities represent more than $44 trillion in assets under management or advisement.

By comparison, NAREIT conducted 317 such meetings in 2011.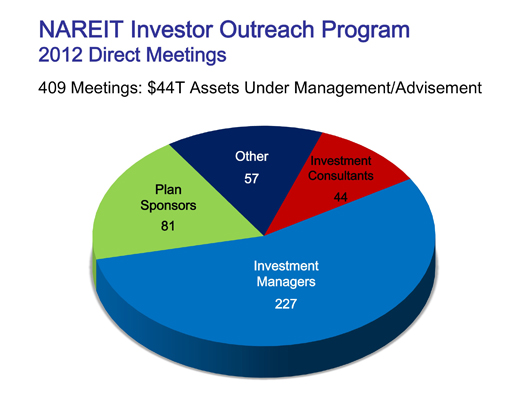 The 409 meetings were with organizations across all targeted investment cohorts, including: 81 with prominent domestic and international pension, retirement, and sovereign wealth fund plan sponsors representing more than $3.5 trillion in assets; 44 with investment consultants with assets under advisement of more than $16.6 trillion; and 227 with investment managers representing close to $23.4 trillion of assets under management and sponsoring global and domestic products for the institutional and retail investor market.

A focus during many of the meetings with investment managers and investment consultants was on research NAREIT sponsored with Wilshire Associates on the role of U.S. REITs and global listed real estate securities within target date funds. Target date funds are the most rapidly growing investment products in most 401(k) accounts and other tax-advantaged savings plans. During the year, the Wilshire research was shared with investment managers that in combination control more than 94 percent of target date fund assets.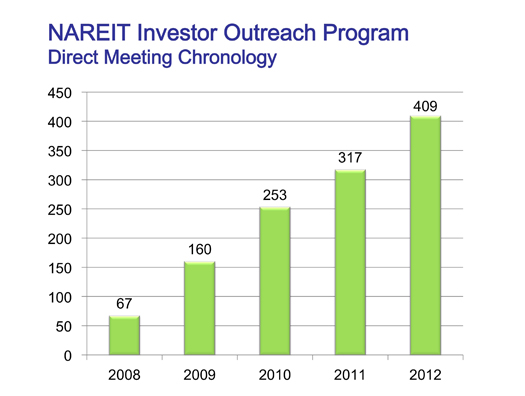 During outreach meetings with defined benefit pension plan sponsors and investment consultants NAREIT continues to make progress in communicating the benefits of REITs within real estate investment portfolios. Highlighting findings from internal and sponsored research on topics tailored to meet the needs of pension investors, NAREIT delivers a perspective on the role of REITs in managing risk within the real estate portfolio; how investors can optimally allocate investment capital across the real estate investment class in order to best meet portfolio goals; and on dimensions of diversification.

NAREIT was also active on the institutional investment conference circuit in 2012, participating in 37 events and speaking at 13. To provide perspective, in 2011, NAREIT participated in 30 events and spoke at 10.

(Contact: Kurt Walten at kwalten@nareit.com)
FASB Proposes New Model for Accounting for Credit Losses on Financial Assets, Including Lease Receivables

On Dec. 20, the Financial Accounting Standards Board (FASB) issued a proposal that would change the accounting treatment for credit losses on financial assets. All NAREIT member companies would be impacted by the proposal, as the model would apply to all financial assets, including debt instruments, loans and loan commitments, lease receivables and trade receivables.

Under the proposal, companies would be required to recognize allowances for credit losses based on the companies' current estimates of contractual cash flows not expected to be collected at each reporting period. Currently, companies are required to recognize allowances for credit losses based on whether it is probable that a loss event has occurred. The current model has been criticized since the financial crisis for allowing companies to record insufficient allowances for probable credit losses.

Previously, the FASB had been working with the International Accounting Standards Board (IASB) to develop a converged model for accounting for credit losses on financial assets. That model would require companies to establish an allowance for credit losses based on credit deterioration. The FASB received feedback about this model's complexity and how it could be consistently implemented in practice. Therefore, the FASB decided to develop a new model, while the IASB proceeded with its model, which will be issued for public comment during the first quarter of 2013.

If you would like to participate in a task force that will evaluate the proposal, develop a consensus view and consider issuing a NAREIT comment letter to the board, contact Christopher Drula, NAREIT's senior director for financial standards, by Jan. 18. Comments are due to the FASB by April 30.

(Contact: Chris Drula at cdrula@nareit.com)
NAREIT Updates Tax Treaty Chart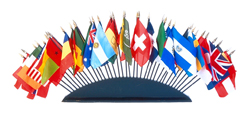 NAREIT has updated its tax treaty chart through Jan. 1, 2013, to accurately reflect U.S. withholding tax rates on ordinary REIT dividends to non-U.S. investors.

The chart includes withholding rates for individuals, non-individual entities, pension trusts and tax-exempt charities.

(Contact: Dara Bernstein at dbernstein@nareit.com)
Watch for and Return Economic Census Forms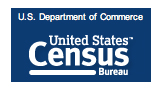 It goes without saying that accurate information is critical for business and investment decisions. What is sometimes less obvious is where one can find reliable information. Many of the economic indicators we use every day, including national statistics (like GDP and retail sales) as well as local statistics on the states, counties, cities and metro areas where we do business, come from the Economic Census conducted by the U.S. Census Bureau. Federal Reserve Board Chairman Ben Bernanke has called this census "indispensable to understanding America's economy."

The Census Bureau last month mailed forms for the 2012 Economic Census. If your business has received a form, please complete it carefully and return it on time

(Contact: Calvin Schnure at cschnure@nareit.com)
NAREIT Welcomes Three New Members
NAREIT welcomed three new Corporate Members to start 2013. KBS Real Estate Investment Trust III is a public, non-listed, externally managed equity REIT that invests in a diverse portfolio of properties, including office, industrial and retail properties throughout the US. KBS III also intends to invest in mortgages and other loans, debts and derivative securities. Based in Newport Beach, Calif., KBS III is externally managed by the same entity that serves as external manager for KBS Real Estate Investment Trust I and II, KBS Legacy Partners Apartment REIT and KBS Strategic Opportunity REIT, all of which are NAREIT members. KBS III's chairman and CEO is Charles Schreiber, and its president is Peter Bren.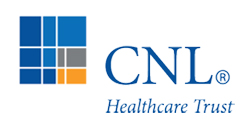 CNL Healthcare Properties is a public, non-listed, externally managed equity REIT that invests in the senior housing and health care sectors, and may also invest in the lodging and lifestyle sectors. Based in Orlando, Fla., CNL Healthcare is externally managed by an entity related to the external manager of CNL Lifestyle Properties, Global Income trust and Global Growth Trust, all of which are NAREIT members. CNL Healthcare Properties' CEO is Stephen Mauldin.



International Market Centers is a private, internally managed equity REIT that is the world's largest operator of premier showroom space for the furnishings, home decor and gift industries. Based in Las Vegas, International Market Centers' CEO is Robert Maricich.

(Contact: Bonnie Gottlieb at bgottlieb@nareit.com)
Register Today for REITWise
Join your legal, financial and accounting colleagues at REITWise 2013®: NAREIT's Law, Accounting & Finance Conference®, March 20-22, 2013. Approximately 1,000 professionals attend each year to hear industry leaders speak at the variety of sessions, roundtables, meetings and events offered over the course of three days.

Topics covered include the latest legal, financial and accounting insights concerning capital markets, financial standards, SEC policies, tax updates and more. By attending, you can earn valuable CPE or CLE credits to meet your mandatory educational requirements.

Adding value to the event are the many networking and social opportunities to connect with peers and colleagues in a collaborative setting.

Registration for REITWise 2013 is now open. Visit the REITWise Event Page to get all the details regarding the event as they become available.






(Contact: Afia Nyarko at anyarko@nareit.com)