Content

Message from the President

As detailed in the article below, REIT total returns finished the year up approximately 8 percent, outperforming the S&P 500 for the third-consecutive year. Our industry's performance also is reflected in the growth of REIT equity market capitalization, which increased 16 percent last year to $450 billion. In addition to growing in absolute dollar value, the U.S. REIT industry also is becoming more diverse, providing investors with greater choice. That fact was illustrated last week when American Tower Corporation (NYSE: AMT) officially became a REIT.

American Tower is a NAREIT Corporate Member and a real estate company that specializes in telecommunications infrastructure. It is a leading independent owner, operator and developer of broadcast and wireless communications sites. The company currently owns and operates 40,000 sites around the globe and, with an equity market capitalization of $23.4 billion, ranks today as the second-largest REIT in the U.S.

Accordingly, NAREIT welcomes the entry of American Tower to the FTSE NAREIT U.S. Real Estate Index today. It is a constituent of the FTSE NAREIT All REITs, Composite, Real Estate 50 and All Equity REITs Indexes, as well as of a newly created property sector index – the FTSE NAREIT Infrastructure REITs Index.

Infrastructure is a segment of the global economy that is on a trajectory for growth, and we welcome American Tower as the first member of this new property sector, which will continue to broaden the REIT industry's scope and appeal to investors. Its inclusion in the FTSE NAREIT U.S. Real Estate Index clearly helps to demonstrate the breadth and depth of the REIT-based real estate investment proposition today.









Steven A. Wechsler
President and CEO
 
U.S. REITs Outperform in 2011
The total returns of listed U.S. equity REITs were approximately four times those of the broader stock market in 2011. The total return of the FTSE NAREIT All Equity REITs Index was up 8.28 percent for the year and the FTSE NAREIT All REITs Index was up 7.28 percent, compared with a 2.11 percent gain for the S&P 500.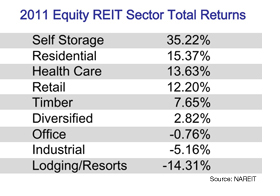 The more than 8 percent gain for equity REITs in 2011 came on top of a 27.95 percent gain in 2010 and a 27.99 percent increase in 2009 – years in which the S&P 500 gained 15.06 percent and 26.46 percent, respectively. Equity REITs also outperformed the S&P 500 for the past 1-, 3-, 10-, 15-, 20-, 25-, 30-, and 35-year periods, according to NAREIT data.

Much of REITs' performance has come from the stocks' dividend payouts. The FTSE NAREIT All Equity REITs Index's total return in 2011 included a share price return of 4.32 percent, and the FTSE NAREIT All REITs Index's total return included a share-price return of 2.37 percent. The dividend yield of the FTSE NAREIT All Equity REITs Index at Dec. 30, 2011, was 3.82 percent and the dividend yield of the FTSE NAREIT All REITs Index was 4.83 percent, compared to 2.22 percent for the S&P 500.

"The strong, continuing income stream from REITs is an important component of the appeal of REIT shares for investors," said NAREIT President and CEO Steven A. Wechsler. "REIT dividends boost an investment portfolio's performance in good times and help insulate it from downside shocks in turbulent market conditions," he said.

(Contact: John Barwick at jbarwick@nareit.com)
REITs Raise Record Amount of Capital in 2011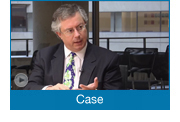 REITs raised a record amount of capital in the public markets in 2011, including a record amount of equity, positioning the industry to enter 2012 with the financial flexibility that comes from strong balance sheets.

REITs raised $51.3 billion in public equity and debt in 2011 – more than the $49 billion raised in the previous record year of 2006. Additionally, in spite of 2011's volatile stock market, $37.5 billion of the capital raised in the year was in public equity, compared with $22 billion in 2006 and $32.7 billion in 1997, the prior record year for REIT equity offerings.

REITs have used the equity they have raised to effectively manage their leverage. At Sept. 30, 2011, the listed U.S. REIT industry's ratio of debt divided by total market capitalization stood at 41.6 percent, approximately its historical average, in spite of the market downturns of August and September 2011.

"Continuing access to the capital markets and disciplined management have helped create a REIT industry with its financial house in order," NAREIT Senior Vice President of Research and Industry Information Brad Case said. "REITs are well prepared for both the challenges and opportunities that may arise in 2012. They are positioned to be strategic acquirers of properties from less well-capitalized private real estate owners, as they have been over the past two years."

(Contact: Brad Case at bcase@nareit.com)
Wm. Polk Carey, CEO and Founder of W.P. Carey & Company, Dies at 81

Wm. Polk Carey, founder and chairman of investment management company, W. P. Carey & Company LLC, died Jan. 2 at a West Palm Beach, Fla. hospital. He was 81.

The entrepreneur formed W. P. Carey & Co. in 1973, primarily to structure single-asset private investments. Under his leadership the firm became a global leader in the commercial real estate industry and provided capital to hundreds of companies.

"Bill saw early on the benefits of using the REIT structure to match the investment goals of individual investors seeking stable, inflation-protected dividend yields with the long term financing needs of corporate owners of real estate," according to Trevor Bond, CEO of W. P. Carey & Co. LLC (NYSE: WPC).

Carey was a pioneer in global corporate finance for more than 60 years. He played a large role in the development of the sale-leaseback investment strategy for commercial real estate. He was also a former member of NAREIT's Board of Governors.

A memorial service to honor and celebrate Carey's life will be held on Jan. 24 at 2:30 p.m. at Saint Thomas Church, 1 West 53rd Street, New York, New York. Contact W. P. Carey's office of the chairman at 212-492-1112 if you have any questions.

(Contact: Matt Bechard at mbechard@nareit.com)
REESA comments on IASB's Investment Entities Exposure Draft

On Jan. 5, the Real Estate Equity Securitization Alliance (REESA) submitted a letter to the International Accounting Standards Board (IASB) on its Investment Entities exposure draft. The exposure draft proposes criteria for an entity to qualify as an investment entity and guidance for making this assessment. The proposed guidance would require an investment entity to measure its investments in controlled entities at fair value through the income statement and to provide additional disclosures intended to enable users of its financial statements to evaluate the nature and financial effects of its investment activities.

In the letter, REESA outlined why corporate property groups including equity REITs do not meet the criteria to be an investment entity, and therefore should be outside the scope of the proposed standard. Some of the reasons put forth included:
Most corporate property groups that own, develop, actively manage and operate the underlying "bricks and mortar" property asset do not have an explicit commitment to invest for capital appreciation, investment income or an explicit exit strategy.


Users of financial statements of corporate property groups are interested in separate reporting of rental revenue and rental expenses related to the real estate properties as key performance measures, among others. The proposed standard's requirement to report investments at fair value on the balance sheet with changes in value through the income statement, rather than consolidating the results on both the balance sheet and income statement that would provide granular results on rental income and expense, would undermine the transparency of financial reporting that investors and users require.


Net asset value (NAV) and capital appreciation are important performance measures for corporate property groups compared to other sectors. This reflects the capital intensive nature of the business of owning and managing property rather than indicating that a business is an investment entity.
(Contact:
Christopher Drula
at cdrula@nareit.com)
REIT.com Videos: CEO Spotlights
REIT.com regularly interviews REIT executives to get their perspectives on their company and the market as a whole. Below is a summary of some of the latest CEO interviews posted online. Click on the person's name to play the video.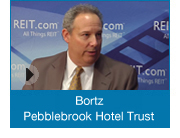 The financial market upheaval demonstrated that too much leverage can be dangerous for a REIT's balance sheet. It is a lesson that Pebblebrook Hotel Trust (NYSE: PEB) is taking to heart, as there is no way to know how or when the next crisis will happen, says Jon Bortz, the company's chairman and CEO. "We don't understand all the risks in the world," Bortz said. "The world is much more globally interconnected. What happened wasn't something we could have even imagined."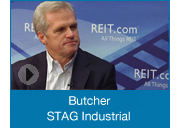 Following some tough times due to the global economic crisis, industrial REITs have returned to normal operations, said Ben Butcher, CEO of STAG Industrial (NYSE: STAG), as they are no longer feeling the impact of the poor economy. "The industrial sector is benefiting from a general economic recovery. We're seeing reasonably strong results in the field," Butcher said.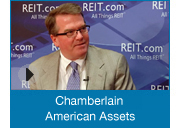 After going public in early 2011, American Assets (NYSE: AAT) is looking forward to a strong 2012, said President and CEO John Chamberlain. "It's been very exciting, we have been public for about a year now and accomplished most of what we set out to do in terms of having all of the policies and provisions in place to be a public company," he said. American Assets has focused its platform on the West Coast, including such markets as Portland, Ore., San Francisco, Southern California and Hawaii.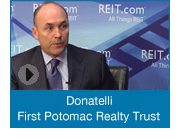 First Potomac Realty Trust (NYSE: FPO), which largely invests in the Washington, D.C., area, is ready for cutbacks in federal spending, said chairman and CEO Doug Donatelli. "From an investor standpoint, there's a tremendous amount of concern," he said. One bright spot for the area is the growth in the private sector. "We've seen a number of companies moving their headquarters into Washington," Donatelli said. "That has really given our market a lift overall."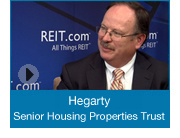 Health care REIT fundamentals are in excellent condition as we begin 2012, according to David Hegarty, president and chief operating officer of Senior Housing Properties Trust (NYSE: SNH). "With the recessionary period extending so long there's been no new financing for senior living. The inventory has grown modestly over the past year or two and that continues to be the outlook for the next year," Hegarty said.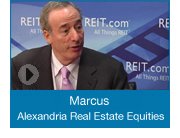 Demand for new build-to-suit spaces in the life-science real estate sector is strong in many markets, even though the government is making cutbacks, said Joel Marcus, president and CEO of Alexandria Real Estate Equities (NYSE: ARE). Houston, for example, is active, while Maryland has quieted down. "The Houston market is an interesting market, one that has a biofuel and energy component that we find very interesting," Marcus said.

(Contact: Matt Bechard at mbechard@nareit.com)
NAREIT Welcomes New Member

NAREIT welcomed former member British Land back as its newest Corporate Member. British Land (LSE: BLND) is a public, U.K. REIT that focuses on prime retail and office properties, mainly in the U.K., which attract high-quality tenants committed to long-term leases. Based in London, British Land's chief executive is Chris Grigg. REIT.com discussed the state of the U.K. property market with Grigg at last year's European Public Real Estate Association annual conference in London.

(Contact: Bonnie Gottlieb at bgottlieb@nareit.com)
Investor Outreach Team Concludes Busy 2011
During 2011, NAREIT's Investor Outreach team conducted 317 meetings with many of the largest and most influential investment organizations within the institutional investment marketplace. Collectively, these entities represent more than $30 trillion in assets under management or advisement. By comparison, NAREIT conducted 253 such meetings in 2010.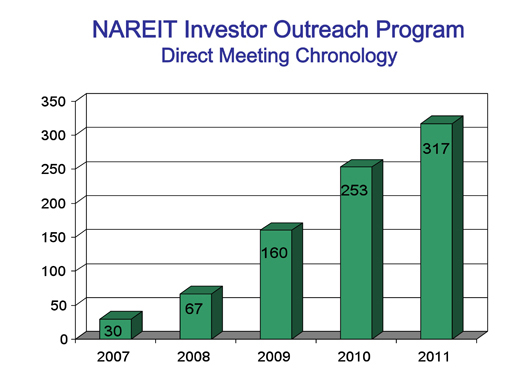 The 317 meetings were with organizations across all targeted investment cohorts, including: 98 with prominent domestic and international pension, retirement, and sovereign wealth fund plan sponsors representing more than $2 trillion in assets; 57 with investment consultants with assets under advisement of more than $9 trillion; and 146 with investment managers representing close to $18 trillion of assets under management and sponsoring global and domestic products for the institutional and retail investor market.

NAREIT was also active on the institutional investment conference circuit in 2011, participating in 30 events and speaking at 10.

(Contact: Kurt Walten at kwalten@nareit.com)
REIT.com Videos: Industry Insights
REIT.com spoke with a number of industry observers in late 2011 to get their take one where the market was headed in 2012. Below is a summary of some of those interviews. Click on the person's name to play the video.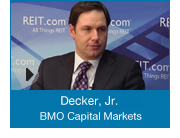 While 2011 was a strong year for REIT acquisitions, Mark Decker Jr., managing director with BMO Capital Markets, said he thinks there will be even more transactions in 2012, as a number of REITs have expanded their lines of credit – a sign they could be readying for additional purchases. "I think the market is moving the way of the public companies because of their incredible access to capital relative to most market participants," Decker said.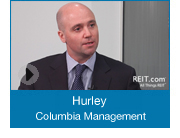 Investors have become more open to REITs' investment profiles since the financial crisis, said Arthur Hurley, vice president and senior portfolio manager with Columbia Management. Access to capital has been a primary draw. Hurley says REITs are likely to continue to perform well in 2012. "It really lines up, that the space, throughout the volatility can offer a continued, steady, improving income stream, and certainly gives the group the potential to outperform once again," he said.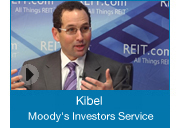 Commercial real estate fundamentals have started to show signs of recovery, although multifamily is the furthest along, said Philip Kibel, senior vice president with Moody's Investors Service. Still, REITs and others in the commercial real estate industry will have to wait out many unknowns. "There's clear uncertainty going forward until after the elections," Kibel said. Other areas of concern include interest rate policy and the prospect of inflation, which Kibel called "the gorilla in the room."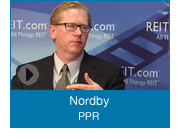 Apartment fundamentals are not likely to experience the same headwinds facing the office sector, said Hans Nordby, managing director with PPR, a CoStar company. Apartment REIT vacancy rates are at approximately 6.5 percent today, he said. "They've already seen the decrease in vacancy rates. This is when you get the honest to goodness rent growth. We expect a lot of the benefits to continue to accrue for class A apartments, which is where apartment REITs tend to play," he said.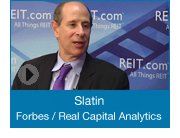 Diversification will drive growth for REITs, and that includes market diversification, said Peter Slatin, financial columnist with Forbes and associate publisher and editorial director for Real Capital Analytics. "We'll see continued expansion, but we'll also see increased variation as some companies experiment with financial structures, development ideas and locations," he said.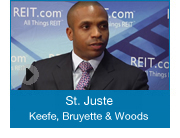 Many REITs snapped up assets in desirable markets last year, said Haendel St. Juste, equity research analyst with Keefe, Bruyette & Woods. In 2012, he predicts these companies will add value to these acquisitions, especially with good NOI growth over the next couple of years.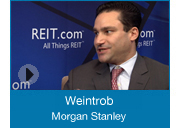 The large public-to-public REIT mergers that took place in 2011 are unlikely to become a trend, said Morgan Stanley Managing Director Seth Weintrob. The year 2012 is likely to be quieter as macroeconomic events play out. "It feels like that process, in terms of figuring out and solving some of the European debt crisis issues – and, frankly, our own fiscal issues – is going to take some time," he said.

(Contact: Matt Bechard at mbechard@nareit.com)
REITWise Schedule Now Available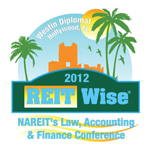 REITWise 2012®: NAREIT's Law, Accounting & Finance Conference® brings together REIT executives and leading service providers that support their legal, financial and accounting needs. Registration is now available online for this important event, which will be held March 21 to 23 in Hollywood, FL. Complete conference information, including a detailed schedule of events, is also available now on REIT.com.

More than 40 sessions, roundtables and events provide attendees with many opportunities to hear the latest legal, financial and accounting insights concerning capital markets, financial standards, global investment opportunities, SEC policies, tax updates and more. The educational program provides attendees the opportunity to earn up to 22 hours of CPE credits or 18 hours of CLE credits.

Visit the REITWise 2012 home page for complete event information and online registration.

(Contact: Katelyn Rowland at krowland@nareit.com)
REITs in the Community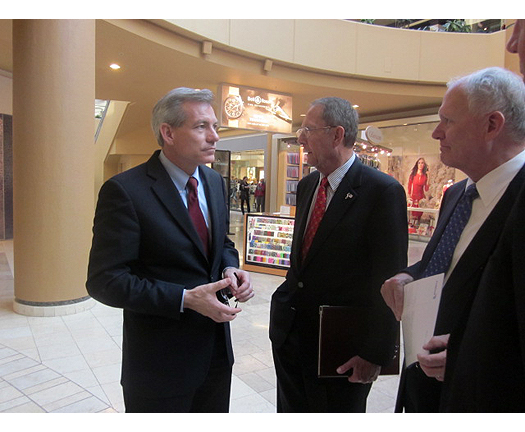 Dec. 22: Rep. David Schweikert (R-AZ), left, visited Macerich's (NYSE: MAC) Scottsdale Fashion Square Mall in Scottsdale, Ariz., and met with Dana Anderson, vice chairman for Macerich, center. Schweikert toured the center and met privately with Anderson and other Macerich representatives, including Fashion Square Mall manager Steve Helm, right, to discuss several legislative issues now before Congress, including passage of the Main Street Fairness Act and reform of the Foreign Investment in Real Property Act.

(Contact: Leah Cohen at lcohen@nareit.com)
NewsBrief Will Not Publish Next Week
NewsBrief will not be published Monday, Jan. 16 in observance of Martin Luther King Jr. Day. The next issue will be published Monday, Jan. 23.

(Contact: Matt Bechard at mbechard@nareit.com)