Content

Message from the President

This week, REITWeek 2014: NAREIT's Investor Forum takes place Tuesday through Thursday in New York.

REITWeek is NAREIT's primary annual investor conference and the REIT industry's leading investor event. It is the principal conference at which the REIT community from around the world gathers to present its story to the investment community.

This year's REITWeek promises to be a "milestone" event. A record 195 NAREIT corporate members are registered to attend. In addition to the U.S. REIT community, NAREIT corporate members from Australia, France, Mexico and Japan will be in attendance.

Meeting with our corporate members' senior management teams will be well over 1,000 institutional investors representing organizations ranging from mutual funds and investment advisors to sovereign wealth funds. All of them will be seeking -- and finding -- investment opportunities in our dynamic, growing industry.

The companies presenting at REITWeek have their individual stories to tell. The foundation of all their stories, however, is strikingly similar -- based on the REIT approach to real estate investment.

Eighteen REITs celebrating their 20th anniversaries on the New York Stock Exchange this year will be kicking-off REITWeek by ringing the closing bell today. At the end of 1994, the year they listed on the NYSE, the equity market capitalization of the FTSE NAREIT All REITs Index was $44 billion -- a far cry from today's equity market capitalization approaching $800 billion.

That growth speaks volumes about the appeal of the REIT investment proposition that is drawing investors to REITWeek 2014. I look forward to seeing you there.








Steven A. Wechsler
President and CEO
Robert Pflieger Joins NAREIT as Head of Communications

On Monday, June 2, Robert Pflieger joined NAREIT as executive vice president of communications, overseeing NAREIT's communications, publications and marketing activities.

Pflieger served since 1999 as senior vice president of communications for the National Association of Home Builders. In that role, he was responsible for a broad range of communications activities, including strategic communications, editorial content, public affairs, media relations, marketing, advertising, digital media and executive communications.

Prior to joining the National Association of Home Builders, Pflieger spent several years in a senior role at public relations firm Golin/Harris. And, earlier in his career, Pflieger spent several years in public affairs positions with the U.S. Department of Labor and Office of the U.S Trade Representative.

Pflieger earned a B.A. in English from Georgetown University, where he currently teaches a graduate-level course in Communications.

(Contact: Robert Pflieger at rpflieger@nareit.com)
NAREIT Welcomes Two New Members

NAREIT is pleased to welcome CareTrust REIT (NASDAQ: CTRE) and Four Springs Capital Trust as its newest Corporate Members. CareTrust REIT is an internally advised Equity REIT that is primarily engaged in the ownership, acquisition and leasing of independent living, skilled nursing and assisted living facilities across the U.S. CareTrust REIT was spun off from The Ensign Group, which will continue to provide health care services through its existing operations. Based in Mission Viejo, Calif., CareTrust REIT's president is Gregory Stapley.



Four Springs Capital Trust is a private, internally advised Equity REIT that focuses on acquiring and managing a diversified portfolio of single-tenant properties with double and triple-net leases across the U.S. Based in Lake Como, N.J., Four Springs Capital's chairman, president and CEO is William Dioguardi.

(Contact: Bonnie Gottlieb at bgottlieb@nareit.com)
REITWeek on REIT.com



If you are unable to join your peers in New York this week for REITWeek 2014, be sure to visit REIT.com for coverage from the event as well as access to webcasts of many of the individual company presentations.

(Contact: Matt Bechard at mbechard@nareit.com)
FASB and IASB Issue Final Converged Revenue Recognition Standard

The Financial Accounting Standards Board (FASB) and the International Accounting Standards Board (IASB) last week issued a joint converged standard on reporting Revenue from Contracts with Customers. The standard represents the culmination of more than 12 years of work by the boards, and it introduces a principle to report information to financial statement users about the nature, timing and uncertainty of revenue from contracts with customers.

The standard will replace the prescriptive and rules-based accounting for sales of real estate in existing U.S. Generally Accepted Accounting Principles (GAAP). NAREIT continues to evaluate the final standard and, at the current time, does not anticipate that the final standard will impact the timing and measurement of sales of real estate from current practice.

For public companies, the standard is effective for annual periods beginning after Dec. 15, 2016, including interim periods within that reporting period. Early application of the standard is prohibited. For non-public companies, the standard is effective for annual periods beginning after Dec. 15, 2017, and interim and annual reporting periods thereafter. Early application is permitted, but not earlier than the effective date for public companies.

(Contact: Christopher Drula at cdrula@nareit.com)
NAREIT Attends Pennsylvania Association of Public Employee Retirement Plans Spring Forum

Meredith Despins, NAREIT's vice president for investment affairs and investor education, attended the 10th annual Spring Forum sponsored by the Pennsylvania Association of Public Employee Retirement Plans (PAPERS) in Harrisburg, PA on May 28 and 29. This year's event was attended by nearly 200 people working in Pennsylvania's public pension plans. PAPERS's members include state, county and municipal pension systems that represent the interests of more than half a million public employees and retirees with combined total pension fund assets of more than $90 billion.

Delegates attending the event heard presentations from industry thought leaders on a number of topics intended to help the plans improve their financial and operational performance. Included among the topics was a panel discussion on "Current Trends in Real Estate." The panel featured a presentation on the merits of investment through REITs and global listed real estate securities, highlighting the expansion of the REIT model globally and REITs' strong relative historical performance as compared with private equity real estate funds.

The presentation, drawing on NAREIT internal and sponsored research, identified additional investment characteristics that REITs offer investors, including inflation protection, liquidity, diversification and income. A number of Pennsylvania's pension systems invest in real estate through REITs, including the two largest state plans, the Pennsylvania Public School Employees Retirement System and the Commonwealth of Pennsylvania State Employees Retirement System.

(Contact: Meredith Despins at mdespins@nareit.com)
NAREIT's Brad Case Co-Hosts CFA Society's Real Estate Dinner

Brad Case, NAREIT's senior vice president for research and industry information, co-hosted a Real Estate Dinner sponsored by the CFA Society of Washington, the leading association of investment professionals in the Washington, D.C. metropolitan area.

This occasional event gives real estate investment professionals from public and private markets an opportunity to discuss current market conditions, forecasts, and other information regarding investment performance and growth prospects.

(Contact: Brad Case at bcase@nareit.com)
REITs in the Community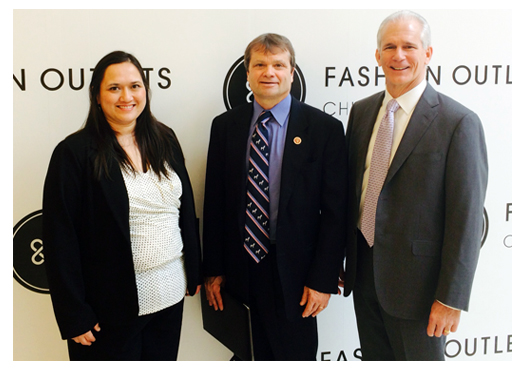 May 19, 2014: Rep. Mike Quigley (D-IL), center, visited Macerich's (NYSE: MAC) Fashion Outlets of Chicago. Macerich senior manager for property management Jim Hansen, right, and tourism director Jennifer Devermann, left, gave Quigley a tour of the mall and described for him its estimated economic impact, both as the result of Macerich's development of the property and its sales since its grand opening on Aug. 1, 2013. The group also discussed the REIT approach to real estate investment as well as the Marketplace Fairness Act, which Quigley supports.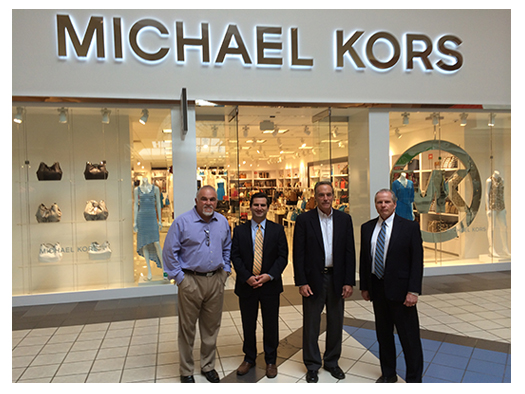 May 23, 2014: Rep. Chris Collins (R-NY), second from left, visited the Fashion Outlet of Niagara Falls in New York, which is owned and operated by Macerich. Collins is pictured with, from left to right: Vince Mistretta, operations manager of the Fashion Outlet; Michael Kracker, Collins' district director; and John Doran, senior property manager of the Fashion Outlet. During his visit, Collins received an update on Macerich's recent redevelopment activities at the facility and throughout New York and the rest of the United States. In addition, they discussed the critical need for Congress to pass the Marketplace Fairness Act this year.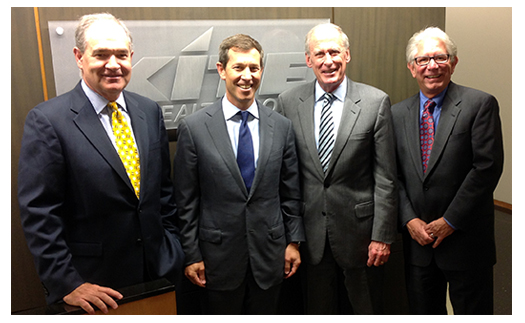 May 28, 2014: Sen. Dan Coats (R-IN), second from right, visited the offices of Kite Realty Group Trust (NYSE: KRG) in Indianapolis. Coats met with, from right to left: Stephen Sterret, senior executive vice president and CFO, Simon Property Group (NYSE: SPG); John Kite, chairman and CEO, Kite Realty Group Trust; and Denny Oklak, chairman and CEO, Duke Realty Corp. (NYSE: DRE). Coats, a member of the Senate Appropriations Committee and the Senate Commerce, Science and Transportation Committee, was briefed on the activities of each company in Indiana and throughout the U.S. The discussion also focused on the key legislative issues for NAREIT, including reauthorization of the terrorism risk insurance program, passage of the Marketplace Fairness Act, and the potential for tax reform this year and in the future.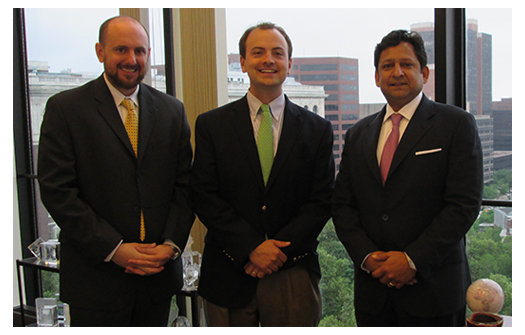 May 28, 2014: Hersha Hospitality Trust (NYSE: HT) CEO Jay H. Shah, right, and Hersha's investor relations manager, Pete Majeski, left, met with Mitch Vidovich, Pennsylvania chief of staff for Sen. Pat Toomey (R-PA) during a visit to Hersha's headquarters in Philadelphia. Vidovich was updated on several issues relevant to the real estate and lodging sector, including reauthorization of the terrorism risk insurance program, FIRPTA reform and tax reform.

(Contact: Robert Dibblee at rdibblee@nareit.com)