Content

Message from the President

REITWeek 2013: NAREIT's Investor Forum will bring together this week the top management teams of more than 170 REITs. These executives will be providing their companies' stories to more than 1,000 investors from around the world who represent funds, investment firms and institutions, and who are seeking investment opportunities in our dynamic, growing industry. In addition to discussing their own corporate strategies and prospects, our industry's leaders will be sharing their perspectives on broader issues affecting our marketplace, such as the outlook for capital raising in the equity and debt markets, the prospects for continued acquisition activity and opportunities specific to various property sectors.

While our annual REITWeek conference always has been, and still is, a very "hands-on" event at which investors can gain hard, actionable information they can apply to their decision-making, this year's forum will be immediately preceded on Tuesday by an event that will review some of the most important academic research being done on the REIT and commercial real estate industry. The Real Estate Research Conference, jointly presented by NAREIT and the American Real Estate and Urban Economics Association (AREUEA), will feature the presentation of papers written by academic researchers that will provide an in-depth look at the impact of the Great Financial Crisis on REIT and commercial real estate returns, as well as the risk factors in international real estate investment.

The research conference also will host a joint session featuring Ventas REIT Inc. (NYSE: VTR) Chairman and CEO Debra Cafaro; Green Street Advisors Chairman and Director of Research Mike Kirby; professor Joseph Pagliari, Jr., professor at the University of Chicago; Keith Pauley, managing director and CIO of LaSalle Investment Management; and Timothy Riddiough, professor at the University of Wisconsin, that will explore the real-world value that REITs contribute to the real estate economy.

This year's REITWeek and the accompanying Real Estate Research Conference will showcase all of the opportunity and value that our industry has to offer. I'm looking forward to taking part in it, and I hope to see you there.







Steven A. Wechsler
President and CEO
 
NAREIT Submits Comments on Camp's International Tax Reform Discussion Draft

As the House Committee on Ways and Means continues its study of comprehensive tax reform, NAREIT last week submitted comments on the discussion draft regarding international tax reform released earlier this year by Chairman Dave Camp (R-MI).

The proposal could have "presumably inadvertent, yet adverse, consequences to REITs," according to NAREIT. As a result, NAREIT suggested that the discussion draft be amended. NAREIT recommended that the committee exclude REITs from the discussion draft's "deemed incorporation" of foreign branches and the transition rule requiring immediate inclusion of phantom income. Additionally, NAREIT recommended that the committee retain the concept of allowing a shareholder to exclude previously taxed subpart F income and to increase basis by amounts of subpart F income included in the domestic shareholder's income, at least for REITs.

NAREIT also noted that a number of the discussion draft's adverse tax consequences result because of the treatment of a U.S. REIT's foreign rental income earned through subsidiaries as subpart F income. NAREIT consequently encouraged the modification of the definition of foreign personal holding company income so that employees of a related company can be considered as employees of the lessor company.

NAREIT previously submitted comments to Ways and Means on the scope of the entire tax reform project, the committee's proposals related to financial products, and the committee's proposals on small businesses and passthrough entities.

(Contact: Dara Bernstein at dbernstein@nareit.com)
Watch What You Missed at REITWeek



The Hilton Chicago will be buzzing with REIT activity later this week as REITWeek 2013 gets into full swing. With more than 110 companies delivering investor presentations and numerous other networking and meeting opportunities, it is impossible to be everywhere at once. Fortunately, a majority of the company presentations will be webcast, as will the opening general session. A list of available sessions can be found here.

(Contact: Katelyn Rowland at krowland@nareit.com)
Bill Introduced to Extend TRIA


Reps. Mike Capuano (D-MA) and Peter King (R-NY) on May 23 introduced legislation that would extend the Terrorism Risk Insurance Act (TRIA) for 10 years.

The current TRIA provisions are set to expire in 2014. The new bill, the Terrorism Risk Insurance Program Reauthorization Act of 2013, has 19 co-sponsors in the House of Representatives.

"Unfortunately, most of us have always realized that another terrorist attack could happen, destroying lives and disrupting daily activities. After the tragic bombings at the Boston Marathon, we are again witness to the devastation and the sorrow that such horrific acts cause," Capuano said.

"The threat of a terrorist attack is all too real. Supporting a long-term TRIA reauthorization provides needed market stability and ensures economic development in a dangerous world," King said.

(Contact: Robert Dibblee at rdibblee@nareit.com)
Investor Outreach Team Active in May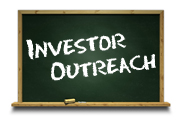 In May NAREIT's Investor Outreach team held direct meetings with a diverse group of 22 investment organizations controlling close to a combined $4 trillion in assets in the institutional investment market. The 22 meetings were held with organizations across all targeted investment cohorts, including: six with prominent domestic and international pension, retirement and sovereign wealth funds representing close to $114 billion in assets; two with investment consultants with assets under advisement of $1 trillion; and nine with investment managers sponsoring global and domestic products for the institutional and retail investor markets with a combined $2.9 trillion in assets under management. Another five meetings were held during the month with other organizations and associations active in investment management and the retirement industry.

It is notable that NAREIT's outreach meetings with investment managers provide significant opportunities to influence REIT allocations within the broad asset allocation products sold through multiple channels, including those sold through institutional defined contribution (DC) plan provider platforms as well as through firms whose products are distributed through financial advisor networks. Of the nine meetings NAREIT had with investment managers during May, eight were with managers active in both the $5.4 trillion DC and $5.4 trillion IRA markets, and the meetings and ongoing relationships with these leading firms provide NAREIT with the opportunity to influence two-thirds of the entire $16.6 trillion retirement market.

Through the end of May, NAREIT has conducted 160 meetings with many of the largest and most influential investment organizations within the institutional investment marketplace. Collectively, these entities represent close to $33 trillion in assets under management or advisement.‬‬‬‬‬‬‬‬‬‬‬‬‬‬‬

NAREIT has also been active on the institutional investment conference circuit during the first five months of the year, participating in 21 events and speaking at six. To provide perspective, during the same time period in 2012, NAREIT participated in 17 such conferences.

(Contact: Kurt Walten at kwalten@nareit.com)
NAREIT Joins Industry Groups in Supporting Pritzker Nomination for Commerce Secretary

NAREIT and a host of industry associations joined together last week to write to the leadership of the Senate Committee on Commerce, Science and Transportation in support of President Barack Obama's nomination of Penny Pritzker for Commerce Secretary.

In a letter to Committee Chairman John D. Rockefeller IV (D-WV) and Ranking Republican John Thune (R-SD), the groups cited Pritzker's work in the private sector and civic contributions. "With more than 25 years' experience in the hospitality, real estate, senior living and financial services sectors, Penny Pritzker will bring to the Commerce Department valuable experience and proven success as an international business leader," the groups said.

The Commerce Committee held a hearing on May 23 on Pritzker's nomination, which is expected to receive approval from the Senate.

(Contact: Robert Dibblee at rdibblee@nareit.com)
Take Part

NAREIT encourages its corporate members to participate in the 2013 Global Real Estate Sustainability Benchmark (GRESB) Survey and NAREIT's 2013 Leader in the Light award program, which are open for responses until July 1. If you have not already done so, you can register for the 2013 GRESB Survey and the 2013 Leader in the Light award program via GRESB's online portal at www.gresb.com.



Over the past two years, NAREIT has been involved in an advisory capacity with GRESB; a global consortium of institutional investors and real estate industry associations committed to rigorous and independent evaluation of the sustainability performance of listed and private company real estate portfolios. GRESB's annual benchmarking survey aims to evaluate sustainability performance of REITs, real estate companies and funds on a portfolio-wide basis; and to inform investors of the success and progress of the respondents' sustainability initiatives. Last June, NAREIT's Executive Board approved NAREIT migrating its Leader in the Light award program framework into the GRESB platform; beginning with last year's (2012) Leader in the Light competition.

An important element of NAREIT's 2012 migration into GRESB included integrating into the GRESB platform a set of supplemental "Leader in the Light" questions. While the 2012 Leader in the Light questions were submitted separate from the GRESB Survey, for 2013 they are embedded directly within the GRESB Survey. Scoring for the 2013 Leader in the Light awards will result from a combination of the score on the baseline GRESB survey (scored by the GRESB system, and which will carry a 70 percent weight); together with the score on the supplemental Leader in the Light questions (scored by a panel of judges, and which will carry a 30 percent weight).

(Contact: Sheldon Groner at sgroner@nareit.com)
Latest Issue of REIT Magazine Now Available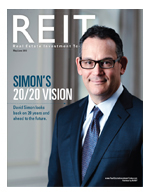 The May/June issue of Real Estate Investment Today magazine is now available in print and online. This issue's cover story is a one-on-one interview with David Simon, who discusses his company's 20 years in the public market and looks ahead to what's next.

Also in this issue, "Housing the Economy" looks at how REITs have evolved over time to support economic growth. "Capital Access" explores the ways publicly listed REITs are using their cost of capital advantage and looks at why the record pace of issuance shows no sign of letting up. "Strategic Positioning" details the portfolio repositioning undertaken by First Potomac Realty Trust (NYSE: FPO) and its plans for growth in the nation's capital.

(Contact: Matt Bechard at mbechard@nareit.com)
NAREIT Welcomes Two New Members

NAREIT welcomes Armada Hoffler Properties, Inc. and Owens Realty Mortgage, Inc. as its newest corporate members. Armada Hoffler Properties, Inc. (NYSE: AHH) is a publicly traded, self-advised equity REIT that builds, owns and manages office, retail and multifamily properties throughout the Mid-Atlantic states. Dan Hoffler is the chairman and Lou Haddad is president and CEO of the Virginia Beach-based company.

Owens Realty Mortgage, Inc. is an externally advised commercial mortgage REIT that invests in short-term first, second, third, wraparound, participating and construction mortgages and deed of trust loans, and loans on leasehold interest mortgages. Based in Walnut Creek, Calif., Owens Realty Mortgage will begin trading on the NYSE in June under the ticker "ORM." William Owens is the chairman and CEO.


(Contact: Bonnie Gottlieb at bgottlieb@nareit.com)
REITs in the Community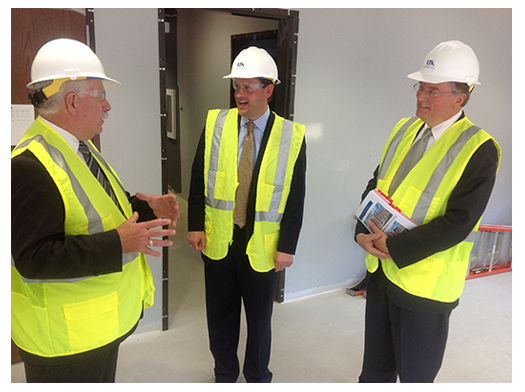 May 28, 2013: During a tour of the new Central Residence Hall being developed by EdR (NYSE: EDR) on the University of Kentucky campus, Rep. Andy Barr (R-KY), center, received a briefing from Ben Crutcher, the university's associate vice president of auxiliary services, left, and EdR's Mark Grambergs, vice president of real estate development, right. During his visit, Barr learned about the successful partnership between EdR and the University of Kentucky to develop this state-of-the-art student housing facility, which is scheduled to open in August.

(Contact: Kate Smith at ksmith@nareit.com)