Content

Message from the President

As the story below reports, REIT CEOs gathered in Washington last week for NAREIT's 16th annual Washington Leadership Forum (WLF). The WLF is one of the most important events in the NAREIT calendar because it brings the leaders of our industry together with their elected representatives in Congress.

In 44 face-to-face meetings with members of Congress, our industry's CEOs presented the REIT story, leaving behind a powerful message. They explained that REITs were created by Congress specifically to democratize real estate investment, making it available to Americans of all income levels and from all walks of life.

They communicated that REITs, with their consistent and often growing dividend income, their ability to diversify and strengthen investment portfolios, and their track record of more than competitive performance over decades, have an important role to play in creating wealth and enhancing retirement security for all Americans.

They also conveyed the message that today's REIT industry is made up of hundreds of companies, more than 160 of which are publicly traded on major stock exchanges. It is an industry that supports the growth of the national economy by effectively and efficiently channeling capital into the real estate sector, fueling its growth and contributing to the nation's tax base. It also helps support nearly one million jobs in the United States each year.

Additionally, they informed the policymakers that U.S. REITs have become a successful model for the world, and that more than 25 countries have adopted the U.S. approach to REITs.

Finally, they made the case for important legislative initiatives, including reform of the Foreign Investment in Real Property Tax Act to bring down barriers to cross-border equity investment in U.S. REITs; for reauthorization of the Terrorism Risk Insurance Act to ensure the continued availability of terrorism insurance coverage; and for the Marketplace Fairness Act to bring fairness to sales and use tax collection, putting brick-and-mortar and internet retailers on a level playing field.

NAREIT is grateful to all of the CEOs who gave of their time to participate in this critical component of our political outreach program.








Steven A. Wechsler
President and CEO

 
REIT Leaders on the Hill
The Washington Leadership Forum has long been a core component of NAREIT's political outreach program. The Leadership Forum provides an excellent opportunity for leaders of NAREIT's own community to meet with leaders and key policymakers in Congress, among whose ranks are a number of longtime supporters of the REIT approach to real estate investment. This year, NAREIT member executives met with a group of Congressional members that included Senate Majority Leader Harry Reid (D-NV), Senate Republican Leader Mitch McConnell (R-KY), Speaker of the House John Boehner (R-OH) and House Democratic Leader Nancy Pelosi (D-CA).

NAREIT members discussed key policies crucial to the REIT industry with legislators during the Forum, which was held on Feb. 26-27.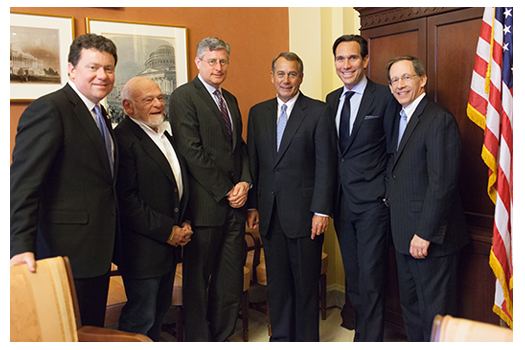 From left to right: Jay Leupp, managing director with Lazard Asset Management; Sam Zell, chairman of Equity Group Investments; Mark Howard-Johnson, managing director, BlackRock; House Speaker John Boehner (R-OH); Michael Glimcher, chairman and CEO of Glimcher Realty Trust (NYSE: GRT); Ron Havner, chairman, president and CEO of Public Storage (NYSE: PSA).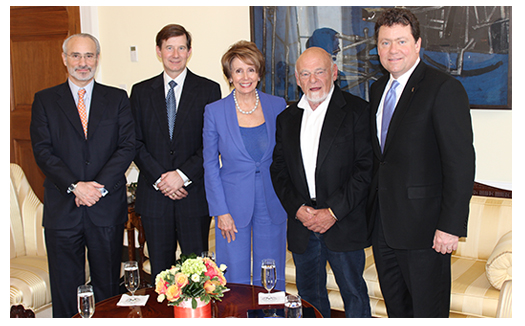 From left to right: Steve Wechsler, NAREIT president and CEO; NAREIT Chair W. Edward Walter, president and CEO of Host Hotels & Resorts (NYSE: HST); House Democratic Leader Nancy Pelosi (D-CA); Zell; Leupp.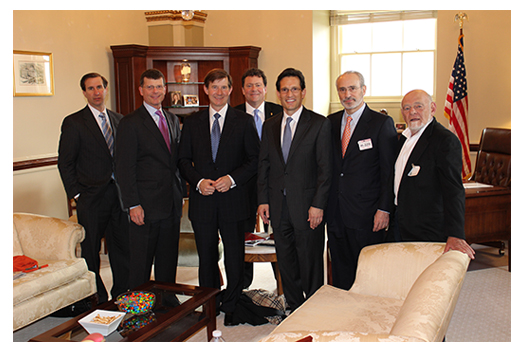 From left to right: Ed Fritsch, president and CEO of Highwoods Properties Inc. (NYSE: HIW); David Neithercut, president and CEO of Equity Residential (NYSE: EQR); Walter; Leupp; House Majority Leader Eric Cantor (R-VA); Wechsler; Zell.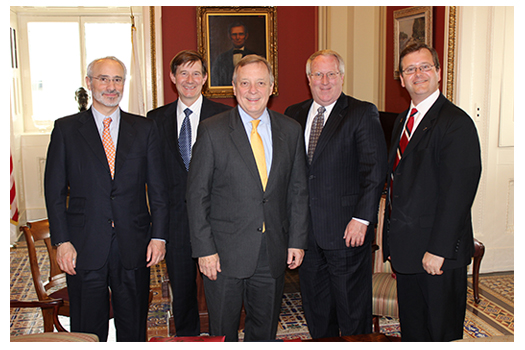 From left to right: Wechsler; Walter; Senate Majority Whip Dick Durbin (D-IL); Mark E. Zalatoris, president and CEO of Inland Real Estate Corp.; Dan Wagner, vice president of government relations with The Inland Group of Real Estate Companies Inc.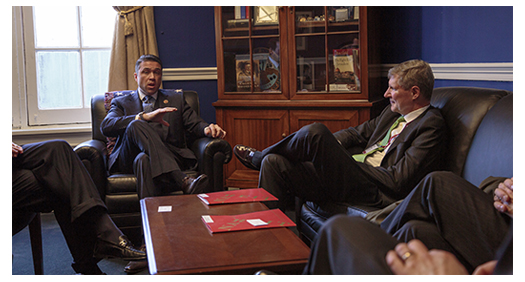 From left to right: Rep. Michael Grimm (R-NY) and David Henry, president and CEO of Kimco Realty Corp. (NYSE: KIM).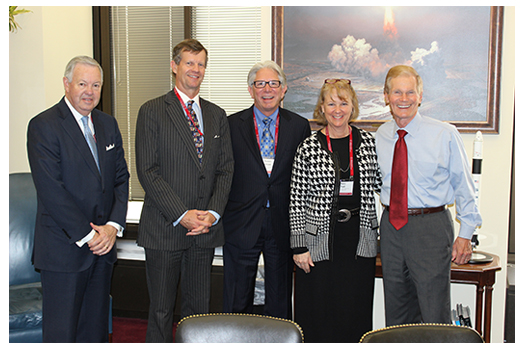 From left to right: Howard Nelson, managing partner with MN Capital Strategies LLC and representative of Colonial Properties Trust (NYSE: CLP); Craig MacNab, CEO of National Retail Properties (NYSE:NNN); Denny Oklak, chairman and CEO of Duke Realty Corp. (NYSE: DRE); Amy Tait, chairman and CEO of Broadstone Real Estate LLC; Sen. Bill Nelson (D-FL).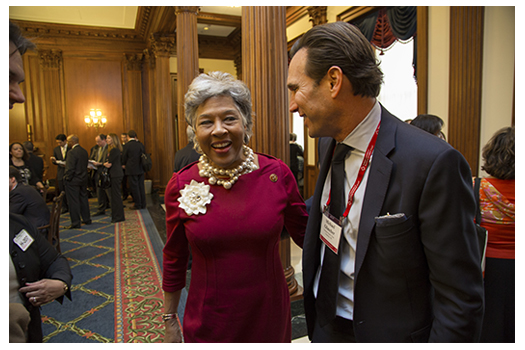 From left to right: Rep. Joyce Beatty (D-OH) and Glimcher.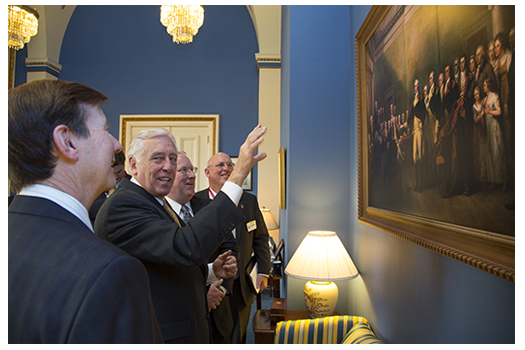 From left to right: Walter; House Democratic Whip Steny Hoyer (D-MD); Zalatoris; Joe Downey, senior vice president with Willis.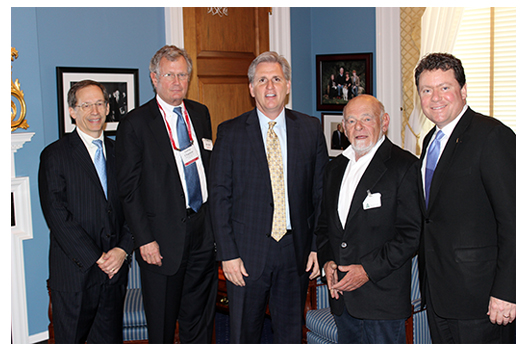 From left to right: Havner; George Chapman, chairman, president and CEO of Health Care REIT Inc. (NYSE: HCN); House Majority Whip Kevin McCarthy (R-CA); Zell; Leupp.

(Contact: Robert Dibblee at rdibblee@nareit.com)
Inland Recognized for REITPAC Efforts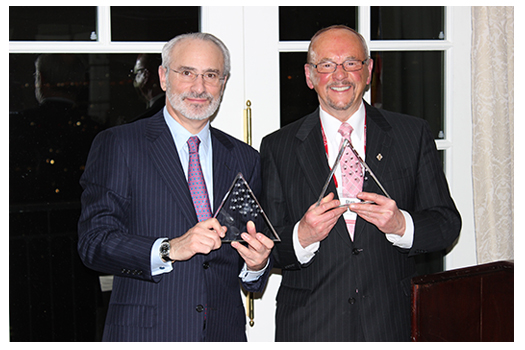 (From left to right: Steve Wechsler, NAREIT president and CEO, and Daniel L. Goodwin, chairman and CEO of The Inland Real Estate Group of Companies Inc.)

Each year, NAREIT presents two awards for contributions to REITPAC. The Leadership Award goes to the company whose employees contributed the most funds to REITPAC in 2012. The Teamwork Award recognizes the company that provided funds from the largest number of individuals during the year.

For the second year in a row, both awards were won by The Inland Real Estate Group of Companies Inc.

Inland earned the Leadership Award with a total of $60,670 contributed, and the Teamwork Award with 141 employees contributing $100 or more.

(Contact: Kate Smith at ksmith@nareit.com)
REIT.com Video: NAREIT Chair Ed Walter, Host Hotels & Resorts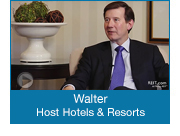 NAREIT Chair W. Edward Walter, president and CEO of Host Hotels & Resorts Inc. (NYSE: HST), spoke with REIT.com during NAREIT's annual Washington Leadership Forum to discuss the current state of the REIT market and provide an overview of the key policy issues facing REITs.

Walter outlined three major policy items facing U.S. REITs: reform the treatment of non-U.S. investors in U.S. real estate from a tax standpoint (Foreign Investment in Real Property Tax Act); ensure that brick-and-mortar and online retailers are treated equally from a sales tax perspective (Marketplace Fairness Act); and begin the discussion to extend the government's terrorism reinsurance backstop program (Terrorism Risk Insurance Act).

Looking at the health of the industry as a whole, Walter said despite the fact that the economic recovery has been slower than most hoped, commercial real estate has stood strong.

"The reality is that the fundamentals across all real estate sectors are very good, bottom-line cash flows are all going up, and I think that we feel it's going to continue for the next several years," he said. He added that a benefit to a slower economic recovery is that it has resulted in a slower uptick in new construction which has helped maintain supply levels in check at a time when demand remains high across most sectors.

(Contact: Matt Bechard at mbechard@nareit.com)
Investor Outreach Team Closes Active February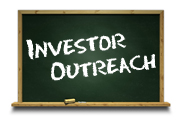 NAREIT's Investor Outreach team spent February visiting with a diverse range of 36 organizations in the institutional investment market controlling close to a combined $10.1 trillion in assets. The 36 meetings were held with organizations across all targeted investment cohorts, including: four with prominent domestic and international pension, retirement and sovereign wealth fund plan sponsors representing close to $6 billion in assets; four with investment consultants with assets under advisement of $6 trillion, and 20 with investment managers sponsoring global and domestic products for the institutional and retail investor markets and representing $4 trillion in assets under management.‬

It is notable that our outreach meetings with investment managers provide significant opportunities to influence REIT allocations within the broad asset allocation products sold through multiple channels, including those sold through institutional defined contribution (DC) plan provider platforms as well as through firms whose products are distributed through financial advisor networks. Of the 20 investment managers with which we met during February, 16 are active in both the $5.3 trillion DC and $5.3 trillion IRA markets, and our meetings and ongoing relationships with these leading firms provide us with the opportunity to influence two-thirds of the entire $16.5 trillion retirement market.

Through the end of February, NAREIT has conducted 74 meetings with many of the largest and most influential investment organizations within the institutional investment marketplace. Collectively, these entities represent over $15 trillion in assets under management or advisement.‬‬‬‬‬‬‬‬‬‬‬‬‬‬‬
NAREIT has also been active on the institutional investment conference circuit during the first two months of the year, participating in six events and speaking at four. To provide perspective, during the same time period in 2012, NAREIT participated in three such conferences.

(Contact: Kurt Walten at kwalten@nareit.com)
Morningstar Launches a U.S. Real Asset Index

Morningstar® recently launched the Morningstar U.S. Real Asset Index to provide investors with an appropriate benchmark for real return strategies. The index is composed of four asset classes that historically have been effective hedges against inflation, including; TIPS, commodity futures-based strategies, U.S. REITs and commodity stocks. The Morningstar U.S. Real Asset Index includes a 15 percent allocation to U.S. REITs.

"Real assets encompass a range of investment strategies that derive their value from an underlying physical asset such as commodities, real estate, precious metals and timber," according to Morningstar. Investing in real asset strategies can help protect investors from inflation risk. The index is designed to provide investors attractive long-term, inflation-adjusted performance, "while also offering diversification, lower risk and more efficient portfolio construction."

Importantly, the Morningstar U.S. Real Asset Index validates the approach taken by a number of organizations with which NAREIT has met as part of its Investor Outreach Program and that recently have incorporated real assets strategies in their investment product line-up. Within the past few years, for example, Russell, BlackRock, Charles Schwab Investment Management, Cohen & Steers, PIMCO and Northern Trust have added real assets strategies that include meaningful REIT allocations.

For additional details on Morningstar's latest index, visit http://indexes.morningstar.com.

(Contact: Abby McCarthy at amccarthy@nareit.com)
REIT.com Video: David Neithercut, Equity Residential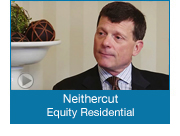 The joint acquisition of the highly coveted Archstone apartment portfolio by Equity Residential (NYSE: EQR) and AvalonBay Communities Inc. (NYSE: AVB) closed last week and David Neithercut, president and CEO of Equity Residential, joined REIT.com to discuss the deal and what lies ahead for the company.

Equity Residential purchases 60 percent of the Archstone apartment portfolio from Lehman Brothers Holdings Inc. The deal, which was announced in late 2012, closed on Feb. 27, with AvalonBay Communities Inc. acquiring the remaining 40 percent of the portfolio. Neithercut said the deal was part of a larger effort to adjust Equity Residential's focus.

"Several years ago, we embarked on a new strategy with a focus for our investments in high-density, urban assets," he said. "We thought about the future and where this echo boom generation was going to want to live, work and play. As we thought about where the jobs would be that our economy would create going forward, we did look at the large, coastal cities. Over the past half-dozen years, we've worked very hard to sell out of our non-core assets and invest that capital in these more urban gateway cities and more high-density areas."

Neithercut said his company made significant strides toward achieving its goals by acquiring the Archstone properties.

"Coming out of the recession, we bought an awful lot of assets," he said. "Early in the recovery, we spent several billion dollars of capital acquiring assets during that timeframe. Yet, after the recovery, there became a significant amount of demand for those assets, and it became very difficult to invest capital in those markets. Archstone represented for us about 21,000 units of high-quality assets in these gateway cities of New York, Boston, Washington, D.C., Southern California, San Francisco and Seattle, which fit hand-in-glove with our investment strategy."

The Archstone deal will finish the "total transformation" of Equity Residential's property portfolio, according to Neithercut. Since the firm began selling off assets, it has cut its holdings by nearly half.

(Contact: Matt Bechard at mbechard@nareit.com)
 
NAREIT Comments on Maryland Housing Bill

NAREIT joined the National Apartment Association (NAA) and the National Multi Housing Council (NMHC) in writing to the Maryland state legislature last week to comment on proposed measures to regulate residential leases.

The letter to Maryland House Environmental Matters Committee Chair Maggie McIntosh expressed concerns about three specific proposals in House Bill 315 (HB315). The organizations warned that rent controls on residential leases would "lead to a reduction in the quality and quantity of existing housing stock and discourage capital investment in new construction."

Additionally, they said the bill's just-cause eviction measures "are administratively burdensome for property owners and make it more difficult for owners to remove problem residents." Finally, the organizations noted that "multifamily property owners who enforce renter's insurance as a condition of residency effectively reduce financial expenditures related to resident-caused damage by nearly 80 percent."

In light of their concerns, the three organizations encouraged the members of the House Environmental Matters Committee to vote against the bill.

(Contact: Tony Edwards at tedwards@nareit.com)
Register Today for REITWise
Join your legal, financial and accounting colleagues at REITWise 2013®: NAREIT's Law, Accounting & Finance Conference®, March 20-22, 2013. Approximately 1,000 professionals attend each year to hear industry leaders speak at the variety of sessions, roundtables, meetings and events offered over the course of three days.

Topics covered include the latest legal, financial and accounting insights concerning capital markets, financial standards, SEC policies, tax updates and more. By attending, you can earn valuable CPE or CLE credits to meet your mandatory educational requirements.

Adding value to the event are the many networking and social opportunities to connect with peers and colleagues in a collaborative setting.

Registration for REITWise 2013 is now open. Visit the REITWise Event Page to get all the details regarding the event as they become available.






(Contact: Afia Nyarko at anyarko@nareit.com)