Content

Message from the President

Deficit reduction and tax reform are widely discussed today as two critical national priorities, both by the Administration and by legislators from both parties. Although these goals are quite clear at the headline level, the best specific ways to achieve them are far less visible and agreed-upon.

It is in the midst of this environment that more than 40 of the REIT industry's leaders last week took the REIT story directly to policymakers on Capitol Hill as part of NAREIT's annual Washington Leadership Forum. The message we conveyed underlined the important role REITs play in the economy, how REITs help bring transparency to the real estate sector, and why REITs are helpful to savings and investments for all Americans.

We made it known that REITs have been an important part of our nation's tax policy for more than 50 years, and that REITs have enabled investors from all walks of life to benefit from income-producing real estate. We pointed out that REITs contribute to the savings and retirement security of millions of Americans, that the substantial and reliable dividends paid by REITs make them a key source of current income for investors, and that REITs also provide the potential for long-term capital appreciation, together with the ability to hedge, at least partly, against inflation.

Importantly, our industry's leaders explained that REITs, themselves, are a product of tax reform. In fact, today's REIT industry was shaped by the Tax Reform Act of 1986, which changed the REIT rules to help put real estate investment on an income-oriented, tax-paying trajectory – unlike the tax shelter-motivated investment of prior years.

Significantly, we also informed policymakers that the U.S. REIT has become the blueprint for a global REIT community. Looking at the world's major economies through the prism of the G20, thirteen of the twenty have their own REITs, based primarily on the U.S. model – with several more, including China, expected to do so in the future.

The central message our WLF participants took to the Hill was crystal clear: REITs were born in the U.S. and are now an accepted and well-respected template for real estate investment around the world. What's more, the performance record REITs have established over decades is a testament to the foresight of the U.S. Congress more than 50 years ago.








Steven A. Wechsler
President and CEO
 
REITs on Capitol Hill
The Washington Leadership Forum has long been a core component of NAREIT's political outreach program. The Leadership Forum provides an excellent opportunity for leaders of NAREIT's own community to meet with leaders and key policymakers in Congress, among whose ranks are a number of longtime supporters of the REIT approach to real estate investment. This year, NAREIT member executives met with a record 54 Congressional offices, including Senate Finance Committee Chairman Max Baucus (D-MT), Senate Majority Leader Harry Reid (D-NV), House Ways and Means Chairman Dave Camp (R-MI) and House Minority Whip Steny Hoyer (D-MD).

NAREIT members discussed key policies crucial to the REIT industry with legislators during the Forum, which was held on Feb. 28 and Feb. 29. House Majority Leader John Boehner (R-OH) addressed the attendees as part of the program on Feb. 29. Jon Huntsman, former governor of Utah and U.S. ambassador to China, was this year's dinner speaker. Treasury Deputy Secretary Neal Wolin and Washington Post columnist Ezra Klein also spoke during the Feb. 28 meetings.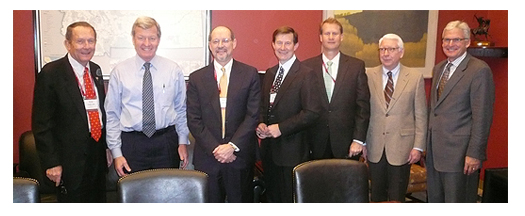 REITs on the Hill (from left to right): Dana Anderson, vice chairman, Macerich Co. (NYSE: MAC); Senate Finance Committee Chairman Max Baucus (D-MT); Daniel S. Fulton, president and CEO, Weyerhaeuser Co. (NYSE: WH); NAREIT First Vice Chair Ed Walter, president and CEO, Host Hotels & Resorts Inc. (NYSE: HST); David Brain, president and CEO, Entertainment Properties Trust (NYSE: EPR); Bob Harris, senior advisor, Plum Creek Timber Co. (NYSE: PCL); and Bruce Duncan, president and CEO, First Industrial Realty Trust Inc. (NYSE: FR).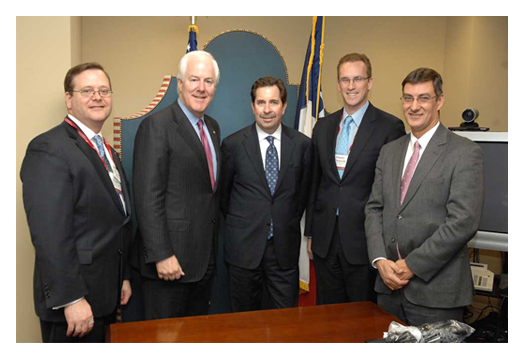 REITs on the Hill (from left to right): Dan Wagner, vice president for government relations with The Inland Real Estate Group of Companies Inc.; Sen. John Cornyn (R-TX); Andy Jacobs, president and CEO, Capstead Mortgage Corp. (NYSE: CMO); Charles Fitzgerlad, founder and senior managing director of V3 Capital Management L.P.; and NAREIT Chair Don Wood, president and CEO, Federal Realty Investment Trust (NYSE:FRT).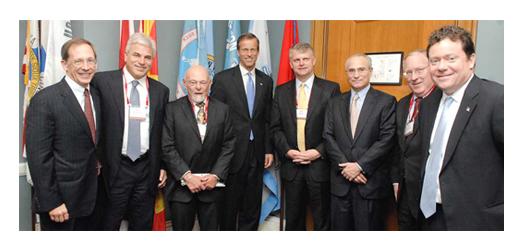 REITs on the Hill (from left to right): NAREIT Second Vice Chair Ron Havner, chairman, president and CEO of Public Storage (NYSE: PSA); NAREIT Treasurer Mike Fascitelli, president and CEO, Vornado Realty Trust (NYSE: VNO); Sam Zell, chairman, Equity Group Investments; Sen. John Thune (R-SD); Don Miller, president CEO, Piedmont Office Realty Trust Inc. (NYSE: PDM); Steve Wechsler; Mark Zalatoris, president and CEO, Inland Real Estate Corp. (NYSE: IRC); and Jay Leupp, managing director, Lazard Asset Management LLC.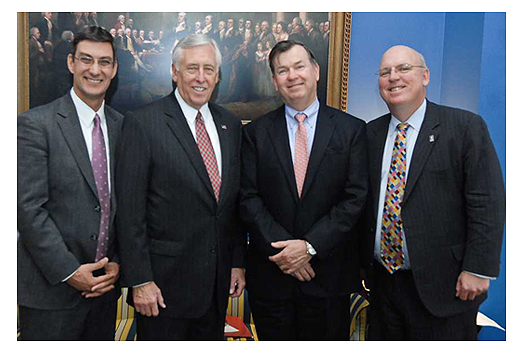 REITs on the Hill (from left to right): Don Wood; House Minority Whip Steny Hoyer (D-MD); Skip McKenzie, president and CEO, Washington Real Estate Investment Trust (NYSE: WRE); and Joe Downey, senior vice president of real estate and construction, Willis.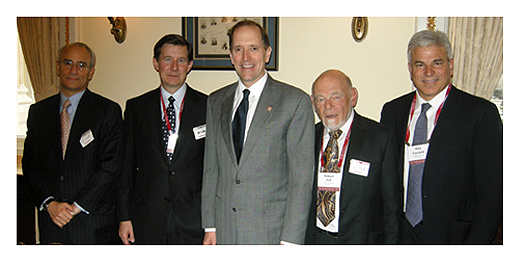 REITs on the Hill (from left to right): Steve Wechsler; Ed Walter; House Ways and Means Chairman Dave Camp (R-MI); Sam Zell; and Mike Fascitelli.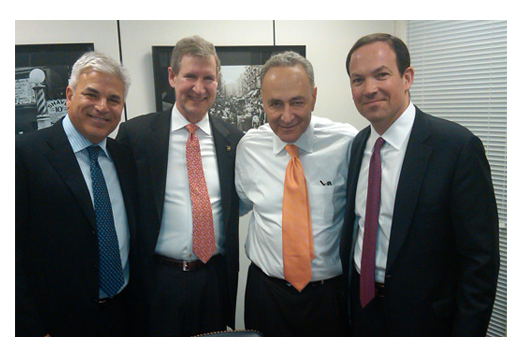 REITs on the Hill (from left to right): Mike Fascitelli; David Henry, president and CEO, Kimco Realty Corp. (NYSE: KIM); Sen. Charles Schumer (D-NY); and Scott Schaevitz, chairman of Americas Real Estate Investment Banking with Barclays Capital.

(Contact: Robert Dibblee at rdibblee@nareit.com)
REIT.com Video: NAREIT Chair Don Wood, Federal Realty Investment Trust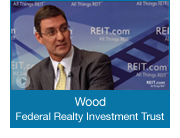 REITs still have room to grow with investment plan providers, according to NAREIT Chair Don Wood, president and CEO of Federal Realty Investment Trust (NYSE: FRT).

"I absolutely think that we have not hit our stride yet, to tell you the truth, in segments of both the defined benefit and the defined contribution world in terms of their investment strategy," Wood said. "I also think that while we've made immense strides over the years on the retail shareholder base, we haven't really done as well as we can in making our case."

Wood said REITs' collective track record in the last 20 years, including the Great Recession, illustrates the attractiveness of investing in the industry.

"REITs have been amazingly strong," he said. "Now it's about being able to perform and showing the world in a broader way."

(Contact: Matt Bechard at mbechard@nareit.com)
Inland Receives REITPAC Awards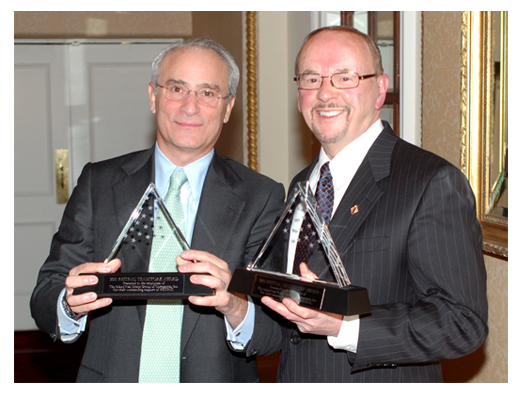 Steve Wechsler and Dan Goodwin, chairman, The Inland Real Estate Group of Companies Inc.

The Inland Real Estate Group of Companies, Inc. received the 2011 REITPAC Leadership and Teamwork awards. The awards were presented at last week's Washington Leadership Forum.

The Leadership Award goes to the company whose employees contributed the most funds to REITPAC in 2011. Inland Real Estate Group employees contributed $64,450. The Teamwork Award recognizes the company that provided funds from the largest number of individuals during the year. Inland contributed funds from 181 employees.

(Contact: Leah Cohen at lcohen@nareit.com)
Sen. Conrad Honored With Small Investor Empowerment Award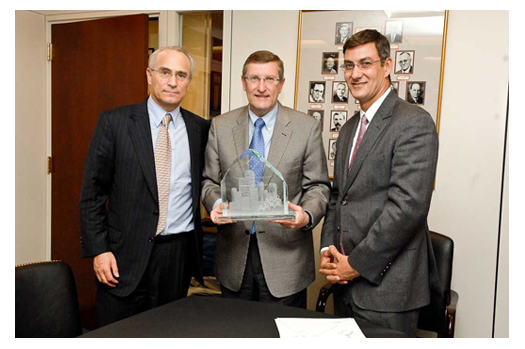 NAREIT Chair and Federal Realty Investment Trust (NYSE:FRT) President and CEO Don Wood (right) and NAREIT President and CEO Steve Wechsler (left), present Senate Budget Committee Chairman Kent Conrad (D-ND) with the 2012 Small Investor Empowerment Award.

Senator Kent Conrad (D-ND), chairman of the Senate Budget Committee, received NAREIT's 2012 Small Investor Empowerment Award. He is well known as a fiscally astute legislator and a long-time budget deficit hawk who has strongly advocated for a balanced budget as an indispensable element of a healthy economy.

Conrad also is a member of the Senate Finance Committee; the Senate Committee on Agriculture, Nutrition and Forestry; the Senate Committee on Indian Affairs; and the Senate Select Committee on Intelligence.

In addition, he has consistently been a strong advocate for the REIT investment proposition. He has provided leadership on key pieces of REIT legislation that have given REITs the ability to manage their property portfolios more effectively, that have established innovations like the Taxable REIT Subsidiary, and that have helped keep REITs competitive within the real estate investment marketplace.

The Small Investor Empowerment Award was established on behalf of those people who invest in, are employed by, or derive other benefits from REITs and publicly traded real estate companies. The award recognizes public servants who have demonstrated exceptional commitment to the ideals of free enterprise, economic growth, personal freedom and unlimited opportunity for all Americans.

(Contact: Robert Dibblee at rdibblee@nareit.com)
NAREIT: 2.5M Unit Supply/Demand Shortfall in U.S. Apartment Market

The surge in apartment REIT share prices has caused some observers to ask where the sector is headed. New NAREIT research shows an approximately 2.5 million unit supply/demand imbalance in apartment inventory – an imbalance likely to support strong demand for apartments in 2012 and well beyond.

"The distortion in supply and demand fundamentals for the U.S. multifamily housing market that has been caused by the financial crisis and Great Recession will support further declines in vacancy rates and increases in rents for apartment REITs well into the future, even though new construction now is increasing to meet the growing demand," said Calvin Schnure, NAREIT vice president of research and industry information. "It will take several years to bring enough new apartment stock to the market to meet the pent-up demand, and that gap will create a continuing tailwind for apartment REIT operating fundamentals."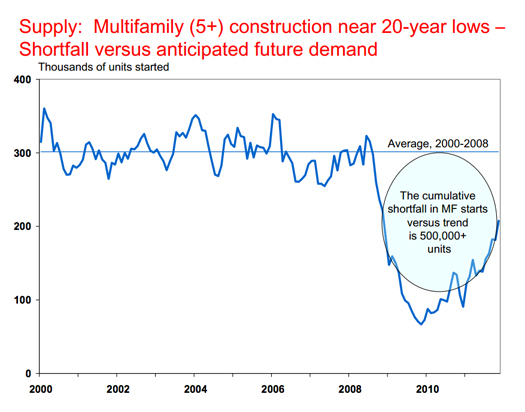 NAREIT's analysis shows that construction of multifamily units plunged to a nearly 20-year low during the recession, creating a supply shortfall. According to the analysis, between 2008 and 2010, construction of multifamily units fell as much as 70 percent from its trend growth rate over the past decade.

Although multifamily construction starts have increased since the beginning of 2010, the number of units under construction remains at nearly 60 percent below its long-term average.

Some level of pent-up demand for new households normally forms during any economic recession. However, NAREIT's review of 50 years of data indicates the current level of pent-up demand for new households is three times higher than it was at this point in the economic cycle in past recoveries. According to NAREIT, the current level of unmet demand represents approximately 2 million households.

"As the job market improves and confidence rises, over the next two or three years, that demand for new households will be released into the market," Schnure said. "Given the continued dislocation in the single-family housing market, most of the demand will be directed to the rental market."

He added that the demand for 2 million new rental households will combine with the shortfall of more than a half-million apartment units. The shortfall resulted from the downturn in construction starts, to produce a total supply-demand imbalance of approximately 2.5 million apartment units.

(Contact: Calvin Schnure at cschnure@nareit.com)
Barron's Interview on Benefits of REIT Investment

In the latest issue of Barron's magazine, three members of NAREIT's Real Estate Investment Advisory Council were interviewed about opportunities in the REIT investment marketplace in light of the industry's outperformance of the broader markets.



The roundtable featured Martin Cohen, co-chairman and co-CEO of Cohen & Steers; Mike Kirby, chairman of Green Street Advisors; and Mary Hogan-Preusse, co-head of Americas real estate for APG Asset Management U.S. The discussion touched on the current market cycle, trends for investors to watch and the differences between public and private real estate investment.



"One advantage the REIT market has versus the private market is liquidity," Hogan-Preusse said. "If an investor owned an office building worth $1 billion in New York, the process to sell the building-list it for sale, line up bids, for bidders to obtain financing-it takes months. To liquidate a similar-sized position in REIT shares can be accomplished in the stock market in a matter of days at the most."



(Contact: Ron Kuykendall at rkuykendall@nareit.com)
The Role of REITs in Target Date Funds

Wilshire Associates recently completed an analysis of the role of listed equity REITs in target date funds, including REITs in the U.S. and around the world. Target date funds are the most rapidly growing investment products in most 401(k) accounts and other tax-deferred savings plans. Taking account of the age and expected future retirement date of individual plan participants, target date funds automatically allocate and rebalance the assets of participants, generally accepting more risk and higher allocations to equities when participants are young and have long investment horizons and then scaling back on risk exposure and allocating more assets to fixed income securities and other income producing investments as participants approach and enter their retirement years.

Last week, NAREIT's Investor Outreach team met in Boston with some of the nation's largest target date fund providers to present results of the Wilshire analysis, which concludes that most target date funds should include REIT allocations of 5 percent to 15 percent. NAREIT also arranged for Wilshire's Head of Investment Research, who produced the Wilshire study, to participate in the meetings and to discuss and endorse the conclusions of the Wilshire report.

NAREIT also arranged for the Wilshire spokesperson to speak on a discussion panel at the Sixth Annual Target Date Funds Forum also held in Boston. During her remarks, the Wilshire analyst pointed out that Wilshire views REITs as a "core asset" in portfolio management and investment strategies and no longer as only an "alternative" investment, a key element of NAREIT's advocacy for the REIT investment proposition.

(Contact: Michael Grupe at mgrupe@nareit.com)
REIT.com Video: Brad Case, NAREIT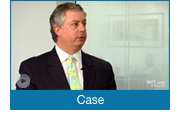 An improving economy is bolstering real estate fundamentals, which in turn are improving REIT performance, according to Brad Case, NAREIT's senior vice president of research and industry information.

"More and more, we're seeing signs that the economic recovery is firming up," he said, adding that there's "less investor concern about the strength and continuation of that recovery."

Case also discussed the industrial sector, which he said has witnessed improved performance recently. He noted that the demand for industrial space generally increases when countries are engaging in more trade and need the additional warehouse space.

"Investors are confident there's going to be continued growth in trade, both domestically and overseas," he said.

(Contact: Brad Case at bcase@nareit.com)
NAREIT Welcomes New Member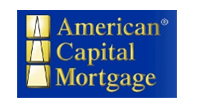 NAREIT welcomes American Capital Mortgage Investment Corp. (NASDAQ: MTGE) as its newest Corporate Member. American Capital Mortgage Investment is a publicly traded, externally managed mortgage REIT that invests in and manages a leveraged portfolio of agency and non-agency residential mortgages and other mortgage-related investments.

The company's external manager is related to that of NAREIT member American Capital Agency Corp. Based in Bethesda, MD, American Capital Mortgage Investment's chairman and CEO is Malon Wilkus. Gary Kain is the company's president.

(Contact: Bonnie Gottlieb at bgottlieb@nareit.com)
NAREIT Adds to Its Policy Team

NAREIT is pleased to welcome Victoria "Penny" Rostow as senior vice president of policy and regulatory affairs.

During the Clinton administration, Rostow served as deputy assistant secretary for legislative affairs and public liaison for domestic finance and banking under Treasury Secretary Robert Rubin. Since then, Rostow has held the positions of senior vice president and head of government and regulatory relations for Bank One/JPMorgan Chase and, most recently, director of government affairs for the National Association of Bond Lawyers.

Rostow graduated from Yale Law School after receiving a bachelor of arts degree in economics at Cambridge University to go along with a B.A. from Yale College.

(Contact: Tony Edwards at tedwards@nareit.com)