Content

Message from the President

As the story in this week's issue of NewsBrief reports, the Treasury Department and the IRS last week proposed new regulations to define REIT-eligible real property, something IRS representatives said at REITWise 2014 were on the way.

By and large, the IRS proposal confirms, restates and clarifies past IRS interpretations, underlining that the pool of REIT-eligible real property is both broad and deep, firmly tied to land, inherently permanent structures and structural components.

Notably, as referred to by President Obama last Friday in remarks at Walmart in Mountain View, Calif., the IRS proposal also provides helpful interpretation regarding the REIT eligibility of certain solar-related assets.

Importantly, the IRS approach would embrace as real property solar panels on rooftops used to provide energy to tenants and establish a REIT framework for solar mounts used in energy generation. According to the White House fact sheet on Obama's "Commitments and Executive Actions to Advance Solar Deployment and Energy Efficiency," the IRS proposal is "important because real estate investment trusts (REITs), a key component of many retail investors' portfolios, generally hold only real property."

NAREIT looks forward to carefully reviewing the proposed new regulations, gathering feedback from the REIT community and to submitting comments as requested by the IRS.









Steven A. Wechsler
President and CEO
IRS Releases Proposed Regulations on REIT Definition of Real Property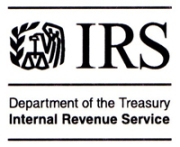 As foretold by IRS officials at the April 2 Government Relations Committee meeting during REITWise, the IRS last week issued proposed regulations that would codify and clarify existing precedential and non-precedential guidance concerning the definition of "real property" for REIT purposes.

The regulations would define real property to include land, inherently permanent structures and structural components. In addition, the proposed regulations would identify certain types of intangible assets that are real property or interests in real property for purposes of the REIT rules.

The White House said the proposed regulations would promote investment in renewable energy installations.

Because the proposed regulations are considered a clarification of existing law, they would be effective for calendar quarters beginning after they are published as final regulations in the Federal Register.

NAREIT plans to submit comments on the proposed regulations, which are due Aug. 12. There will be a public hearing on the proposed regulations on Sept. 18.

(Contact: Dara Bernstein at dbernstein@nareit.com)
Study: TRIA Central to Availability of Workers' Compensation Insurance

A report released last week by the RAND Corp. determined that the Terrorism Risk Insurance Act (TRIA) is vital to maintaining the availability of workers' compensation insurance should a major terrorist attack occur in the United States.

Without TRIA, many insurers and reinsurers would likely limit the availability of the workers' compensation coverage, especially as it relates to nuclear, biological, chemical or radiological attacks, according to the RAND study.

NAREIT and its partners in the Coalition to Insure Against Terrorism (CIAT) said the study illustrated the need for Congress to extend TRIA beyond its current expiration date at the end of 2014.

"TRIA ensures that workers' compensation insurance – which is so critical to the American worker – remains available for the business insurance consumers who depend upon it," said Martin DePoy, spokesperson for CIAT.

(Contact: Robert Dibblee at rdibblee@nareit.com)
NAREIT Opposes "Split-Roll" Property Tax Proposals in California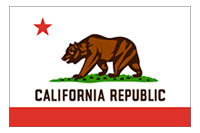 NAREIT opposes two bills now pending in California that, if enacted, could increase property taxes for businesses.

First, A.B. 2372 would enact a so-called "split-roll" property tax bill, pursuant to which business properties would be assessed property taxes differently than residential properties through modifications to the state's "change in ownership rules." The change would run contrary to California's longstanding rules under Proposition 13, which capped property tax increases. A.B. 2372 is scheduled to be heard in the Assembly Revenue and Taxation Committee (R&T Committee) on May 13.

Separately, S.B. 1021 would authorize a school district to impose a higher "parcel tax" on commercial properties (as opposed to residential properties), essentially creating a split-roll tax at the local level and effecting an end-run around Proposition 13. S.B. 1021 passed the Senate on May 5 and has been referred to the California Assembly.

NAREIT and several NAREIT members joined the California Taxpayers Association and a diverse group of organizations in opposing A.B. 2372 and S.B. 1021. NAREIT urges members with California properties to contact R&T Committee members to oppose these bills.

(Contact: Dara Bernstein at dbernstein@nareit.com)
NAREIT's Spring Outreach Efforts Feature a Visit to the City of Brotherly Love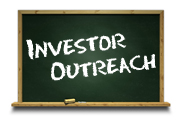 NAREIT's Investor Outreach team's busy spring itinerary included a late April trip to the Philadelphia metro area. During this road show, NAREIT staff met with a diverse range of eight organizations in the institutional investment market controlling close to $2.8 trillion in assets. The meetings were held with organizations across all targeted investment cohorts, including two with investment consultants with assets under advisement of close to $17 billion and six with investment managers sponsoring global and domestic products for the institutional and retail investor markets and representing more than $2.7 billion in assets under management.‬

The focus of the discussion in each of the eight meetings varied to a significant degree, as did what internal, academic and sponsored research was presented to each organization. For some of the visits, the message began at a very fundamental level. The focus for these meetings was on making the case for real estate as a core asset class representing the third-largest asset in the U.S. market basket and for the fact that an investment in REITs is an investment in real estate.

In instances where organizations have already embraced real estate, the focus was more on the utility REITs bring to investment portfolios and the strategic and tactical portfolio applications of REITs. Using a combination of internal and sponsored research, practical examples were provided of how REITs may be employed within institutional investment portfolios. Finally, in response to growing investor interest, a number of our meetings featured an outlook on the current domestic macroeconomy and its implications for commercial real estate and REITs as well as the global real estate market.

(Contact: Kurt Walten at kwalten@nareit.com)
REIT.com Video: Quick Study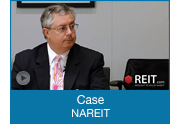 In the latest edition of Quick Study, Brad Case, NAREIT's senior vice president for research and industry information, offered an analysis of how the REIT market performed in April and what has driven REIT performance so far in 2014.

Case said that "April was another strong month for REITs," noting that the performance of REITs was not matched by the broader stock market. REIT investors have seen a total return of 11.7 percent in just the first four months of the year, whereas investors in large cap stocks have seen returns of less than 6.2 percent, and investors in small cap stocks have seen losses of about 2.8 percent.

Case explained the economic conditions causing the strong performance.

"When the macro economy is strengthening, REIT returns typically go up, because strength in the macro-economy means higher occupancy levels, better rent growth, and therefore property values go up and also dividends for REIT investors go up."

(Contact: Brad Case at bcase@nareit.com)
NAREIT Participates in Investment Management Consultants Association Annual Conference
NAREIT last week participated in the Investment Management Consultants Association's (IMCA) Annual Conference in Boston. The IMCA event is one of the largest events for the financial professionals industry, attracting over 1,700 financial advisors, registered investment advisors, investment management firms, financial publishers and investment software developers. The event provided NAREIT an opportunity to inform and educate the financial advisor and registered investment advisor attendees with respect to the benefits of REIT-based real estate investment while also providing opportunities to develop stronger relationships with many of the investment firms with which NAREIT maintains a regular dialogue, including ING US Investment Management, CBRE Clarion Securities, LPL Financial and Schwab.‬‬

(Contact: Abby McCarthy at amccarthy@nareit.com)
REIT.com Video: Fundamentally Speaking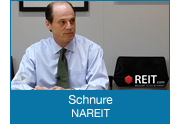 In the latest edition of Fundamentally Speaking, Calvin Schnure, NAREIT's vice president of research and industry information, discussed some encouraging trends in the office and apartment sectors during the first quarter of 2014.

Schnure noted that the apartment sector witnessed another decline in vacancy rates in the first quarter, reaching a new low for the cycle. The office sector also saw some improvement in vacancy rates, although rates are still several percentage points above what would be considered "normal" in a healthy market, he said.

However, Schnure emphasized that vacancy rates moved down despite the addition of new supply, particularly in the apartment sector. Analysts had been concerned that new supply would swamp new demand, Schnure said, but that has not occurred so far.

At the same time, Schnure noted, the large amount of pent-up demand in the housing market from individuals who are currently sharing accommodations or living at home shows promise for the future.

(Contact: Calvin Schnure at cschnure@nareit.com)
NAREIT Welcomes New Corporate Member

NAREIT is pleased to welcome new Corporate Member Corporate Property Associates 18-Global, a newly formed public non-listed, externally-advised equity REIT that acquires, owns and manages a diversified portfolio of commercial properties. The company's portfolio primarily consists of single-tenant buildings under triple net leases, and its assets will eventually include properties within and outside the United State. Corporate Property Associates 18 is one of a number of PNLRs that are externally advised by a subsidiary of W. P. Carey. Based in New York City, Trevor Bond is the company's president and CEO.

(Contact: Bonnie Gottlieb at bgottlieb@nareit.com)