Content

Message from the President

Last month's terrorist attack in Boston provided another shocking reminder that acts of terrorism, and the human tragedy and property loss that accompany them, ultimately are unpredictable and can occur at any time and place.

That fact was discussed last week, as the story below reports, when NAREIT participated in a briefing for Congressional staff in the U.S. Capitol on the state of the terrorism insurance market. The event was co-hosted by the commercial insurance brokerage firm Marsh & McLennan Companies and the Coalition to Insure Against Terrorism (CIAT), of which NAREIT is a founding member. NAREIT Chair Ed Walter, president and CEO of Host Hotels & Resorts Inc. (NYSE: HST), participated on behalf of CIAT as a member of a panel of experts at the event.

In the aftermath of the catastrophic 9/11 terrorist attacks, insurers were left with a bill totaling $36 billion. With a heightened awareness of the risks of predicting and costs of insuring against terrorist attacks, reinsurance companies, which backstop primary insurance carriers, ceased to provide terrorism coverage. As a result, primary coverage disappeared.

With no terrorism insurance available, financing for real estate, including new construction, largely ceased, costing an estimated 300,000 jobs. The insurance and financial market deadlock was resolved only by the 2002 passage of the Terrorism Risk Insurance Act (TRIA), which provided a limited government reinsurance risk-share program for the terrorism insurance market and required most primary insurers to offer the coverage. The legislation was reauthorized with updates in 2005 and again in 2007. It expires at the end of 2014.

As the briefing last week made clear, TRIA is necessary for the terrorism risk insurance market to function and for financing to continue to flow to commercial real estate. As it has in the past, NAREIT is working for the reauthorization of TRIA to support the health of the real estate industry and our broader economy.

As Ed Walter put it in his remarks to the group: "Enacting the Terrorism Risk Insurance Act was the right thing to do in 2002. And Congress did the right thing when it extended and amended TRIA in December 2005 and again in December 2007. And now, two weeks after the Boston Marathon terrorist attacks reminded us of the cost and uncertainty associated with terrorism, Congress should once again extend TRIA."







Steven A. Wechsler
President and CEO
 
Mortgage REIT Council Meets

The NAREIT Mortgage REIT Council met in New York on May 1 to discuss an agenda covering recent developments relevant to mortgage REITs.

Topics included the implications of various Dodd-Frank regulations coming into effect, the potential for federal tax reform and new rules regulating interest-rate swaps and derivatives operations. The group also discussed various regulatory and legislative developments concerning the possible reform of Fannie Mae, Freddie Mac and other government-sponsored enterprises (GSEs). NAREIT also updated the group on recent activities with regard to Financial Accounting Standards Board (FASB) rules and other accounting matters.

The Mortgage REIT Council is chaired by Wellington J. Denahan, Annaly Capital Management Inc.'s (NYSE: NLY) chairman and CEO. The council's residential working group is chaired by Gary Kain, American Capital Agency Corp.'s (NASDAQ: AGNC) president and CEO. Richard Saltzman, president and CEO of Colony Financial, Inc. (NYSE: CLNY), chairs the commercial working group.

(Contact: Bonnie Gottlieb at bgottlieb@nareit.com)
Walter Addresses Terrorism Insurance Event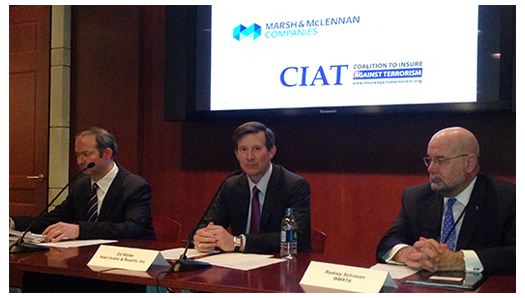 NAREIT Chair Ed Walter (center) spoke at a terrorism insurance conference last week on Capitol Hill.

Ed Walter, the president and CEO of Host Hotels & Resorts Inc. (NYSE: HST), participated in a panel discussion on the latest developments in the terrorism insurance market. Rodney Schraven, director of risk management for the Washington Metropolitan Area Transit Authority, and Ben Tucker, senior vice president with Marsh & McLennan Companies, also appeared on the panel.

Marsh & McLennan and the Coalition to Insure Against Terrorism (CIAT), of which NAREIT is a member, sponsored the event, which was well attended by congressional senior staff members and industry representatives.

Click here for a copy of Walter's opening remarks and here for a copy of a Marsh & McLennan report issued in conjunction with the event.

(Contact: Kirk Freeman at kfreeman@nareit.com)
Joint Committee on Taxation Releases Tax Reform Report
The Joint Committee on Taxation (JCT) on May 6 released the 568-page Report To The House Committee On Ways And Means On Present Law And Suggestions For Reform Submitted To The Tax Reform Working Groups.

With respect to REITs, the report summarizes current law and also notes comments recommending the enactment of provisions supported by NAREIT and included in the U.S. REIT Act, H.R. 5746, which was introduced in the 112th Congress. The report also notes comments suggesting the repeal or modification of FIRPTA and modifying the REIT rules "to make it easier for REITs to install solar, wind, and other renewable power generators on REIT-owned buildings."

The JCT issued the report in response to a request from the House Ways and Means Committee in connection to its work on comprehensive tax reform. The JCT had been tasked with the preparation of a report that described current law in each of the 11 tax reform issue areas identified by Ways and Means Chairman Dave Camp (R-MI) and Ranking Member Sandy Levin (D-MI). Additionally, the JCT was asked to summarize the public comments made to the committee's 11 tax reform working groups that had been charged with examining specific issues, as well as the working groups' findings.

NAREIT previously submitted comments to Ways and Means on the tax reform study and comments to the committee's financial products working group on its discussion draft.

(Contact: Dara Bernstein at dbernstein@nareit.com)
NAREIT Attends IMCA Conference in Seattle

An important component of NAREIT's outreach to the financial intermediary audience is our participation in financial intermediary and retail investor-focused conferences throughout the year. Financial intermediaries advise and manage approximately one-third of the $16 trillion of retirement savings in the U.S., including individual retirement accounts and 401(k) rollover accounts.

Last week, NAREIT participated in the Investment Management Consultants Association's (IMCA) annual conference in Seattle.

The IMCA event is one of the largest events for the financial professionals industry, attracting more than 1,600 financial advisors, RIAs, investment management firms and financial publishers. The event provided NAREIT an opportunity to inform and educate the financial advisor and RIA attendees about the benefits of REIT-based real estate investment.

Additionally, it provided an opportunity to develop stronger relationships with many of the investment firms with which NAREIT maintains a regular dialogue, including ING US Investment Management, Barron Funds, Forward, LPL Financial and Schwab.

(Contact: Meredith Despins at mdespins@nareit.com)
NAREIT, Major Investment Group Discuss Chinese REIT Creation

NAREIT representatives met on May 1 in New York City with representatives of E Fund Management, the second-largest mutual fund manager in China, and ARIS Advisors, a newly formed U.S. investment management firm focused on the real estate securities industry.

Representing NAREIT at the meeting were Steven Wechsler, president and CEO; Michael Grupe, executive vice president for research and investor outreach; and Bonnie Gottlieb, senior vice president of industry and member affairs. The meeting focused on the creation and evolution of U.S. REITs. The participants also discussed the current structure of U.S. REITs and the state of the U.S. REIT market.

Both E Fund Management and NAREIT agreed that they would seek opportunities to work together.

(Contact: Bonnie Gottlieb at bgottlieb@nareit.com)

 
Investor Outreach Team Completes Active April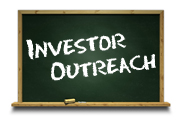 In April, NAREIT's Investor Outreach team held direct meetings with a diverse group of 29 investment organizations controlling close to a combined $8.7 trillion in assets in the institutional investment market. The 29 meetings were held with organizations across all targeted investment cohorts, including: two with prominent domestic and international pension, retirement and sovereign wealth funds representing more than $240 million in assets; one with an investment consultant with assets under advisement of $2 trillion; and 19 with investment managers sponsoring global and domestic products for the institutional and retail investor markets with a combined $6.8 trillion in assets under management.

It is notable that the outreach meetings with investment managers provide significant opportunities to influence REIT allocations within products sold through multiple channels, including those sold through institutional defined contribution (DC) plan platforms. The most important investment-related trend in the $5.3 trillion DC market continues to be the dramatic increase in the use of professionally managed asset allocation products, most notably the adoption of target-date funds. Some industry experts believe that a majority of assets in DC plans will be invested in these types of funds within the next 10 years. In light of the growing importance of asset allocation products, NAREIT continues to engage the many different types of organizations operating in this arena, including investment managers offering target-date funds. The investment managers with which NAREIT met with since the beginning of 2013 collectively control close to 57 percent of target-date fund assets.

Through the end of April, NAREIT has conducted 138 meetings with many of the largest and most influential investment organizations within the institutional investment marketplace. Collectively, these entities represent close to $29 trillion in assets under management or advisement.‬‬‬‬‬‬‬‬‬‬‬‬‬‬‬ NAREIT has also been active on the institutional investment conference circuit during the first three months of the year, participating in 18 events. To provide perspective, during the same time period in 2012, NAREIT participated in 12 such conferences.

(Contact: Kurt Walten at kwalten@nareit.com)
REIT 101 Content Updated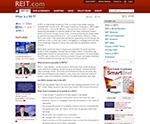 NAREIT recently published a revised REIT 101 section on REIT.com.

The information serves as a valuable starting point for investors and others who want to learn what a REIT is, are new to the REIT industry or need a refresher on the basics.

We encourage members to refer people to this page or to provide a link from your own site.

(Contact: Tom Bickford at tbickford@nareit.com)


 
NAREIT Welcomes Two New Members

NAREIT welcomes First Capital Realty and Hannon Armstrong Sustainable Infrastructure Capital as its newest Corporate Members. First Capital Realty (TSE: FCR) is an internally managed Canadian REIT. The company is Canada's leading owner, developer and operator of supermarket and drugstore anchored neighborhood and community shopping centers. Based in Toronto, Dori Segal is the company's president and CEO. Gazit-Globe owns approximately 45 percent of the company.



Hannon Armstrong Sustainable Infrastructure Capital, Inc. (NYSE: HASI) is a newly formed, internally managed, commercial mortgage REIT that provides debt and equity financing for sustainable infrastructure projects. Based in Annapolis, MD, Jeffrey Eckel is the company's chairman, president and CEO.

(Contact: Bonnie Gottlieb at bgottlieb@nareit.com)
REITs in the Community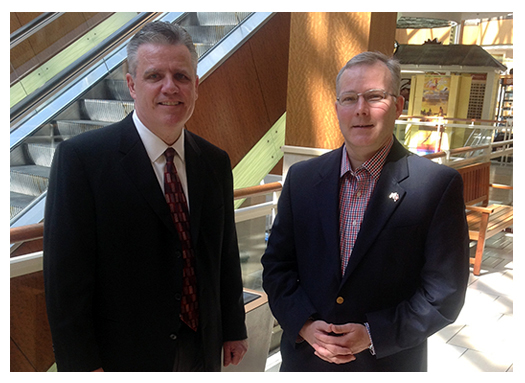 April 30, 2013: Rep. Tim Griffin (R-AR), right, toured CBL & Associates Properties, Inc.'s (NYSE: CBL) Park Plaza Mall in Little Rock, Ark., and received an update on the mall's local economic impact. He was also briefed on CBL's regional and national activities by the mall's general manager, Tim White, left. Griffin, a member of the House Ways and Means Committee, engaged in discussions on two topics: the Marketplace Fairness Act, a bill that has been proposed to create sales and use tax parity for online and traditional retailers, and the upcoming congressional tax reform debate.

(Contact: Kate Smith at ksmith@nareit.com)
FINRA Issues Communications Guidance on Public Non-Listed REITs
FINRA issued regulatory guidance on May 3, FINRA Regulatory Notice 13-18, regarding broker-dealers' communications with the public concerning investing in unlisted real estate investment programs, including public non-listed REITs.

FINRA noted that such communications must be "fair, balanced and not misleading." It indicated that a recent review of such communications revealed "deficiencies."

Among the issues that FINRA noted were communications failing to disclose circumstances when distributions include return on capital, the adequacy of disclosures concerning illiquidity and failures to specifically state that distributions are not guaranteed. FINRA stated that brokers may not refer to distributions as "yield," which would suggest that the distribution is not subject to REIT performance and management discretion.

FINRA also noted that "it would be misleading to cite the performance of an index of traded REITs to indicate how an unlisted REIT may perform."

(Contact: Victoria Rostow at vrostow@nareit.com)
One Month Until REITWeek



REITWeek 2013: NAREIT's Investor Forum will be held June 5-7, at the Hilton Chicago. REITWeek brings the largest concentration of REIT management teams into one location, providing investors with the opportunity to evaluate REIT business models, identify sector and market trends, and participate in company Q&A's. Thousands of institutional investors will converge to hear and meet more than 165 REIT management teams.

Last year, REITWeek set a record attendance with 2,200 registered attendees. Don't wait to register and book your hotel room as we expect to fill the hotel to capacity.

REITWeek 2013 is a complimentary, invitation-only event for institutional investors and NAREIT Corporate Members. For institutional investors to attend this event, they need to first qualify by filling out NAREIT's "Request an Invitation" form. Once qualified, investors will be invited to complete their registration and attend REITWeek 2013.

All NAREIT Corporate Members qualify for complimentary ' 'Fast-Track Registration." Once you have completed your registration, a confirmation e-mail will be sent to you immediately and will include information on how to reserve hotel rooms.

All attendees must pre-register before the beginning of the event.

(Contact: Katelyn Rowland at krowland@nareit.com)