Content

Message from the President

Communicating the REIT investment proposition to all of the REIT industry's stakeholders always has been central to NAREIT's mission, but the ways in which we communicate it are continually evolving to reflect the changing needs of our audiences and the ways in which they want to receive information.

A case in point is the newly redesigned REIT.com, which debuted today. The new REIT.com is the continuation of NAREIT's effort to improve communications, tell a better story, and deliver value and utility to all stakeholders, particularly members.

The design features a cleaner, simplified look-and-feel, easier navigation, and is organized around users' needs. We're also continuing to refine the content, evolving over time from straight news to a broader offering of insight, analysis, tools and resources.

Important resource materials like NAREIT's internal and commissioned research on subjects such as REIT performance compared with other investments, and the use of REITs in retirement products, are more visible and easily accessible.

The latest enhancements to REIT.com build on our earlier work to make the site the primary source for REIT industry news and, especially, to become the leading provider of video interviews with REIT industry leaders, an initiative that has helped take our industry's story to a larger audience.

The updates also are part of a broader communications emphasis that has included the launch of a mobile version of REIT.com for users on-the-go; mobile apps that let our conference attendees get more value from our events; and more aggressive promotion of our research that has increased awareness of the benefits of REIT investment. We continue to seek new and better ways to present the REIT story.

I hope you will take time to look at the new REIT.com. We would like to hear your thoughts about it.








Steven A. Wechsler
President and CEO

 
NAREIT Launches Enhanced REIT.com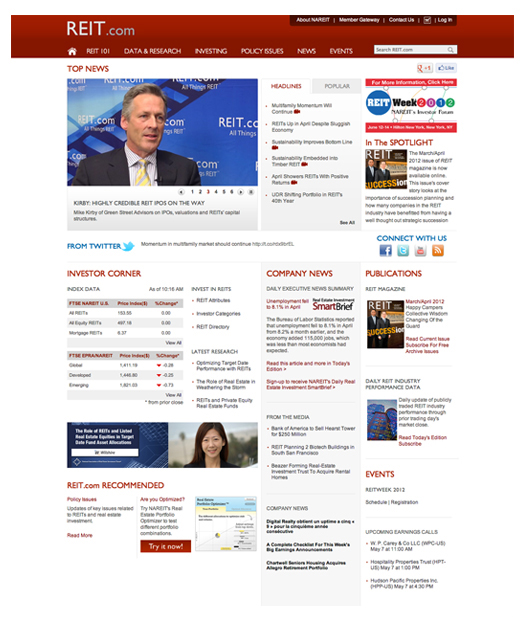 The redesigned REIT.com homepage has a more modern feel and offers a more user-friendly entry into the site.

The cornerstone of NAREIT's publications efforts is REIT.com, which acts as the public face of the industry and association to key stakeholders and the broader investment community. In May, NAREIT launched a redesigned version of REIT.com. The updated site is designed to have a more modern look with more intuitive navigation, enhanced search engine optimization and better integration with social media technology.

Starting with the new REIT.com homepage, site visitors will find the latest original articles and videos produced by REIT.com. This content features interviews with industry leaders and provides analysis of the current market trends and insight into where the industry is headed. Site visitors will also be able to access REIT index data, the latest industry research and stay abreast of the latest industry news on the REIT.com homepage.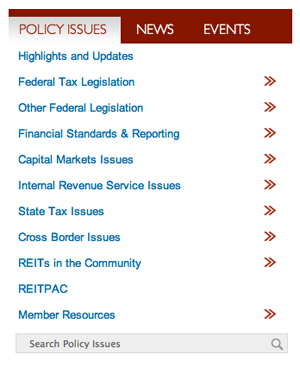 Drop-down menus (left) improve site navigation by bringing out the depth of content available on the site.

Sitewide navigation has been enhanced by organizing content into a more logical structure starting with the basics of REIT 101 through attending Events.

Dropdown menus throughout allow users to easily see the content offered in each section and users now have the ability to search for items on the entire site or within each section.

Targeted landing pages in each section also provide users with the latest news and developments in each area with one click.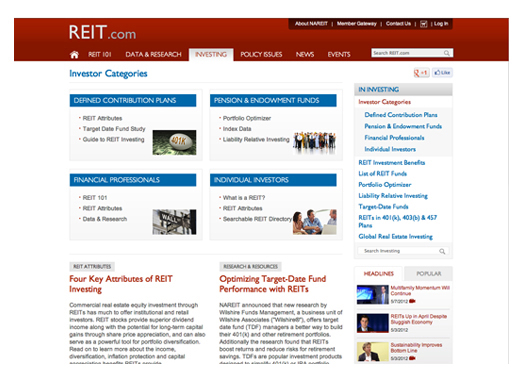 New topic-specific landing pages (like this one for investors) allows REIT.com to present the most current and important news to targeted groups on focused interior pages.
With the enhanced functionality and more contemporary design in place, NAREIT will now begin in earnest to update the content on the site to reflect changes in the way the association communicates the REIT investment proposition.
(Contact:
Matt Bechard
at mbechard@nareit.com)
Investor Outreach Promotes Wilshire Study

NAREIT's Investor Outreach team was on the road for much of April, visiting with a diverse range of 31 institutional investors that in total control more than $10 trillion in assets. The 31 meetings were held with organizations across all targeted investment cohorts, including: six with prominent domestic and international pension, retirement and sovereign wealth fund plan sponsors representing more than $10 billion in assets; five with investment consultants with assets under advisement of more than $809 billion; and 20 with investment managers sponsoring global and domestic products for the institutional and retail investor markets and representing close to $9 trillion in assets under management.

Many of the meetings focused on the research NAREIT sponsored with Wilshire Associates on the role of U.S. REITs and global listed real estate securities within target date funds, the most rapidly growing investment products in most 401(k) accounts and other tax-advantaged savings plans. According to the Wilshire analysis, target date funds should include REIT allocations of between 5 percent and 15 percent. The Wilshire research generated great interest, particularly among organizations offering asset allocation products such as target date funds and target risk funds. Of particular importance were meetings held with two managers that in combination control more than 40 percent of the assets in the target date market.

For these visits, NAREIT arranged for Cleo Chang, the head of investment research for Wilshire who produced the target date study, to participate in the meetings to discuss and endorse the conclusions of the report.

Since the beginning of 2012, NAREIT has conducted 150 meetings with many of the largest and most influential investment organizations within the institutional investment marketplace. Collectively, these entities represent more than $28 trillion in assets under management or advisement.

(Contact: Kurt Walten at kwalten@nareit.com)
NAREIT Meets With SEC on Key Issues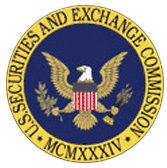 On May 4, NAREIT met with the Securities and Exchange Commission's (SEC) chief accountant and deputy chief accountant to discuss its views on the Leases, Investment Companies, Investment Property Entities and Discontinued Operations proposed Accounting Standards Updates. Representing NAREIT at the meetings were Steve Wechsler, president and CEO; Tony Edwards, executive vice president and general counsel; George Yungmann, senior vice president, financial standards; and Christopher Drula, senior director, financial standards.

During the meeting, NAREIT reiterated the views expressed in recent comment letters sent to the FASB and IASB, including:
The importance of developing a leases standard that does not disrupt the pattern of revenue recognition for both lessees and lessors and that meets the needs of investors;
The objective of developing an accounting model for investment property that converges with its international equivalent (International Accounting Standard No. 40 Investment Property), given the global nature of real estate investment;
The fact that the current accounting model for mortgage REITs works well, and such companies, as well as equity REITs, should not be addressed within the scope of the Investment Companies proposal; and
The request from preparers and users alike for the FASB to converge with the IASB and issue the Discontinued Operations proposal as a final standard.
(Contact:
Chris Drula
at cdrula@nareit.com)
REIT.com Video: Brad Case, NAREIT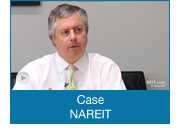 Concerns about a weaker than expected economic recovery didn't hurt the U.S. REIT market in April, according to Brad Case, NAREIT's senior vice president for research and industry information.

In a video interview with REIT.com on the monthly market performance of REITs, Case said consumer spending was one factor that helped lift REITs over the broader stock market for the month. While the broader market indexes dipped slightly, the FTSE NAREIT All REIT Total Return Index increased nearly 3 percent.

The overall economic data underwhelmed observers. While the numbers may have disappointed analysts, the tepid recovery didn't impact publicly traded REITs, Case explained.

"It was a very strong month in the real estate market for investors investing through REITs," Case said. "That's actually something that we're getting used to. If you look on a year-to-date basis, REITs have quite strongly outperformed the stock market in 2012."

Case noted that REITs have generally outperformed the broader market over the course of longer time horizons, too.

Case singled out the fledgling infrastructure sector for its strong performance during April. The sector gained more than 9 percent for the month. Regional malls also stood out, according to Case.

"Although there was concern about the overall economic recovery, there wasn't really concern about consumer spending," he said. "So regional mall REITs returned very strong during April. I think really what we're seeing is that there is so much pent-up demand among consumers for things that they would like to buy that retail REITs are seeing the benefit of that."

Case also highlighted the returns of the mortgage REIT sector. Overall, mortgage REITs climbed 3.5 percent for the month. Home mortgage REITs had a particularly strong month, according to Case.

(Contact: Matt Bechard at mbechard@nareit.com)
 
NAREIT Offers Guidance Plan Recommendations to IRS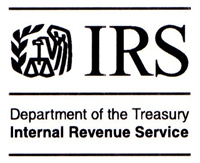 On May 1, NAREIT submitted its recommendations to the IRS for the 2012-13 Guidance Priority List.

NAREIT requested that the IRS include five items on the business plan. In order of priority, they are: reversing the 2007 IRS notice regarding REIT liquidating distributions and FIRPTA; treating money market accounts as cash items for purposes of the REIT rules; clarifying certain rules to allow REITs to workout distressed debt; finalizing recently issued regulations regarding "built in gains" acquired from tax exempt corporations or in like kind exchanges; and liberalizing election and revocation procedures for taxable REIT subsidiaries.

NAREIT said reversing Notice 2007-55 was the highest priority "because its application discourages the investment of foreign equity in the U.S. at a time when such capital is needed to assist in the economic recovery, it contravenes Congressional intent and provides inconsistent results for foreign shareholders and domestic shareholders engaging in similar transactions."

(Contact: Dara Bernstein at dbernstein@nareit.com)
 
NAREIT Welcomes New Member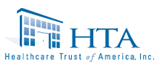 NAREIT welcomed Healthcare Trust of America Inc. as its newest Corporate Member. Healthcare Trust is a fully integrated, self-administered, self-managed public, non-listed REIT focused on acquiring, owning and operating high-quality medical office buildings. Since its formation in 2006, Healthcare Trust has built a portfolio of acquisitions that totals approximately $2.5 billion based on purchase price and is comprised of 12.4 million square feet of gross leasable area. The company's portfolio is geographically diverse, with property portfolios located in 26 states. With overall portfolio occupancy of 91 percent, 56 percent of Healthcare Trusts' current occupancy consists of credit rated tenants. Ninety-six percent of the company's portfolio is strategically located on-campus or aligned with recognized health care systems.

The company is based in Scottsdale, Ariz., and its chairman, president and CEO is Scott D. Peters.

(Contact: Bonnie Gottlieb at bgottlieb@nareit.com)
 
REIT.com Videos: Sustainability Insights
NAREIT caught up with attendees at the Leader in the Light Working Forum held last week to discuss some of the major trends in sustainability in the commercial real estate industry. Look for additional interviews from the event in the coming weeks on REIT.com.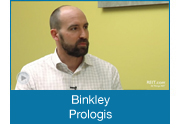 Prologis' (NYSE: PLD) high-profile merger in 2011 with industrial REIT AMB Property Corp. provided "a great opportunity" for the company to enhance its environmental program, according to Aaron Binkley, director of sustainability with Prologis. He said the sustainability programs in place at AMB and Prologis made for a seamless transition. The merger enabled the newly formed company to "take the best of both sides and make an even stronger program on the back end with the new organization," he said.

"I think over the past few years the evolution has really been to take our efforts and go from what a lot of companies started with and drive them deeper into the organization," Binkley said. "So to go beyond what I think in many cases is an initial focus on green construction or sustainable buildings and to move more into existing buildings and renewable energy and, ultimately, into carbon emissions and zero-energy buildings down the road in the future."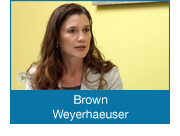 Weyerhaeuser Co. (NYSE: WY) is working to ensure that its sustainability principles are embedded into its culture, according to Shari Brown, the timber REIT's director of environment and sustainability.

"The core of our company is timberlands. We own over 6 million acres in the United States. Weyerhaeuser's vision is to provide and deliver superior sustainability solutions for the world," she said. "Sustainability is embedded into our DNA, so we have taken the step to really develop a holistic and very comprehensive sustainability strategy."


There is a growing body of evidence demonstrating that energy efficiency and sustainability directly impact the bottom line in the real estate industry, according to Nils Kok, associate professor at Maastricht University in the Netherlands and founder of the Global Real Estate Sustainability Benchmark (GRESB).

Kok has spearheaded the effort to collect data from commercial real estate companies around the globe in an effort to create green performance benchmarks. Major institutional investors are beginning to use that information to help inform their investment decisions, according to Kok, and they're encouraging REITs to participate in programs like GRESB and to be more transparent in their operational performance. Kok said some institutions are incorporating sustainability performance scores into their investment models to better project growth rates and risk levels.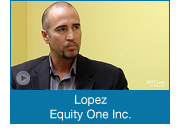 Equity One Inc. (NYSE: EQY) first took a "low-cost, no-cost" approach to its sustainability efforts to maximize savings, according to Joe Lopez, Equity One's vice president of property management and director of environmental impact. In terms of cost savings, Lopez said it has been important for Equity One to pin down avenues of low cost that net high levels of benefit. For instance, the firm's waste stream program has doubled its recycling portfolio across Equity One's entire portfolio.

"That's always our first approach," Lopez said. "There are things we've initiated and rolled out recently that do have a cost, but the present value of those improvements are positive, and we also get a quick return on our investment."

(Contact: Matt Bechard at mbechard@nareit.com)
 
REITs in the Community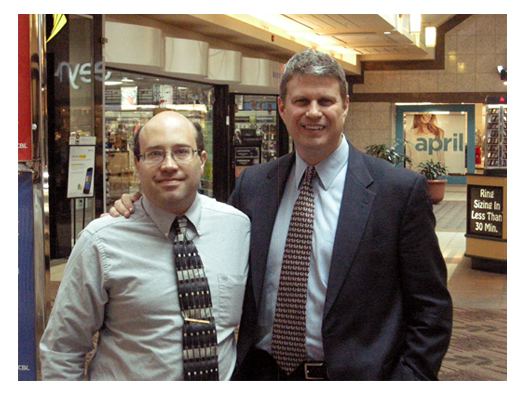 April 30, 2012: Rep. Bill Huizenga (R-MI), right, visited The Lakes Mall in Muskegon, Mich., which is owned by CBL & Associates Properties Inc., and met with Michael Hagen, the mall's general manager. Huizenga and his district director, Greg VanWoerkom, were briefed on the economic impact that The Lakes Mall is having on Muskegon and western Michigan area. Huizenga was also briefed on several legislative issues being pursued during the 112th Congress, including the Marketplace Fairness Act and the soon-to-be introduced U.S. REIT Act.



May 1, 2012: Sen. Michael Bennet (D-CO) met with Tom Toomey, president and CEO of UDR Inc. (NYSE: UDR), and Phil Hawkins, president and CEO of DCT Industrial Trust Inc. (NYSE: DCT), in Denver. The meeting included a discussion on the impact REITs have on Colorado communities. Bennet was also briefed on a number of legislative issues that are key to the REIT industry, including reforming the Foreign Investment in Real Property Tax Act rules, upcoming REIT-specific tax legislation and new regulations for financial derivatives.

(Contact: Kirk Freeman at kfreeman@nareit.com)
 
REITWeek to Go a Little "Mad" This Year



REITWeek 2012®: NAREIT's Investor Forum® marks the first time this event will be held at the Hilton New York, conveniently located right in the heart of Midtown Manhattan. REITWeek brings the largest concentration of REIT management teams into one central location – more than 100 REITs to date – to present their latest company information to qualified institutional investors. Thousands will gather at this invite-only event to hear REIT management teams provide updates and projections that will help investors identify important company, sector and market trends, evaluate business models, and participate in company Q&A's.

Among the speakers confirmed for the event are CNBC "Mad Money" host Jim Cramer, Professor Kenneth Rogoff, author of "This Time is Different: Eight Centuries of Financial Folly," and Mark Shields from PBS' "Newshour."

If you are an institutional investor and would like to receive an invitation, you may use our online form to request an invitation. If you do not qualify as an institutional investor, but would still like to attend, you may become a sponsor. For more information on sponsoring this event, visit our REITWeek 2012 sponsorship information page.

Please visit the REITWeek website for complete information on REITWeek 2012: NAREIT's Investor Forum.

(Contact: Jeff Henriksen at jhenriksen@nareit.com)