Content

Message from the President

Last week, approximately 1,200 REIT executives, investors, analysts and bankers met in San Diego for REITWorld 2012: NAREIT's Annual Convention for All Things REIT®. The format of this year's meeting was built around discussions of the fundamentals and opportunities in the various segments of the REIT marketplace. The meeting's structure made it apparent just how integrated REITs are into the various sectors of the national economy – from healthcare to housing, and more.

Other announcements at the convention also pointed to the growing potential for REITs to be more heavily integrated into socially responsible investing strategies. This year's Leader in the Light awards, which were presented at the event to honor companies that have demonstrated superior sustainable energy-use practices, were modified to include judging criteria based on the results of the Global Real Estate Sustainability Benchmark (GRESB) Annual Survey.

GRESB's Annual Survey measures the environmental performance of property portfolios around the world. The survey is endorsed – and the companies participating in it are closely watched – by many of the world's largest institutional investors, representing more than $1.7 trillion in institutional capital under management.

NAREIT also announced it is joining forces with our index partner, FTSE Group, and the U.S. Green Building Council to jointly develop the first sustainable property indexes for both institutional and retail investors. This new family of green property indexes will be based on the FTSE NAREIT Index Series, one of the market's leading benchmarks for U.S. real estate investment, and will include 78 equity REITs – more than half of the 129 companies in the FTSE NAREIT All Equity REITs Index.

REITs today are a key component of our economy and of investment portfolios for investors from all walks of life with a broad range of needs and interests. This is an important message about our industry, and one we will be working to communicate to our investor and policy audiences in the weeks and months ahead.








Steven A. Wechsler
President and CEO

 
REITWorld 2012: A Sunnier San Diego Experience

Commercial real estate industry executives, analysts and investors assembled at the Manchester Grand Hyatt in San Diego from Nov. 13-15 for REITWorld 2012: NAREIT's Annual Convention for All Things REIT®. Attendees gathered in San Diego to share insights with their industry peers on some of the major trends and issues in commercial real estate.

The mood at the event was markedly different than the last time San Diego hosted REITWorld, which was four years ago amidst the depths of the Great Financial Crisis. This time, the focus was on the important role REITs play in the economy, the resilience of the industry and how companies are positioned to avail themselves of opportunities as they arise.

Sessions at the event focused on REITs' role in the economy and were broken down into market segments. Webcasts are available for the following sessions: Health Care, Capital Markets Update, Business-to-Business Real Estate Owners, Housing, and Consumer-Oriented Real Estate Owners. REIT Magazine's Weekly Report also offers a video recap of the event.

(Contact: Matt Bechard at mbechard@nareit.com)
 
---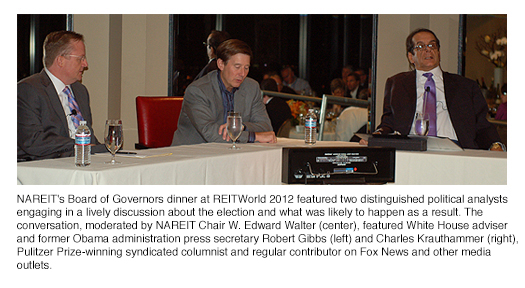 NAREIT's Board of Governors dinner featured two distinguished political analysts engaging in a lively discussion about the election and what is likely to happen as a result. The conversation, moderated by NAREIT Chair W. Edward Walter (center), featured White House adviser and former Obama administration press secretary Robert Gibbs (left) and Charles Krauthammer (right), Pulitzer Prize-winning syndicated columnist and regular contributor on Fox News and other media outlets.
---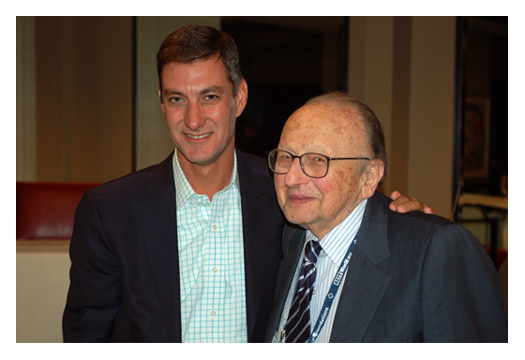 Don Wood, president and CEO of Federal Realty Investment Trust (NYSE: FRT), was recognized during REITWorld 2012 for his considerable efforts as NAREIT's 2012 Chair. Pictured are Wood (left) and 1997 NAREIT Chair, Milton Cooper of Kimco Realty Corporation (NYSE: KIM).
---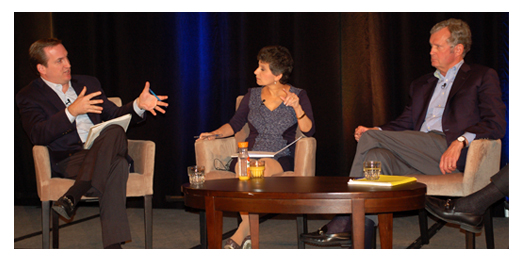 Health care REITs plan to take advantage of increasing opportunities to grow thanks to demographics and the need for affordable health care, according to panelists at the health care-focused session moderated by Ross Nussbaum (far left), managing director with UBS. Panelists included Debra Cafaro, chairman, president and CEO of Ventas Inc. (NYSE: VTR); George Chapman, chairman, president and CEO of Health Care REIT Inc. (NYSE: HCN); and James Flaherty, chairman and CEO of HCP Inc. (NYSE: HCP).
"I wouldn't trade the fundamental economic driver for any REIT space in the world. It's the aging baby boomer that's going to spend more money on health care in the last years of life," Flaherty said during the session.
Pictured from left to right are Nussbaum, Cafaro and Chapman.
---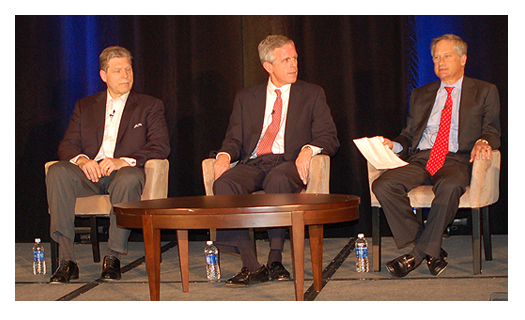 James Feldman and Jeff Spector with Bank of American Merrill Lynch co-moderated a business-to-business real estate owner panel where REIT executives said they are enjoying low supply amid a growing demand for their services. Panelists included Michael Foust, CEO of Digital Realty Trust (NYSE: DLR ); Philip Hawkins, CEO and president of DCT Industrial Trust Inc. (NYSE: DCT); and Hap Stein, chairman and CEO Regency Centers Corp. (NYSE: REG).
"I don't hear fiscal cliff talk from customers. We've been so programmed to deal with crisis over the last three or four years. Companies have powered through it, and as a result, we've seen pretty good demand," Hawkins said. "We've seen small tenant demand pick up over the last month."
Pictured from left to right are Foust, Hawkins and Stein.
---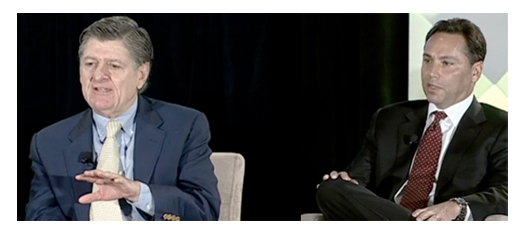 REIT executives say they aren't worried about competition from the single-family market as talk of a housing recovery gains steam. A panel on housing, which was moderated by Andrew McCulloch, managing director with Green Street Advisors, included William Bayless, president and CEO of American Campus Communities Inc. (NYSE: ACC); Terry Considine, chairman and CEO of Aimco (NYSE: AIV); Daniel Fulton, president and CEO of Weyerhaeuser Company (NYSE: WY); and Timothy Naughton, president of Avalon Bay Communities Inc. (NYSE: AVB).
Naughton said both the single-family and multifamily sectors can coexist and added that many have forgotten what a "balanced" housing market looks like. "It's hard for me to paint a picture of how a housing recovery is bad for apartments," he said.
Pictured from left to right are Considine and Naughton.
---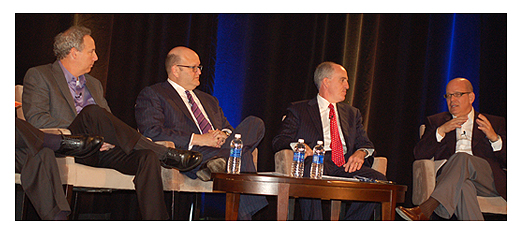 Consumer-focused REITs were the topic of discussion during a panel moderated by Steven Sakwa, senior managing director with the ISI Group. Panelists included Jon Bortz, chairman and CEO of Pebblebrook Hotel Trust (NYSE: PEB); Daniel Hurwitz, president and CEO of DDR Inc. (NYSE: DDR); Spencer Kirk, chairman and CEO of Extra Space Storage Inc. (NYSE: EXR); and Robert Taubman, chairman, president and CEO of Taubman Centers Inc. (NYSE: TCO).
"Conventional wisdom wouldn't be wise if everyone said people shopped online and stopped coming into bricks-and-mortar stores," Hurwitz said. "The bottom line is we feel the Internet has been a great distribution channel for multi-channel retailers."
Pictured from left to right are Bortz, Hurwitz, Kirk and Taubman.
---
Panelists discussed a number of topics ranging from the flurry of M&A activity to the health of the CMBS market in a panel discussion on capital markets moderated by NAREIT Chair Ed Walter, president and CEO of Host Hotels & Resorts (NYSE: HST). The panel included Michael Bilerman, managing director and head of real estate and lodging research at Citi; Michael Graziano, managing director, Goldman Sachs & Co.; and Jeffrey Horowitz, global head, real estate, gaming and lodging, Bank of America Merrill Lynch.
Pictured left to right are Walter, Bilerman, Graziano and Horowitz.
---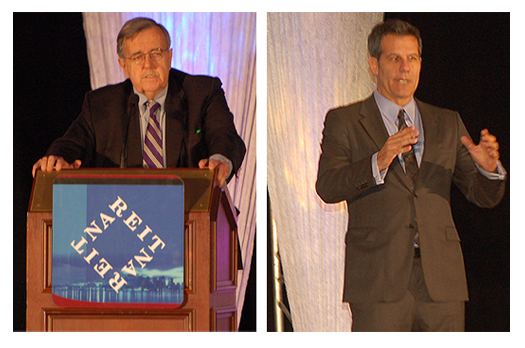 In addition to industry-specific panel discussions, REITWorld 2012 featured insights from distinguished speakers from outside the REIT industry. At Wednesday's lunch session, best-selling author Richard Florida (pictured right), founder of the Creative Class Group, offered his perspectives as an urban theorist on the new patterns he sees emerging in the way we live, work and consume.
The closing breakfast session on Thursday featured insights on the recent election and what it means moving forward from syndicated columnist and "PBS NewsHour" correspondent Mark Shields (pictured left).
Stein, Steers Receive NAREIT Industry Awards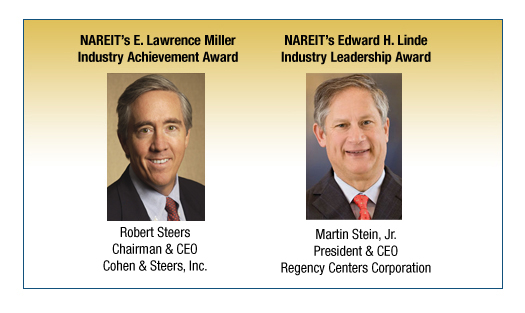 Martin "Hap" Stein, chairman and CEO of Regency Centers Corp. (NYSE: REG), received the 2012 NAREIT Industry Leadership Award, and Bob Steers, co-chairman and co-CEO of Cohen and Steers, received the 2012 NAREIT Industry Achievement Award at REITWorld 2012: NAREIT's Annual Convention for All Things REIT in San Diego.

The awards were given on Nov. 12 to industry members who have "made outstanding contributions to the REIT industry and to NAREIT's own programs," said W. Edward Walter, president and CEO of Host Hotels and Resorts (NYSE: HST) and 2013 NAREIT Chair, at the awards ceremony.

Stein received the Edward H. Linde Leadership Award, named after the late CEO of Boston Properties (NYSE: BXP). Stein was honored for "consistently giving generously of his time to participate in NAREIT's Washington Leadership Forum events and providing leadership and support for NAREIT's Investor Outreach program," Walter said. Stein served as NAREIT's chair in 2008, vice chair in 2007 and on NAREIT's executive committee from 2003 to 2010. Stein was also credited with making Regency Centers an industry leader in sustainability initiatives.

Steers received the E. Lawrence Miller Achievement Award, named in honor of past NAREIT chair Lawrence Miller, the former CEO of Bradley Real Estate Trust, one of the industry's first REITs. Steers was recognized for helping to take REIT investments into the mainstream by explaining REITs to investors unfamiliar with the role that REITs play.

(Contact: Ron Kuykendall at rkuykendall@nareit.com)
11 Leaders in the Light Recognized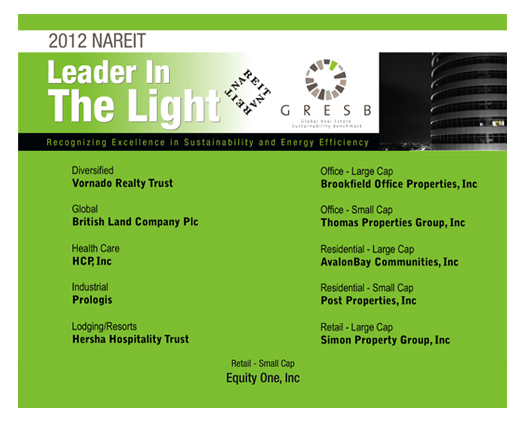 NAREIT honored the 11 winners of its annual Leader in the Light Awards competition on Nov. 14. The awards, done this year in conjunction with the Global Real Estate Sustainability Benchmark (GRESB) survey, honored member companies that have demonstrated superior portfolio-wide energy use practices and sustainability initiatives.

As the first year that the awards were migrated into the GRESB platform, participants completed both the 2012 GRESB survey along with the supplemental 2012 Leader in the Light questions. This is also the first year that the awards were sector-driven with categories in each of the major REIT industries.

Winners were announced in both Large Cap and Small Cap categories for office, residential and retail. There was one award given for the health care, industrial, lodging/resorts and diversified REIT sectors.

AvalonBay Communities Inc. (NYSE: AVB) took the Large Cap award and Post Properties Inc. (NYSE: PPS) took the Small Cap award for the residential sector.

Brookfield Office Properties Inc. (NYSE: BPO) was honored with the Large Cap award and Thomas Properties Group received the Small Cap award for the office sector.

In the retail category, Simon Property Group Inc. (NYSE: SPG) received the Large Cap award, while Equity One was presented with the Small Cap award.

The industrial award went to Prologis (NYSE: PLD). Hersha Hospitality Property Trust (NYSE: HT) won for the lodging/resorts sector. The health care award went to HCP Inc. (NYSE: HCP), while the diversified award went to Vornado Realty Trust (NYSE: VNO).

Additionally, London-based British Land Company (LSE: BLND) received the Global honor.

(Contact: Sheldon Groner at sgroner@nareit.com)
REIT.com Videos: REITWorld 2012
REIT.com's video team sat down with nearly 70 industry leaders, including 35 REIT CEOs, during REITWorld 2012 to get their insights into the current state of the REIT market, where things are heading in 2013 and what specific issues and trends they are watching. New videos will be made available on REIT.com regularly for the next several weeks. Below is a sample of the interviews currently available.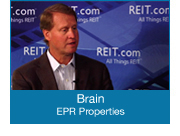 David Brain, president and CEO of EPR Properties (NYSE: EPR), discussed the impetus behind the company's recent re-branding effort. Brain said the company was prompted to change its name and re-brand based on the feeling that it had outgrown the Entertainment Properties Trust name, which reflected the firm's roots.

"We've developed the company beyond just a particular cinema and limited entertainment focus, spanning now into the education and recreation areas in which we're investing. It was time to expand the identity of the company to conform with the portfolio we're developing," Brain said. "It has been brewing over the last couple of years, and it really finally came to a head and we decided it would be a good time to get it done, because we continue to have ambitions to expand the platform of the company."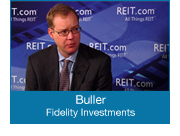 Steve Buller, vice president and portfolio manager with Fidelity Investments, discussed an investor's view of REITs' growth strategies in the current market environment.

"Acquisitions are obviously very paramount in part of their growth strategies. We find that, generally, that's a good thing. That's exploiting their low cost of capital," he said. "Obviously, we've seen in the debt markets that REITs have a huge competitive advantage in where they can borrow at. In addition, given what equity share prices have done in the REIT world, we've seen that cost of capital, both the equity and debt side combined, makes it very competitive to be, perversely, the highest-cost bidder on acquisitions. Those acquisitions have been done accretively, not only to net asset value, but also to earnings per share."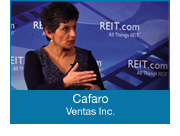 Debra Cafaro, chairman, president and CEO of Ventas Inc. (NYSE: VTR), discussed the reasons why Ventas and other health care REITs have been especially active in terms of strategic acquisitions within the past couple of years. Cafaro said she sees that as a trend that will continue in 2013.

"We've acquired $13 billion of assets since the beginning of 2011 and $1.7 billion so far this year, and all of those investments have made money for shareholders," she said. "Demographics drive our business, investments drive our business and we definitely see health care as one of the most dynamic and biggest fragmented sectors. That creates a great landscape for additional external growth."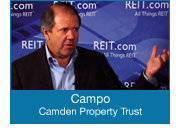 Ric Campo, chairman and CEO of Camden Property Trust (NYSE: CPT), offered his analysis of apartment REITs' ongoing strong fundamental outlook and the contrast with the sector's relative underperformance of the REIT market so far in 2012.

"I think what's happening is the market believes that there's a non-binary situation where single-family housing can do well and multifamily housing can't do well," Campo said. "The idea is that people are going to move out of apartments to buy a house. That's just not the case. Moving out to buy a house is really a demographic issue and a lifestyle issue, not just an issue of dollars and cents. People don't get that."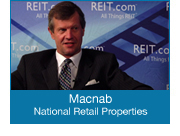 Craig Macnab, chairman and CEO of National Retail Properties (NYSE: NNN), offered his thoughts on the state of consumer confidence and other factors impacting retail sales heading into 2013. Macnab said he keeps an eye on employment and income trends.

"Whether we like it or not, we're in an environment where the consumers shop 'til they drop. Even though employment is not stellar and saving is less than it should be, consumers seem to find a way to keep spending," he said. "I'm cautiously optimistic that next year employment will improve a little bit. There's always population growth. So, I think retail is going to be solid next year, not stellar."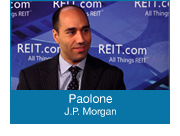 Anthony Paolone, REIT analyst with J.P. Morgan, shared his thoughts on which REIT sectors he was particularly high on heading into 2013.

"As we look ahead to next year, we think the mall space will continue to do well. The fundamentals are there for them," he said. "What we're really watching closely is what transpires in the office group, which has been a very sluggish space due to fairly tepid job growth. The hope is that you start to see some improvement on that front."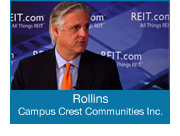 Ted Rollins, co-chairman and CEO of Campus Crest Communities Inc. (NYSE: CCG), provided some insight into Campus Crest's development program and the factors that the company weighs before its shovels hit the ground for new building.

"Our underwriting parameters are fairly deep. At any given time, we're evaluating about 40 different statistics," Rollins said. "If you look at the returns that we generate on our products, they're fairly well north of 9 percent on costs. As we continue to improve our processes and grow our business that migrates upward. People are starting to see those results at this time."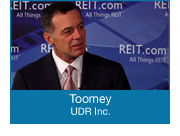 Tom Toomey, president and CEO of UDR Inc. (NYSE: UDR), discussed the current transformative period that the company is experiencing within its portfolio.

"I feel very good about where we're at. We've transformed a company with over $14 billion of transactions in the last 10 years," he said. "We've made some great inroads in the last two years, particularly making investments in Boston and New York, which I think are going to do very well. However, I don't think you're ever quite done, but what I do feel like is that we're in the 90 percentile. We're headed in the right direction."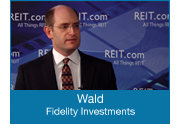 Sam Wald, portfolio manager with Fidelity Investments, highlighted the fact that REITs' same store net operating income (SSNOI) remained positive in 2012 despite a less than robust economic recovery.

"One of the bigger surprises we think has been the health of the same store net operating income across the industry for 2012," Wald said, adding he attributes this to the fact that real estate is a supply-and-demand business, and property supply levels are historically low. "When supply is fairly low, it really doesn't take all that much economic growth to generate fairly healthy earnings growth."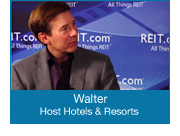 NAREIT Chair Ed Walter, president and CEO of Host Hotels & Resorts (NYSE: HST), offered his thoughts on the current state of the listed real estate market as well as his top priorities for the coming year.

"I think we're in great shape as an industry. After the tremendous downturn in 2008 and 2009, as an industry, we've restored our balance sheets. Now, when we're issuing equity, we're not doing it to improve a balance sheet, we're doing because there are attractive acquisition candidates out there," Walter said. "Across the board, the fundamentals in our industry all look good. I think as companies and as an industry, we're very well-positioned for success."

(Contact: Matt Bechard at mbechard@nareit.com)
REIT Magazine Gets a New Online Home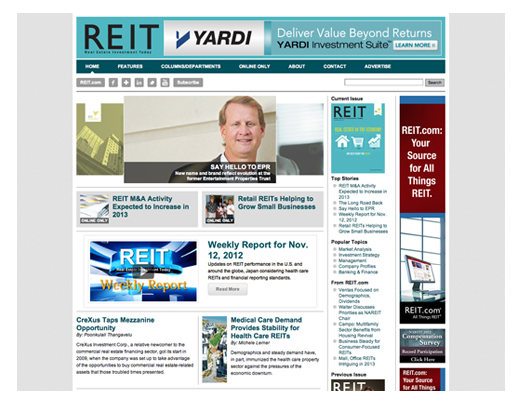 REIT: Real Estate Investment Today magazine continues to evolve and adapt to meet readers' information needs. The issues and trends we cover in each issue of the magazine continue to develop long after we send an issue to the printer. Unfortunately, production schedules and space limitations confine any print publication to tackle a story within a pre-defined timeframe.

Building on the success NAREIT has had developing REIT.com as an online source for real estate investment news, data, research and analysis, we are proud to launch our latest online offering. RealEstateInvestmentToday.com is the new online home of REIT magazine and serves as a way to continue the conversation beyond the pages of the print edition.

RealEstateInvestmentToday.com features expanded content from articles and interviews in the print edition, exclusive online-only features and departments as well as updates on stories covered in the pages of REIT magazine. Users will be able to search past issues and access relevant content by keywords. In addition, RealEstateInvestmentToday.com will serve as a venue for industry leaders to showcase thought leadership through videos, white papers and webinars.

The November/December issue of REIT magazine is now available on RealEstateInvestmentToday.com. The issue features a look at how housing-, consumer- and business-centric REITs are prepared for the opportunities and challenges that lie ahead in 2013. In addition, the issue includes a profile of the rebranding effort undertaken by EPR Properties, insights into Home Properties' skill at repositioning assets and a look at how CreXus Investment Corp. is tapping into funding opportunities.

We hope you find the content in each issue of REIT magazine to be valuable, insightful and engaging. With the launch of RealEstateInvestmentToday.com, we hope to carry those same positive sentiments beyond the printed page.

(Contact: Matt Bechard at mbechard@nareit.com)
FTSE Group, USGBC, NAREIT Develop Investable Green Property Indexes

A new family of green property indexes will be based on one of the market's leading benchmarks for U.S. real estate, the FTSE NAREIT Index Series, using green data from the U.S. Green Building Council (USGBC).

Brad Case, NAREIT's senior vice president for research and industry information, attended GreenBuild in San Francisco last week for the announcement of the FTSE NAREIT USGBC Green Property Index. Case also later participated in direct meetings about it and the FTSE NAREIT PureProperty index series with Schwab, Blackrock, Aperio, Fannie Mae, and the Clinton Global Initiative.

The USGBC is a leading non-profit organization known for its development of LEED, a global green building certification program, and its large diverse member community.

The FTSE global REITs universe represents $1.07 trillion today. U.S. REITs account for 48 percent of this universe, valued at $512 billion. The green property indexes are based on the analysis of over 14,300 LEED and 18,400 Energy Star projects that have received third-party certification based on their green achievements and performance. These projects represent over 5 billion square feet of commercial real estate.

(Contact: Brad Case at bcase@nareit.com)
NAREIT Joins Coalition in Expressing Concerns Over Basel III

NAREIT joined a number of industry groups in writing to the Senate Committee on Banking, Housing and Urban Affairs to express their reservations about the "unintended consequences of Basel III upon non-financial businesses."

The letter to Committee Chairman Tim Johnson (D-SD) and Ranking Member Richard Shelby (R-AL) was sent in conjunction with a hearing on the impact of the Basel III proposed capital rules.

"Individually and collectively these initiatives have direct impacts upon the ability of non-financial businesses to mitigate risk and raise the capital needed to expand and create jobs," the letter said.

(Contact: Victoria Rostow at vrostow@nareit.com)
Investor Outreach in the U.K.

In addition to our outreach to major U.S. pension and retirement plan sponsors, NAREIT, in conjunction with the European Public Real Estate Association (EPRA), has taken additional steps to reach out to large European institutional investors through participation at a number of conferences and related industry events as well as direct meetings with individual investment organizations in Europe.

Today's REIT and listed real estate investment marketplace is increasingly global; investors around the world are choosing to include REITs and listed property companies in their portfolios. In the midst of this fluid and expanding marketplace, NAREIT's Outreach Program seeks to expand global real estate investment through REITs and listed property companies by promoting worldwide understanding and acceptance of the REIT and listed real estate approach to real estate investment.

Last week, Meredith Despins, NAREIT vice president for investment affairs and investor education, and Maikel Speelman, EPRA senior analyst for research and indices, met with a number of prominent U.K. pension and retirement plan sponsors and leading global investment consulting organizations. Included among the meetings were briefings with Cambridge Associates, the third-largest global investment consulting firm with $3.5 trillion of assets under advisement, and TowersWatson, the sixth-largest with $2 trillion in assets under advisement on behalf of investors including pension, retirement and sovereign wealth funds.

In addition to these direct meetings, Despins attended a pension fund investment symposium in London sponsored by Specialist Pension Services, Limited (SPS). The one-day event, "Asset Strategies for Pension Funds: Enhancing Returns & Managing Risks," focused on providing delegates attending the event with a forum to discuss and evaluate the major investment themes confronting U.K. pension and retirement plan sponsors.

A common thread throughout the course of the event was concern for the developed global economy and uncertainty related to the impact of government policies and evolving regulatory and accounting standards with respect to the future direction of financial markets. Positioning investment portfolios to effectively address tail-risk, portfolio volatility and inflation were among the topics discussed. In particular, the central role of listed REITs within a diversified portfolio of inflation-linked assets was highlighted in a presentation by American Century Investments.

(Contact: Meredith Despins at mdespins@nareit.com)
NAREIT's Schnure Speaks on CRE Fundamentals

Calvin Schnure, NAREIT vice president for research and industry information, discussed commercial real estate business trends at the annual convention of the National Association of Realtors® (NAR) in Orlando, Fla., on Nov. 9. The audience of more than 500 commercial real estate brokers and investors reflected interest in U.S. commercial real estate by both domestic and foreign investors; in fact, Schnure's presentation was simultaneously translated into Spanish, French, Portuguese and Mandarin Chinese for the benefit of the overseas participants.

Schnure highlighted how the slow pace of new supply of commercial buildings is contributing to a modest recovery in real estate markets despite the still-weak overall macroeconomic trends. He also discussed the fact that property markets will likely see more rapid improvement as the economic recovery continues in 2013 and 2014. In addition, he discussed the critical role of REITs in providing capital to commercial real estate markets at a time when there is a lack of financing from other sources, especially banks and the CMBS market.

Schnure was also the keynote speaker earlier in the month at a real estate roundtable sponsored by the Carl H. Lindner Business School at the University of Cincinnati. About 200 local business leaders from the real estate, lending and investing communities attended to hear Schnure discuss the economic outlook and its impact on the fundamental factors driving commercial real estate. The commercial property market recovery took a breather in the third quarter, with smaller improvements in vacancies and slower rent growth in all main property types. Economic fundamentals began to regain momentum more recently, including the recent news on the job market in October, suggesting better times ahead.

(Contact: Calvin Schnure at cschnure@nareit.com)
Happy Thanksgiving from NAREIT
We hope you and your family enjoy a happy Thanksgiving holiday. NewsBrief will not publish Monday, Nov. 26 but will return the following Monday.

(Contact: Matt Bechard at mbechard@nareit.com)