Content

Message from the President

The REIT industry lost an important leader and advocate over the past weekend with the passing of Michael A. J. Farrell, Chairman, President and CEO of Annaly Capital Management.

Mike was a visionary who co-founded Annaly in 1997 and built it into the industry's largest mortgage REIT. He was a highly capable chief executive with a strong commitment to his company, as well as to the entire industry. Under his leadership, Annaly skillfully navigated the ups and downs of the economy and financial markets, returning more than 600 percent to its shareholders since its IPO.

Mike gave generously of his time and energy as a member of NAREIT's Executive Board and as Chairman of our Residential Mortgage REIT Council. His energy and insights contributed to the betterment of our marketplace.

It has been reported that Mike, earlier in his life, considered becoming a rock star. In an important sense, he achieved this goal, becoming a rock star to many on an entirely different stage. With his wide-ranging intellect and his extensive knowledge of history and literature, he provided fresh perspectives on business, the economy and society in his columns and presentations, which were enthusiastically anticipated and received by the Annaly stakeholders and family that were his most important audience.

Mike will be greatly missed. Our sympathies go out to his family and co-workers.








Steven A. Wechsler
President and CEO

 
NAREIT Participates in Second-Annual DCIIA Academic Forum

Last week, the NAREIT Investor Outreach team participated in the second-annual Public Policy Forum of the Defined Contribution Institutional Investment Association (DCIIA), a recently formed organization seeking to incorporate best practices into the $4.8 trillion defined contribution (DC) retirement market. Since it was established in January 2010, DCIIA has steadily built an impressive membership roster including the vast majority of the most visible thought leaders in the DC industry. As evidence of this, approximately 140 individuals attended the first Academic Forum last year and 180 attended the October event.

Attendees of the forum, which was held in Boston, heard presentations by academics and researchers focused on issues relating to retirement and investments. Among the speakers were nationally known retirement experts including: Alicia Munnell, director of the Center for Retirement Research at Boston College; Jack Vanderhei, research director of the Employee Benefits Research Institute (EBRI); Jeremy Siegel, professor of finance from the Wharton School of the University of Pennsylvania; Zvi Bodie, professor of management at Boston University; and Michael Drew, professor of finance at Griffith Business School in Queensland, Australia. A highlight of the forum was a lively debate between Professors Siegel, Bodie and Drew on the topic, "Glide Path or Slippery Slope…What is the right equity allocation for DC plan participants?"

As a founding member of DCIIA, NAREIT has been asked to serve as a member of the organization's public policy and investment policy & design committees. Of particular importance to NAREIT is advocating for the automation of key aspects of DC plan participation as well as promoting full opportunity for the inclusion of all major asset classes and investment product formats within DC plans, including REITs.

Founding members include some of the largest investment consultants, such as Callan Associates, Hewitt Ennis Knupp, Ibbotson Associates, Mercer, Morningstar and Towers Watson. DCIIA members also include major investment managers such as AllianceBernstein, BlackRock, Goldman Sachs, J.P. Morgan, PIMCO, Russell Investments, T. Rowe Price, UBS, Wellington Management and Wells Fargo. NAREIT maintains an ongoing dialogue with these organizations through its direct meetings program. Plan sponsors of the largest and most influential DC plans also participate.

(Contact: Kurt Walten at kwalten@nareit.com)
HR Forum Addresses Key Personnel Issues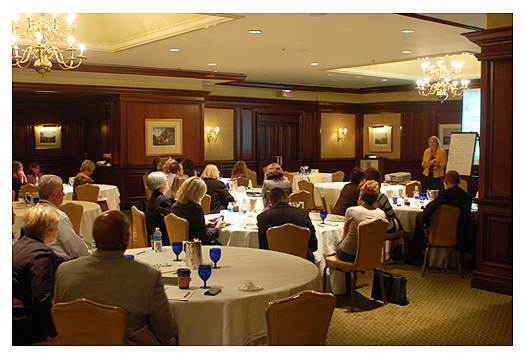 NAREIT held its sixth-annual HR Forum Oct. 15-16 at the Ritz Carlton in Tysons Corner, VA. Thirty-three senior human resources executives from NAREIT Corporate Members attended the event. Topics discussed at the event included employee engagement, succession planning, the Dodd-Frank Act and "Say-on-Pay," and HR's role with a company's board and senior management.

The three program directors/sponsors for this year's event were Holly Edington, SVP-HR, Corporate Office Properties Trust (NYSE: OFC); Nancy Hemmenway, Chief HR Officer, Prologis, Inc. (NYSE: PLD); and Larry Krema, SVP-HR, Simon Property Group, Inc. (NYSE: SPG).

For the first time, NAREIT put QR codes on attendee badges which facilitated the exchange of contact information. Speaker bios and copies of presentations are available at REIT.com.

(Contact: Bonnie Gottlieb at bgottlieb@nareit.com)
Register Today for REITWorld 2012

REITWorld 2012: NAREIT's Annual Convention for All Things REIT, scheduled for Nov. 13-15 in San Diego, provides a unique opportunity where REIT and real estate executives, experienced and sophisticated investors, industry leaders, and academic experts come together in one setting to share their specialized knowledge and experience.

This year, conference sessions will offer a unique view of four market segments: health care, housing, business-to-business real estate (including office, industrial, data center and infrastructure REITs) and consumer-oriented real estate (including hotels, regional malls, strip centers and self-storage REITs).

Attendees will gain understanding and insight into the opportunities, business models and economic drivers of these four sectors, as well as many of the individual companies within them.

Visit the REITWorld Event page to register and to get all the details regarding the event as they become available.

(Contact: Katelyn Rowland at krowland@nareit.com)

 
NAREIT Welcomes New Member

NAREIT welcomes Ryman Hospitality Properties, Inc. (NYSE: RHP) as its newest Corporate Member. Ryman is currently a publicly traded, internally managed real estate operating company, but will become a publicly traded equity REIT on Jan. 1, 2013.

Ryman was a wholly-owned subsidiary of Gaylord Entertainment Company, the latter of which merged into Ryman as part of its restructuring plan to convert to a REIT. Ryman specializes in group-oriented, destination hotels in urban and resort markets. Its assets include four meetings-focused resorts that are managed by Marriott International under the Gaylord Hotels brand. Ryman also operates a number of media and entertainment assets, including the Grand Ole Opry. Colin Reed is chairman and CEO of the Nashville-based company.

(Contact: Bonnie Gottlieb at bgottlieb@nareit.com)
REITs in the Community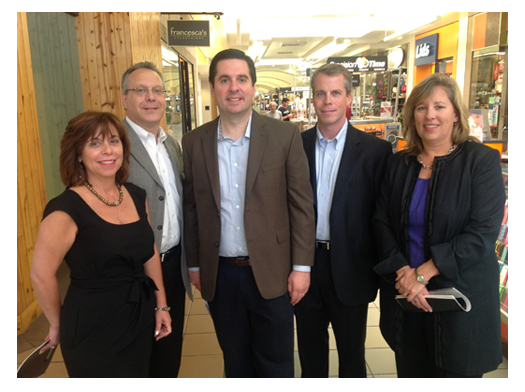 Oct. 18, 2012: Rep. Devin Nunes (R-CA), center, toured General Growth Properties' (NYSE: GGP) Visalia Mall in Visalia, Calif. During his visit, the congressman received an update on GGP's economic impact within the district, throughout the state and nationally. He also discussed the Marketplace Fairness Act, a bill that has been proposed to create sales and use tax parity for online and traditional retailers. Pictured with Rep. Nunes (left to right): Denise Marsicano, vice president, leasing; Richard Feder, general manager, Visalia Mall; Kevin Berry, vice president, investor relations; and Carol Jacobs, vice president, asset management.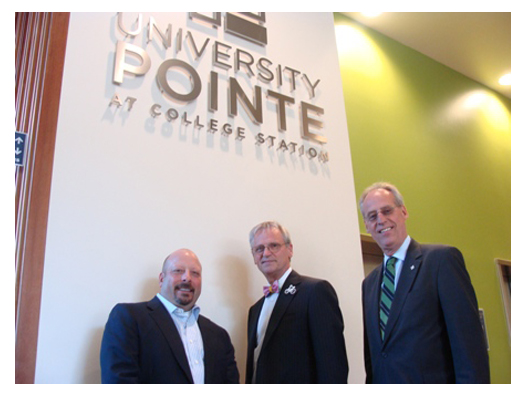 Oct. 18, 2012: Rep. Earl Blumeanuer (D-OR), a member of the House Ways and Means Committee, participated in the grand opening of University Pointe at College Station, a newly constructed student housing property developed by American Campus Communities (NYSE: ACC) in partnership with Portland State University. During the ceremony, Blumenauer (center), American Campus President & CEO Bill Bayless (left), Portland State President Wim Wiewel (right) and others highlighted the many benefits of the development for the university and its surrounding neighborhood. The building, which is seeking LEED Gold certification, has dramatically increased the ability of Portland State to offer on-campus housing options to its students.

(Contact: Kate Smith at ksmith@nareit.com)
REITWise 2013 Planning Underway

Next year's REITWise: NAREIT's Law, Accounting & Finance Conference will be held in La Quinta, Calif., from Mar. 20-22. NAREIT thanks the program directors for their efforts in helping to put together this important educational meeting: Tim Hall, senior vice president – tax, HCP Inc. (NSYE: HCP); Jeff Horowitz, global head of real estate, gaming and lodging, Bank of America Merrill Lynch; Bob McCadden, CFO, Pennsylvania Real Estate Investment Trust (NYSE: PEI); and Ann McCormick, executive vice president, secretary and general counsel, Home Properties Inc. (NYSE: HME).

Please send any suggested topics or areas of interest that you would like covered at the conference to Laura Hawxhurst at lhawxhurst@nareit.com no later than close of business on Wednesday, Oct. 31.

(Contact: Tony Edwards at tedwards@nareit.com)