Content

Message from the President

Keeping NAREIT's members informed about the latest developments with NAREIT, REITs and REIT-based real estate investment is one of NAREIT's many responsibilities. Member newsletters such as NewsBrief are just one of the ways that NAREIT delivers this information.

Another communications tool is REIT.com, NAREIT's primary outlet to the wider world, which provides news, analysis, research, data and other pertinent industry information to all of our audiences on a real-time basis. Additionally, the REIT Investor App provides users with a way stay up to date with news and information through their smartphones and tablets. Events such as REITWeek and REITWorld feature their own dedicated apps to help attendees navigate these multi-day meetings, enabling them to make the most of their time during the events.

Subscribers to NAREIT's daily Real Estate Investment SmartBrief receive a high-level executive summary of key real estate investment and economic news that could impact their businesses. And REIT magazine, published on a bimonthly basis, takes a deeper look at real estate trends and profiles leading figures in the REIT industry.

NAREIT also maintains an active presence in social media. Followers of NAREIT's Twitter account (@REITs_NAREIT) get the latest industry news along with NAREIT media announcements.

Taken together, we like to think of these sources as your "REIT Toolbox." We'll continue to strive to make sure these resources work for you and the entire REIT industry.








Steven A. Wechsler
President and CEO
REITWorld 2014 Quickly Approaching


The REIT industry will turn its attention to the Peach State for three days in early November as REIT industry executives, investors and stakeholders gather in Atlanta for REITWorld 2014: NAREIT's Annual Convention for All Things REIT.

This year's convention is taking place at the Atlanta Marriott Marquis from Nov. 5-7. Attendees from around the globe can use REITWorld networking events to forge new relationships with real estate executives, investors and service providers. Additionally, the gathering of so many industry stakeholders in one place creates a vibrant marketplace to hold private meetings and conduct business.

This year's program offers ample chances to hear from experts on some of the latest developments in the real estate industry. Panel discussions at the event will include a CEO roundtable moderated by 2015 NAREIT Chair and Equity Residential (NYSE: EQR) President and CEO David Neithercut that features General Growth Properties (NYSE: GGP) CEO Sandeep Mathrani, Boston Properties (NYSE: BXP) CEO Owen Thomas and Host Hotels & Resorts (NYSE: HST) President and CEO Ed Walter.

Among the other sessions, Macerich (NYSE: MAC) Chairman and CEO Art Coppola, National Retail Properties (NYSE: NNN) Chairman and CEO Craig Macnab and Federal Realty Investment Trust (NYSE: FRT) President and CEO Don Wood will take part in a panel discussion on the state of the retail real estate sector moderated by Ross Smotrich, managing director with Barclays.

Nicholas Joseph, senior analyst with Citi Research, will moderate a panel on housing in the United States with Starwood Waypoint Residential Trust (NYSE: SWAY) Co-CEO Gary Beasley and AvalonBay Communities, Inc. (NYSE: AVB) CEO Timothy Naughton.

Crown Castle International Corp. (NYSE: CCI) President and CEO Benjamin Moreland, Lamar Advertising Co. (NASDAQ: LAMR) CEO Sean Rielly and William Stein, the interim CEO and CFO of Digital Realty Trust Inc. (NYSE: DLR), will take part in a roundtable on real estate in the digital age led by Jim Sullivan, managing director of Green Street Advisors.

A session on the real estate capital markets will be led by Vivek Seth, managing director with Raymond James, and will feature insights from Pebblebrook Hotel Trust (NYSE: PEB) Chairman and CEO Jon Bortz, Heitman LLC Managing Director Timothy Pire and Paulson & Co. Senior Vice President Louis Taylor.

Robert Zoellick, former president of the World Bank, will speak about international affairs at a luncheon on Nov. 6. Other speakers at this year's event include Jeffrey Rosensweig of the Emory University Goizueta Business School, who will discuss the global economic outlook, and Bloomberg's Mark Halperin on the political landscape.

The invitation-only Board of Governors Dinner on Nov. 5 will start with a reception with Sen. Johnny Isakson (R-GA), a member of the Senate Finance Committee. Former U.S. Secretary of State Madeline Albright will be speaking at this year's dinner.

CLICK HERE to register and find more information on REITWorld 2014: NAREIT's Annual Convention for All Things REIT.

(Contact: Pam Coleman at pcoleman@nareit.com)
REITWorld Mobile App Now Available


The REITWorld 2014 mobile app is now available to help REITWorld 2014 attendees enhance their experience before, during and after the event.

The REITWorld app enables users to:
Customize their schedules and sync their agendas to multiple devices;


Browse speakers and bookmark sessions;


Locate meeting rooms on the map or from event listings;


Reference helpful resources on the local area;


And access social media to keep up on the buzz surrounding REITs and REITWorld.
To download the REITWorld 2014 mobile app for your smartphone or tablet, search iTunes or Google Play for
REITWorld 2014
.
CLICK HERE
for more information.
(Contact:
Jeff Henriksen
at jhenriksen@nareit.com)
NAREIT Represented at NAPFA Conference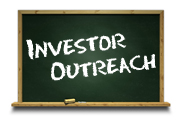 Last week, Abby McCarthy, NAREIT's vice president for investment affairs and investor education, exhibited on behalf of NAREIT at the National Association of Professional Financial Advisors' (NAPFA) Fall Conference in Charlotte, N.C.

NAPFA is one of the largest associations exclusively focused on the fee-only and fee-based advisor community. Approximately 400 registered investment advisors (RIAs) attended the conference.

Participation in this conference is a component of NAREIT's Investor Outreach program focused on promoting REIT investment to the retail investor marketplace through financial intermediaries such as family wealth offices, RIAs and financial planners. Financial intermediaries have significant influence over the $7.2 trillion assets in individual retirement accounts (IRAs) in the U.S., representing more than a third of the overall $20.7 trillion retirement savings market.

(Contact: Abby McCarthy at amccarthy@nareit.com)
Deloitte Projects Broad-Based Growth in Commercial Real Estate in 2015

The commercial real estate industry is poised for broad-based growth in the coming year as performance and profitability continue to improve across most property types and markets, according to projections from consulting firm Deloitte.

The company's 2015 outlook is supported by improving property fundamentals, a strengthening economy, easy financing, and increased domestic and international investment activity, according to Deloitte. Against that backdrop, U.S. REITs are expected to continue to outperform benchmark indices such as the S&P 500 and Russell 2000.

"What's really going to be a driver in 2015 will be the strengthening real estate fundamentals first and then access to capital. We are seeing REITs increasingly finding opportunities to do development and leveraging their access to capital to get that done," said Bob O'Brien, U.S. real estate services leader at Deloitte.

O'Brien also said U.S. equity REITs are starting to diversify their portfolios by looking at international opportunities.

"Most REITs really pulled back from international (expansion) in the global financial crisis. We're beginning to see some return to, or at least expressed interest in, investing globally," O'Brien said.

(Contact: Sarah Borchersen-Keto at sborchersen-keto@nareit.com)
Houston Forecast to be Top Market for Real Estate Investment in 2015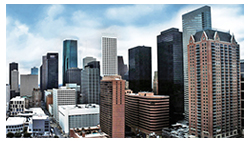 Houston now offers the most attractive real estate investment and development opportunities of any major U.S. market, according to a survey from PwC and the Urban Land Institute (ULI).

Another Texas city, Austin, took second place in the 2015 survey of more than 1,000 real estate experts. San Francisco, which was ranked first in 2013 and 2014, slipped to the third position. Meanwhile, New York fell out of the top 10 to 14 in the 2015 survey. The Big Apple trailed up-and-coming cities such as Charlotte, N.C., and Nashville, Tenn.

Growing markets such as Austin and Nashville "are positioning themselves as highly competitive, in terms of livability, employment offerings, and recreational and cultural amenities," ULI Global CEO Patrick Phillips said.

Investors believe that the energy industry will continue to drive economic growth in Houston, which will support the real estate market in 2015, according to the PwC/ULI report. Austin, meanwhile, has gained favor for its industrial base, its appeal to the millennial generation and a lower cost of doing business.

(Contact: Sarah Borchersen-Keto at sborchersen-keto@nareit.com)
| | |
| --- | --- |
| Follow us on:   | REIT.com RSS Feeds:   |