Content

Message from the President

As the investor outreach story in this issue of NewsBrief demonstrates, NAREIT serves as an ongoing resource to the investment community.

Found at the foundation of our investor outreach program are NAREIT's research activities. Through research, we deliver fact-based perspectives at direct meetings with investment professionals on the role REITs may play in addressing assorted investment challenges.

Sometimes, we deliver our research through alternate venues. Last week's educational webinar on REIT investment, which we conducted for trustees and staff of Pennsylvania pension plans, is a good example of how we utilize other means of communication.

We are also active through participation in national organizations, such as the National Association of State Treasurers, which provides us with the opportunity to interact with treasurers representing all 50 states, the District of Columbia and Puerto Rico, many of whom serve on the boards of their state pension systems and 529 education savings plans.

Because today's capital markets are global, our investor outreach program also reaches beyond U.S. borders to provide our perspective to pension funds, asset managers and consulting organizations in Europe, Asia and the Americas.

Building lasting relationships with investors by delivering to them knowledge of value is the core goal of NAREIT's investor outreach - and vital to furthering the REIT approach to real estate investment.







Steven A. Wechsler
President and CEO
NAREIT Comments on Proposed Accounting Standards Update for Insurance Contracts

On Oct. 25, NAREIT submitted comments to the Financial Accounting Standards Board (FASB) regarding Proposed Accounting Standards Update, Insurance Contracts (Topic 834).

In a letter to Susan Cosper, technical director with the FASB, NAREIT offered three recommendations regarding the proposal to the board:
 
Cease further work on the Insurance Contracts Proposal at least until the IASB evaluates feedback on its respective Insurance Proposal and then determine whether the IASB Proposal is an improvement to existing U.S. GAAP;



Clearly articulate that guarantees, representations and warranties, and indemnifications in leasing, revenue, and real estate transactions are outside the scope of the proposal; and



Synthesize the scope of the Insurance Contracts Proposal with current Insurance Guidance in U.S. GAAP.
"NAREIT supports the board's effort to converge U.S. GAAP with IFRS," NAREIT said. "Given that the FASB and IASB have been unable to achieve this primary objective on the Joint Insurance Project to date, we do not see the benefit for the FASB to go forward with developing a new insurance standard."
(Contact:
Chris Drula
at cdrula@nareit.com)
Delivering the PAPERS

In conjunction with its investor outreach program, NAREIT developed and delivered an educational webinar focused on REIT-based real estate investment as part of the trustee education and certification program sponsored by the Pennsylvania Association of Public Employee Retirement Systems (PAPERS).

The webinar took place on Oct. 23, and was conducted by Meredith Despins, NAREIT vice president for investment affairs and investor education, and Brad Case, NAREIT senior vice president for research and industry information. The webinar was part of the educational certification program for public pension trustees, pension administrators and staff, as well as industry professionals who work closely with the state's pension systems, and awarded credit for the Pennsylvania Public Pension Certified Professional designation.

PAPERS' members include state, county and municipal pension systems with combined total pension fund assets of over $90 billion.

NAREIT recently conducted similar educational programs in conjunction with the Florida Public Pension Trustees Association, which serves nearly 250 public pension plans in the state, and the Texas Association of Public Employee Retirement Systems, which includes 74 retirement plans representing approximately $500 billion in assets.

(Contact: Meredith Despins at mdespins@nareit.com)
Leader in the Light Working Forum Slated for January



NAREIT's fourth annual Leader in the Light Working Forum will take place Jan. 8-9, 2014, and will be hosted by NAREIT Corporate Member Prologis (NYSE: PLD) at its office on Pier 1 in San Francisco.

Since 2005, NAREIT's Leader in the Light program has honored NAREIT member companies that have demonstrated superior and sustained energy use practices and sustainability initiatives. In recent years, NAREIT's involvement in the energy efficiency and sustainability dialogue has progressed beyond just the Leader in the Light program with NAREIT serving in an advisory capacity with the Global Real Estate Sustainability Benchmark (GRESB) Survey, an initiative backed by more than 50 of the world's largest institutional real estate investors. GRESB aggregates data from 543 property companies and funds around the world on 49,000 assets, representing $1.6 trillion in gross asset value.

In June 2012, the NAREIT Executive Board, at the recommendation of NAREIT's newly created Sustainability Committee, authorized NAREIT to migrate the Leader in the Light program into the GRESB platform, beginning with last year's 2012 GRESB Survey. Earlier this year, the 2013 Leader in the Light Working Forum provided NAREIT Corporate Members with the opportunity to gain an in-depth understanding of the 2013 GRESB Survey, including the supplemental Leader in the Light questions that were embedded directly within the 2013 GRESB Survey. Importantly, the upcoming 2014 Leader in the Light Working Forum will take place in advance of the April 1 – June 30 timeframe during which the 2014 GRESB/Leader in the Light submissions will be accepted.

In addition to GRESB/Leader in the Light, the 2014 Leader in the Light Working Forum will provide NAREIT Corporate Members with the opportunity to discuss a wide range of key sustainability issues that affect them. Program Directors for the 2014 Leader in the Light Working Forum are Rick Avery, vice president of information management, Health Care REIT (NYSE: HCN); Aaron Binkley, director of sustainability programs, Prologis; and Marla Thalheimer, director of sustainability, Liberty Property Trust (NYSE: LRY). The program will once again be facilitated by the consulting firm RealFoundations, a NAREIT Board Associate member.

Designed as an interactive, hands-on, collaborative workshop, the 2014 Leader in the Light Working Forum will give NAREIT Corporate Members the opportunity to once again advance the sustainability conversation, and to better understand leading sustainability practices among their peers. Program details and registration information will be announced on Nov. 1.

(Contact: Sheldon Groner at sgroner@nareit.com)
NAREIT Welcomes Newest Corporate Member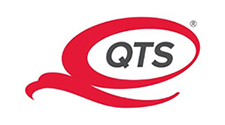 NAREIT is pleased to welcome QTS Realty Trust, Inc. (NYSE: QTS) as its newest Corporate Member. QTS Realty is an internally advised equity REIT that owns, develops and operates one of the largest portfolios of multi-tenant data centers in the U.S. Chad Williams is the CEO of the Overland Park, Kan.-based company.

(Contact: Bonnie Gottlieb at bgottlieb@nareit.com)