Content

Message from the President

NAREIT sponsors a range of conferences each year. Some of them, such as REITWeek and REITWorld, are primarily focused on helping our members allocate, attract, source and deploy financial capital. Other NAREIT events, though, center exclusively on helping REITs develop the human capital that is essential to their success. One such event is NAREIT's HR Forum.

As the story in this issue reports, last week, human resources professionals from throughout the REIT industry gathered in Washington to take part in NAREIT's seventh annual HR Forum. This event, like our other conferences structured around human capital development – REITWise and the Senior Financial Officers Workshop – are different from other professional meetings for the same reason that REITWeek and REITWorld are distinct from other events of their type. The difference is that all of these events provide their participants with a special perspective – the REIT perspective.

Last week the participants in NAREIT's HR Forum had the opportunity to view issues such as executive compensation, the changing healthcare environment, and the relationship between corporate culture and performance through the lens of the REIT industry. They were able to network, share knowledge and discuss best practices with senior HR professionals from companies like their own. The value of this industry focus likely accounts for the HR Forum's growth in attendance, which was up 50 percent from last year.

The ability to access and skillfully use capital – both financial and human – is part of what sets REITs apart from their competitors and enables them to deliver a higher level of performance to their investors. At NAREIT, we will continue our work to support our member companies in their ongoing efforts to build all of their capital resources.







Steven A. Wechsler
President and CEO
HR Forum Shines Light on Workplace Culture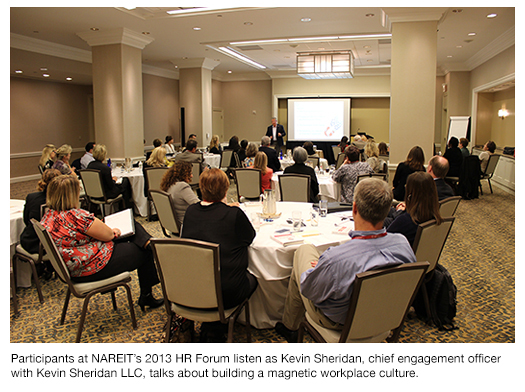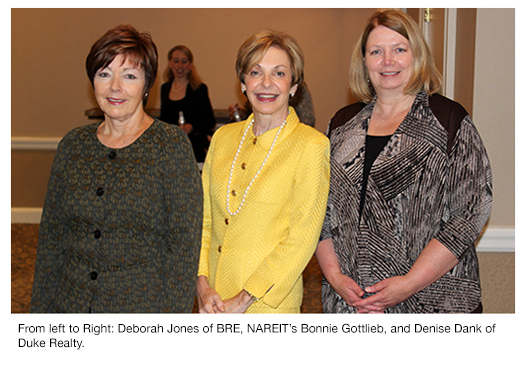 The seventh annual HR Forum, facilitated by NAREIT exclusively for its Corporate Members' senior HR executives, was held last week in Washington, D.C. The event is the only conference of its kind that presents a high-quality, broad-based educational program focused on a variety of human resources issues within the context of commercial real estate. There were 51 attendees from 35 REITs at this year's event.

NAREIT would like to thank this year's program directors for their help in putting together the program: Amy Barker with First Potomac Realty Trust (NYSE: FPO), Denise Dank with Duke Realty Corporation (NYSE: DRE) and Deborah Jones with BRE Properties (NYSE: BRE).

(Contact: Bonnie Gottlieb at bgottlieb@nareit.com)
NAREIT Joins Groups in Requesting Extension on Commenting Period for Pay Ratio Disclosure Proposal

NAREIT joined a number of industry organizations on Oct. 7 in requesting an extension of the pay ratio disclosure requirements of Section 953(b) of the Dodd-Frank Wall Street Reform and Consumer Protection Act.

In a letter to Securities and Exchange Commission Secretary Elizabeth Murphy, NAREIT and the participating groups asked for a 60-day extension of the comment period for the proposed Pay Ratio Disclosure rule that was published in the Federal Register on Oct. 1.

"We believe an extension is necessary if stakeholders and interested parties are to even begin to have a chance to provide the diverse, detailed and complex information sought in the overlapping requests for comments contained in this Proposed Rule," the groups wrote.

The effort was organized by the U.S. Chamber of Commerce.

(Contact: Tony Edwards at tedwards@nareit.com)
NAREIT Welcomes New Corporate Member

NAREIT is pleased to welcome Empire State Realty Trust (NYSE: ESRT) as its newest Corporate Member. The newly created, internally advised equity REIT owns, manages, operates and repositions office and retail properties, including the Empire State Building, in Manhattan and the greater New York metropolitan area. Based in New York, Anthony Malkin is the company's chairman, CEO and president. With its listing on the NYSE, ESRT becomes a constituent of the FTSE EPRA/NAREIT Global Real Estate Index Series, effective October 9, 2013.

(Contact: Bonnie Gottlieb at bgottlieb@nareit.com)
NAREIT Podcast: Joseph Coradino, Pennsylvania Real Estate Investment Trust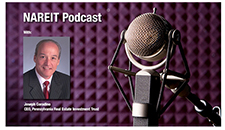 The latest edition of the NAREIT Podcast features an interview with Joseph Coradino, CEO of Pennsylvania Real Estate Investment Trust (NYSE: PEI).

Coradino discussed PREIT's efforts to prune its portfolio. Additionally, he offered an early outlook on 2014 and some of the major themes that he will be watching in the retail sector.

(Contact: Allen Kenney at akenney@nareit.com)
NAREIT Participates in Morningstar ETF Event

Last week, Abby McCarthy, NAREIT's vice president for investment affairs and investor education, participated in the Morningstar ETF Invest Conference in Chicago. Participation in this conference is a component of NAREIT's Investor Outreach program focused on promoting REIT investment to the retail investor marketplace through financial intermediaries such as family wealth offices, registered investment advisors (RIAs) and financial planners. Financial intermediaries are important because they have significant influence over the $5.3 trillion of assets in individual retirement accounts (IRAs) in the U.S., representing approximately 33 percent – and the fastest growing segment -- of the overall $15 trillion retirement savings market. Additionally, it is important to influence the investment allocations of IRA owners because the IRA market is the "final resting place" for the retirement assets of many investors. Often, investors will build significant balances exceeding $1 million in their 401(k) accounts only to roll these amounts into IRAs at retirement. In fact, the Government Accountability Office estimates that as much as 90 percent of assets that flow into IRAs each year are rolled over from 401(k) plans.

The Morningstar ETF Conference caters to asset-management firms that create exchange-traded fund (ETF) strategies for financial advisors who manage money on behalf of their clients. This year's event attracted approximately 500 attendees and provided NAREIT an opportunity to inform and educate the financial advisor and RIA attendees on the benefits of REIT investing. Additionally, NAREIT co-hosted a dinner with FTSE Group during the event. The dinner provided the opportunity to develop stronger relationships with many of the participating asset management firms and index providers with which NAREIT maintains a regular dialogue through its direct meeting program, including BlackRock iShares, J.P. Morgan, Market Vectors ETFs, PIMCO, and Schwab ETFs.

(Contact: Abby McCarthy at amccarthy@nareit.com)
NewsBrief Will Not Publish Next Week
NewsBrief will not publish next week, in observance of Columbus Day. The next issue of NewsBrief will be published on Monday, October 21.