Content

Message from the President

The global appeal of the REIT approach to real estate investment continues to grow. With the recent news from India, 31 countries around the globe now have REIT legislation and several more are exploring the possibility. Investment capital is now more freely flowing into international real estate markets via REITs.

NAREIT has played a leading role in the international expansion of the REIT industry, aided in this mission by its partner organizations in the Real Estate Equity Securitization Alliance (REESA): the Asia Pacific Real Estate Association (APREA), Association of Real Estate Securitization in Japan (ARES), British Property Federation (BPF), European Public Real Estate Association (EPRA), Property Council of Australia (PCA) and Real Property Association of Canada (REALpac).

REESA members met last week in Toronto for their semi-annual meeting to discuss ways to collectively work toward creating a better climate for investing in securitized real estate equity around the globe. The group also discussed issues impacting companies around the world, including financial reporting standards and sustainability benchmarking.

Following the Toronto meeting, Peter Verwer, CEO of APREA, and Andrew Mihno, executive director of international and capital markets with PCA, spent time at NAREIT's office. The two met with various NAREIT department heads to gain insights, share ideas and discuss ways the organizations can work more closely together.

We look forward to continuing to work with our global partners to further enhance the REIT approach to real estate investment as well as to increase awareness of and access to U.S. REITs throughout the world.









Steven A. Wechsler
President and CEO
NAREIT, Members Join Chamber of Commerce in Encouraging TRIA Extension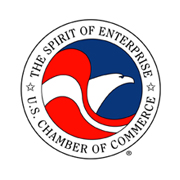 NAREIT and approximately 45 of its member companies joined the U.S. Chamber of Commerce last week in writing to the House of Representatives to extend the Terrorism Risk Insurance Act (TRIA) "as soon as possible."

"By maintaining our economic stability in the face of ongoing terrorist threats, TRIA serves as a vital public-private risk sharing mechanism," the letter read. "TRIA fosters certainty in the marketplace by ensuring that private terrorism risk insurance coverage remains commercially available at virtually no cost to the taxpayer. Without the backstop that TRIA provides, the private insurance market would simply be unable to provide adequate levels of terrorism risk insurance."

TRIA is currently set to expire at the end of the year. The Senate passed its version of an extension in July.

Additionally, NAREIT and its partners in the Coalition to Insure Against Terrorism (CIAT) marked the anniversary of Sept. 11 by recognizing the role that TRIA has played in promoting economic stability in the ensuing period since the terrorist attacks in 2001.

CIAT spokesman Martin DePoy noted that the rise of violence in North Africa and the Middle East demonstrated the need for rapid extension of TRIA. "With new terrorism threats on the rise, Congress must immediately renew TRIA to ensure the American economy and American jobs are protected from the damage another terrorist attack would cause," he said.

(Contact: Robert Dibblee at rdibblee@nareit.com)
Coalition Supports House Considertion of FIRPTA Bill

NAREIT and a group of real estate industry groups wrote to House Ways and Means Committee Chairman Dave Camp (R-MI) last week to endorse bringing the Real Estate Investment and Jobs Act (H.R. 2870) to the floor on the suspension calendar.

The bill would reform the Foreign Investment in Real Property Tax Act (FIRPTA) governing cross-border investment in U.S. real estate. The industry organizations noted that H.R. 2870 has wide-ranging support on the Ways and Means Committee.

"Members of Congress on both sides of the aisle overwhelming agree that the Foreign Investment in Real Property Tax Act (FIRPTA) is a needless obstacle to mobilizing private capital and creating well-paid, domestic jobs in real estate and related industries," the organizations wrote. "Cosponsored by almost every member of the House Ways and Means Committee, the Real Estate Investment and Jobs Act would be a powerful catalyst for new and productive investment in commercial real estate and infrastructure here at home."

(Contact: Dara Bernstein at dbernstein@nareit.com)
REIT.com Video: Peter Verwer, APREA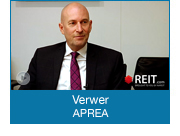 Peter Verwer, chief executive of the Asia Pacific Real Estate Association (APREA), joined REIT.com at NAREIT headquarters in Washington for a video interview.

Verwer took over as head of APREA this year, and he discussed some of his priorities for the organization. He described the current environment in the Asia-Pacific market as "one of the greatest opportunities for real estate wealth creation that we've ever seen." As such, he said his chief objective is to expand opportunities for real estate investment in Asia.

CLICK HERE for more of Verwer's interview with REIT.com.

(Contact: Matt Bechard at mbechard@nareit.com)
NAREIT Participates in Defined Contribution Real Estate Council Quarterly Meeting

Kurt Walten, NAREIT's senior vice president for investment affairs and investor education, participated in the third quarter meeting for 2014 of the Defined Contribution Real Estate Council (DCREC) on Sept. 9.

Given the shared interests of DCREC and NAREIT, NAREIT Investor Outreach continues to play an active role in the operations of the council. Walten serves as co-treasurer and co-chairs the council's marketing and public relations committee. In addition, NAREIT is a member of DCREC's research and content, finance, membership and best practices committees.

Since its founding last year, DCREC's membership has grown dramatically. Founding members included Clarion Partners, Goldman Sachs, Principal Global Investors, Prudential Real Estate Investors, RREEF, State Street Global Advisors, Ten Capital, TIAA-CREF and UBS. The number of full members doubled in 2013 with the addition of ASB Real Estate Investments, Benefit Trust Company, Bentall Kennedy, BlackRock, Cornerstone Real Estate Investors, Invesco, LaSalle Investment Management, MetLife Real Estate Investors and USAA. Other members of the investment management community are expected to participate.

(Contact: Kurt Walten at kwalten@nareit.com)
REIT.com Video: Fundamentally Speaking with NAREIT's Calvin Schnure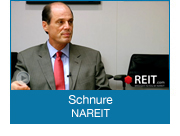 In the latest edition of Fundamentally Speaking on REIT.com, NAREIT Vice President of Research and Industry Information Calvin Schnure discussed the most recent jobs report, what other trends he is seeing in the broader economy, and what these mean for commercial real estate.

Overall, Schnure said commercial real estate is still seeing improvement across the market. Prices are trending upward, and price gains are spreading broadly across more markets, he said. "That's fairly favorable for the outlook, and it's consistent with the sign that the overall economic recovery is gaining traction," Schnure commented.

CLICK HERE for more of Schnure's analysis on REIT.com.

(Contact: Calvin Schnure at cschnure@nareit.com)
SFO Workshop, HR Forum A Week Away

There is still time to register for NAREIT's two meetings being held next week. NAREIT's SFO Workshop and HR Forum will both be held at the Fairmont Copley Plaza in Boston Sept. 22-23.

The SFO Workshop program has been tailored to meet the needs of REIT executives with responsibility for accounting, financial reporting, capital markets and investor relations. Sessions are focused on four main areas: a capital markets update; audits as they relate to revised Committee of Sponsoring Organizations of the Treadway Commission (COSO) guidance and the effects of actions by the Public Company Accounting Oversight Board (PCAOB); for investor relations, supplemental packages and shareholder activism; and financial reporting with "deep dives" into a few select standards. Attendees at NAREIT's 2014 SFO Workshop in September will have the chance to earn up to 12 hours of CPE credits.



NAREIT's eighth-annual HR Forum is designed for NAREIT Corporate Member senior HR professionals. The forum is the only HR meeting that focuses exclusively on commercial real estate. Session topics will include developing high-potential talent, succession planning, and associate engagement. Also, Michael Glimcher, chairman and CEO of Glimcher Realty Trust (NYSE: GRT), will talk about how people, culture and leadership affect company performance.

(Contact: Katelyn Rowland at krowland@nareit.com)
NAREIT Welcomes Two New Corporate Members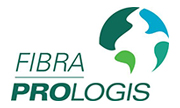 NAREIT is pleased to welcome two new Corporate Members.

FIBRA Prologis (MEXBOL: FIBRAPL 14) is stock exchange-listed, externally managed equity FIBRA (Mexican REIT) that was formed to acquire and operate industrial properties, including logistics and manufacturing facilities, in Mexico. Headquartered in Mexico City, FIBRA Prologis is sponsored by Prologis, Inc. (NYSE: PLD), a long-time NAREIT long-time member. Luis Gutierrez is the President, Latin America, Operations. FIBRA Prologis expects to attend REITWorld.



Lamar Advertising Company (NASDAQ: LAMR) is an outdoor advertising real estate company that operates in 44 states, Canada and Puerto Rico. Kevin Reilly, Jr. serves as chairman and president of the Baton Rouge, La.-based company. Sean Reilly is CEO. Lamar expects to attend REITWorld.

(Contact: Bonnie Gottlieb at bgottlieb@nareit.com)
REITs in the Community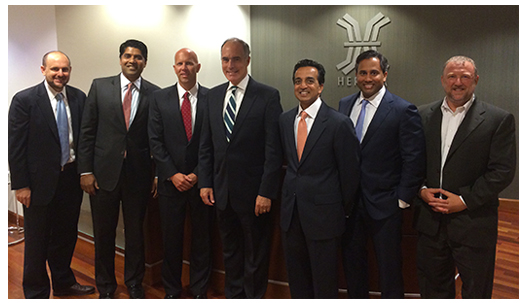 Sept. 8: Sen. Robert Casey (D-PA), center, visited the headquarters of Hersha Hospitality Trust (NYSE: HT) where he met with executives from Hersha, Pennsylvania Real Estate Investment Trust (NYSE: PEI), CubeSmart (NYSE: CUBE) and Cedar Realty Trust (NYSE: CDR). The assembled group briefed Casey on the REIT approach to real estate investment and the current state of the REIT market.

(Contact: Jessica Davis at jdavis@nareit.com)
| | |
| --- | --- |
| Follow us on:   | REIT.com RSS Feeds:   |