Content

Message from the President

Today's REIT and listed real estate investment marketplace is global. Investors in countries around the world are choosing to include REITs in their portfolios, with REITs in more than 25 countries. The REIT approach to real estate investment also is expanding, with more countries creating or planning to create their own REIT regimes.

In the midst of this growing marketplace, REITs and their investors benefit from better understanding of REIT rules and practices in place in different countries. This enables global investors to properly understand and evaluate potential REIT investments. It also enables REITs around the world to efficiently access the global capital markets. Part of NAREIT's mission is to encourage worldwide understanding of the REIT approach to real estate investment. This was among the objectives of meetings NAREIT participated in last week in Tokyo and Beijing jointly with the European Public Real Estate Association (EPRA).

In Tokyo, we met with the Financial Services Agency, Japan's securities regulatory authority, to discuss the rules that govern J-REITs. In China, we provided an overview of the U.S. and global REIT markets for the China Securities Regulatory Commission, which has green-lighted certain Chinese mutual fund investment into U.S. REITs.

We also presented the REIT story at Japan's Association for Real Estate Securitization Investment Forum and conducted investment briefings for Japan's Pension Fund Association and its Government Pension Investment Fund, as well as China's sovereign wealth fund – the CIC – and its National Social Security Fund.

The expansion of the REIT approach to real estate investment to more and more countries around the world has boosted global interest in REIT investment, helping to create opportunities for all REITs. NAREIT is working to keep those opportunities coming.








Steven A. Wechsler
President and CEO

 
CIAT Testifies at Congressional Hearing on TRIA

The Coalition to Insure Against Terrorism (CIAT) testified at a hearing of the Insurance, Housing and Community Opportunity Subcommittee of the House Financial Services Committee last week on terrorism risk insurance. NAREIT is a member of CIAT.

Rolf Lundberg, senior vice president for congressional and public affairs at the U.S. Chamber of Commerce, spoke on the coalition's behalf. Lundberg encouraged Congress to reauthorize the Terrorism Risk Insurance Act (TRIA) when it expires at year-end 2014.

"While private insurance capacity apparently has grown slightly in the past decade, these years have also taught us that a continuing federal role in this unique risk remains vital. The terrorism peril is simply too intrinsically linked to government policy and intelligence to be solely handled by the private sector alone," Lundberg said.

(Contact: Robert Dibblee at rdibblee@nareit.com)
REIT.com Video: Calvin Schnure, NAREIT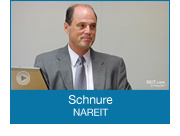 There's no silver lining to the disappointing jobs report for last month, according to Calvin Schnure, NAREIT vice president, research and industry information. In a video interview with REIT.com, Schnure broke down the latest U.S. economic data and assessed the implications for the REIT market.

"This is a disappointing report," Schnure said. He pointed out that while the unemployment rate has dropped, that reflects the growth in the number of people who have stopped looking for work and left the labor force.

Schnure said the news doesn't bode well in the short-term for the majority of commercial real estate property sectors, either. For example, the unemployment rate for workers between the ages of 25 and 34 climbed for the fourth month in a row.

"This is actually a feature that we've seen in the economic recovery, where the people with less seniority, less job experience, less training have suffered more," Schnure said. "It's interesting that the unemployment rate for each age group over 35 has continued to improve."

The weaknesses in the employment trends for that segment of the population suggests that multifamily property owners won't be able to sustain the rent increases and pricing power that they have acquired during the sector's latest upswing.

The multifamily sector wasn't alone in suffering some setbacks in the month. He noted that office employment growth has slowed and isn't developing momentum, according to Schnure. That should have a negative effect on absorption in the office sector and hurt rent and leasing growth.

For the retail sector, signs in the conditions reported by workers weren't encouraging, Schnure said. Average hourly earnings dipped, while there was weak growth in the number of hours worked. Those two factors help drive wages and spending, and hence retail sales, Schnure said.

"It's going to be difficult for consumers to maintain their rate of retail spending if we don't have more wage and salary growth," Schnure said.

One anomaly could be the health care sector, according to Schnure.

"There seems to be more momentum in that sector," Schnure said. "There are fundamental forces that are driving health care. That sector is a little bit immune to the slowdown in the rest of the economy, but it's not going to be enough to carry the economy going forward."

(Contact: Calvin Schnure at cschnure@nareit.com)
Educational Outreach to Scandinavian Investors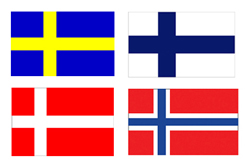 NAREIT and EPRA recently joined forces in a series of eight investor outreach meetings spanning four countries; Finland, Sweden, Norway and Denmark. The meetings were with a diverse group of investment organizations, including several of the largest and most prominent global pension and sovereign wealth funds, representing nearly $690 billion in assets. A common theme encountered across the meetings was strong support for the role that real estate plays within investment portfolios.

While these funds have traditionally invested directly in property, with a pronounced "home bias," increasingly they are looking to diversify their real estate holdings by investing internationally and are using listed REITs and property companies as a means to access commercial real estate beyond their borders. Investment in U.S. real estate was identified as an area of growth by several of the investor organizations; and REITs are viewed as an effective and efficient way of achieving diversification and gaining exposure to U.S. property markets. Further, beyond the diversification benefit, investors indicated they like the market liquidity of U.S. REITs and that REITs provide access not only to certain property types efficiently, but also to high quality management teams and investment themes not easily accessed through direct investment.

As the opportunity for investment in listed real estate continues to grow and develop globally, NAREIT's outreach with EPRA provides an important opportunity to jointly advocate the benefits of publicly traded real estate investment and to leverage the research and industry perspectives of both organizations to provide a unified and coherent global perspective on the real estate investment proposition through listed REITs and real estate equities worldwide.

(Contact: Meredith Despins at mdespins@nareit.com)
Register Today for REITWorld 2012

REITWorld 2012: NAREIT's Annual Convention for All Things REIT, scheduled for Nov. 13-15 in San Diego, provides a unique opportunity where REIT and real estate executives, experienced and sophisticated investors, industry leaders, and academic experts come together in one setting to share their specialized knowledge and experience.

This year, conference sessions will offer a unique view of four market segments: health care, housing, business-to-business real estate (including office, industrial, data center and infrastructure REITs) and consumer-oriented real estate (including hotels, regional malls, strip centers and self-storage REITs).

Attendees will gain understanding and insight into the opportunities, business models and economic drivers of these four sectors, as well as many of the individual companies within them.

Visit the REITWorld Event page to register and to get all the details regarding the event as they become available.

(Contact: Katelyn Rowland at krowland@nareit.com)
2012 Compensation Survey Still Available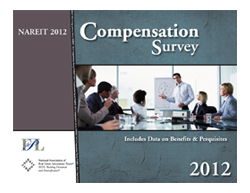 The 2012 NAREIT Compensation Survey features responses from 113 REITs and real estate companies. NAREIT and FPL have been able to compile detailed compensation information for 108 positions, resulting in the largest, most comprehensive survey to date. This year, the survey reports modest gains in executive compensation. Within the survey, you will be able to see compensation by job function, what percent received an increase or decrease, and the percent change in salary.

For more than 18 years, NAREIT has been providing members and the real estate industry with this valued information on compensation for REITs and real estate companies. In particular, this report provides information for three major facets of compensation:

• Base salary (2012)
• Annual incentive award value (for calendar/fiscal year 2011 and typically paid in 2012)
• Long-term incentive award value (for calendar/fiscal year 2011 and commonly granted/awarded in 2012)

Segment comparisons are available for all positions including property sector, total capitalization, and the number of full-time employees. The report also provides informative data on organizational structure and general company and financial information across all respondents.

On an aggregate basis, the 95 participating publicly traded companies represent approximately $617 billion in total capitalization, which is approximately 80 percent of the total capitalization in the publicly traded, U.S. REIT industry, truly making this survey the most comprehensive of its kind.

NAREIT Corporate Members that participated in the survey can purchase additional copies at a significant discount.

(Contact: Megan Peichel at mpeichel@nareit.com)