Content

Message from the President

As the lead story in this week's NewsBrief reports, financial officers from throughout the REIT industry gathered in New York last week to participate in NAREIT's annual Senior Financial Officers (SFO) Workshop. A key focus of SFO is a review of new financial accounting standards and proposed changes in standards that affect our industry.

Accounting standards are critically important, because they directly impact the way our corporate members present their balance sheets and financial performance metrics and, as a result, how our member companies are perceived by investors and the capital markets. Because of their importance, NAREIT closely monitors proposed changes to financial standards by the Financial Accounting Standards Board (FASB) and International Accounting Standards Board (IASB) and actively provides input to the boards on our industry's behalf.

NAREIT Senior Vice President George Yungmann and representatives from NAREIT member companies participated today in FASB roundtables in Norwalk, Conn., to provide the industry's perspective on proposed changes in lease accounting standards. Some of the boards' earlier tentative decisions in the leases project could have radically changed the way real estate companies report rental income and degraded the usefulness of our members' financial statements.

As a result of input from NAREIT and our international partner organizations in the Real Estate Equity Securitization Alliance (REESA), the boards have now proposed a model that would preserve the current lease accounting model that recognizes lease income on a straight-line basis for most property leases. The boards have received approximately 600 comment letters on the proposal, and they plan to continue obtaining constituent input this fall before commencing re-deliberations in November.

NAREIT also has provided input that has helped the boards produce effective accounting standards regarding other fundamental issues, such as revenue recognition and reporting discontinued operations. While the final revenue recognition standard is anticipated by year end, the timing of the final discontinued operations proposal has not been determined.

NAREIT's focuses on these significant issues every day, and we will vigorously continue our work as an effective advocate for the REIT industry.







Steven A. Wechsler
President and CEO
 
SFO Workshop Recap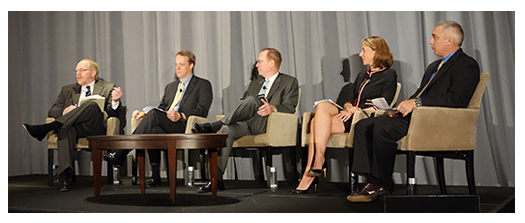 NAREIT's 2013 SFO Workshop kicked off with a session on capital markets. Participants included (from left to right): moderator Kevin Habicht, executive vice president and CFO, National Retail Properties, Inc. (NYSE: NNN); Barrett Kollme, managing director and head of real estate equity capital markets, Wells Fargo Securities, LLC; Stephen Richter, executive vice president and CFO, Weingarten Realty Investors (NYSE: WRI); Christie Totman, director, Citi; Louis Yorey, managing director, PwC.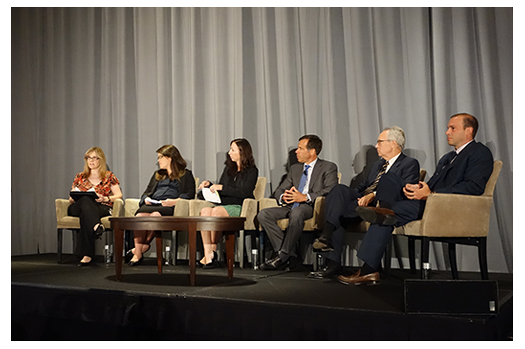 The workshop program included an investor forum session. Participants included (from left to right): moderator Catherine Creswell, director for investor relations, Vornado Realty Trust (NYSE: VNO); Laurel Durkay, analyst, Cohen & Steers Capital Management; Nina Jones, equity analyst, T. Rowe Price; Craig Leupold, president, Green Street Advisors, Inc.; Thomas Sargeant, CFO, AvalonBay Communities, Inc. (NYSE: AVB); David Smetana, managing director, Morgan Stanley.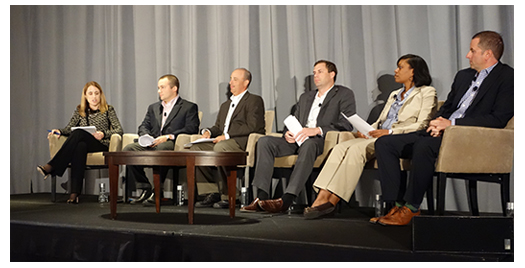 One panel covered trends in financial reporting. Participants included (from left to right): moderator Wendy Gill, senior vice president for corporate operations and CAO, Columbia Property Trust; Christopher Semesky, senior manager, KPMG LLP; Mark Scalese, partner, Deloitte LLP; Gregory Hendler, senior manager, Ernst & Young LLP; Cicely LaMothe, senior assistant chief accountant, Securities and Exchange Commission; Duncan Avis, managing director, KPMG LLP.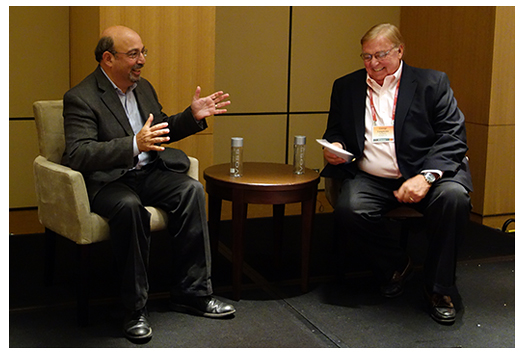 Robert H. Herz, former chairman of the Financial Accounting Standards Board and author of Accounting Changes: Chronicles of Convergence, Crisis and Complexity in Financial Reporting (left), sat down for an armchair interview with George Yungmann, NAREIT's senior vice president for financial standards.

(Contact: George Yungmann at gyungmann@nareit.com)
House Financial Services Committee Holds Hearing on TRIA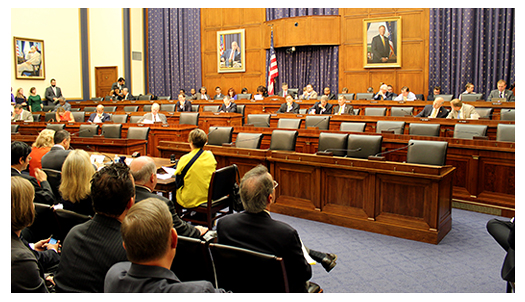 The House Committee on Financial Services held a hearing on Sept. 19 to review the Terrorism Risk Insurance Act of 2002 (TRIA) and the role the federal government plays in connection with insurance related to acts of terrorism.

The terrorism risk insurance program was established under TRIA in 2002. At the time of the Sept. 11 terror attacks in 2001 that targeted New York and Washington, nearly all of those affected were insured, and insurance companies paid more than $30 billion in claims. After the attacks, terrorism risk coverage began to disappear from the market as the reinsurance and insurance industries excluded it from their policies. The lack of this insurance coverage stalled economic activity such as lending, including lending for new construction, contributing to mounting job losses and economic dislocation.

The TRIA program is set to sunset in 2014. The original legislation was extended in 2005 and again in 2007.

"For more than a decade, TRIA has been nothing short of a qualified success, supporting critical economic growth by ensuring access to terrorism coverage for our largest venues, businesses and employers," said Rep. Maxine Waters (D-CA), the ranking Democrat on the committee. "By requiring private insurers to offer terrorism coverage, TRIA actually reduces taxpayer exposure because it keeps most of the terrorism risk with the private sector. Without affordable terrorism insurance, many buildings, schools, and venues would remain uninsured against terrorist attacks, meaning that the government likely would pick up 100 percent of the tab for catastrophic losses."

The Coalition to Insure Against Terrorism (CIAT), of which NAREIT is a member, commended the committee for holding the hearing.

"Numerous studies, including studies by the President's Working Group on Financial Markets, the Government Accountability Office (GAO) and, recently, the global insurance brokerage and risk management firm Marsh, have highlighted the unpredictable nature of terrorism and why insurers cannot reliably model for this exposure," said Martin DePoy, spokesperson for CIAT. "A new study by the global reinsurer Swiss Re concludes that terrorism remains 'uninsurable by private markets.' All available evidence continues to indicate that private terrorism risk coverage would once again disappear without the Terrorism Risk Insurance Program."

NAREIT sent a letter supporting the extension of TRIA to the committee in conjunction with the hearing. CIAT also filed comments regarding terrorism risk insurance with the President's Working Group on Financial Markets.

(Contact: Ron Kuykendall at rkuykendall@nareit.com)
NAREIT Continues Dialogue With FASB, IASB on Lease Accounting

NAREIT has continued to take an active role in ongoing discussions with the Financial Accounting Standards Board (FASB) and International Accounting Standards Board (IASB) regarding lease accounting.

Last week, NAREIT submitted comments on behalf of members of the Real Estate Equity Securitization Alliance (REESA) to the boards with respect to FASB File Reference No. 2013-270, Leases (Topic 842), a revision of the 2010 proposed FASB Accounting Standards Update, Leases (Topic 840) & IASB Exposure Draft – Leases (ED/2013/6). The comments included suggested enhancements to the revised proposals, such as clearly articulating the definition of "lease term."

On Sept. 23, George Yungmann, NAREIT's senior vice president for financial standards, participated in a FASB roundtable discussion on lease accounting at FASB headquarters in Norwalk, Conn.

(Contact: George Yungman at gyungman@nareit.com)
Reaching Out in the U.K.

As the opportunity for investment in real estate continues to grow and develop globally, NAREIT's Investor Outreach program provides an important opportunity to advocate the benefits of REITs and publicly traded real estate within global investment portfolios. NAREIT also communicates the proposition of real estate investment through U.S. REITs to institutional and individual investors worldwide. In addition to our outreach to the U.S. pension and retirement plan sponsor market, NAREIT has continued to build upon its global outreach program to engage European institutional investors and investment consultants.

Europe remains an important part of the global investment marketplace, and European investors are actively pursuing global investment strategies. European Union investment flows to the United States, Europe's largest market for cross-border investment, last year totaled $138.7 billion.

Meredith Despins, NAREIT vice president of research and investor outreach, engaged in a number of outreach activities in France, the United Kingdom and Germany during the first half of September. Briefings were conducted with several of the largest and most prominent global investment consulting organizations, asset managers and pension funds. Together, these organizations represent in excess of $8 trillion in assets under advisement and management. Among these were meetings with three of the five largest global investment consulting firms; Russell Investments, TowersWatson and Mercer; and the largest pension fund investor in the U.K. All advocate the use of and/or employ REITs and listed real estate within their investment portfolios.

A common theme across the meetings was support for the role that real estate plays within investment portfolios. Also, additional growth is expected as pension funds continue to increase allocations to real assets. As these investors seek to diversify their real estate holdings by investing internationally, they are using listed REITs and property companies as a means to access commercial real estate beyond their borders. Investment in U.S. real estate was identified as an area of growth by several of the investor organizations, and REITs are viewed as an effective and efficient way of achieving diversification and gaining exposure to U.S. property markets. Furthermore, beyond the diversification benefit, investors indicate they value the market liquidity of U.S. REITs, the efficient access REITs provide to specific property types, and the high-quality management teams and investment strategies.

In addition to the meetings held directly with investment organizations, Despins attended two conferences while overseas: the European Public Real Estate Association Annual Conference and the 2014 Global Real Estate Institute's European Summit. Both events were held in Paris.

(Contact: Meredith Despins at mdespins@nareit.com)
House Judiciary Committee Identifies Online Sales Tax Principles

The House Judiciary Committee last week released seven "principles" intended to guide discussions related to online sales and use taxes.

The principles call for "tech neutrality" and advocate that brick-and-mortar businesses should be on "equal footing" with online-only retailers.

"Americans across the country are affected by the issue of Internet sales tax whether they are consumers or business owners," said Rep. Bob Goodlatte (R-VA), chairman of the committee. "The aim of the principles is to provide a starting point for discussion in the House of Representatives. I greatly look forward to hearing fresh approaches to this issue and continuing the discussion."

NAREIT and its partners in the Marketplace Fairness Coalition called the development a "long overdue step towards restoring state's rights and allowing America's small businesses to compete on a level playing field."

(Contact: Dara Bernstein at dbernstein@nareit.com)
REIT.com Video: Nils Kok, GRESB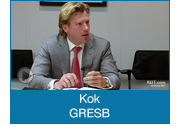 Nils Kok, co-founder and director of the Global Real Estate Sustainability Benchmark (GRESB), joined REIT.com to discuss the recently released results of the 2013 GRESB survey.

"Our biggest surprise is the continuous uptake of sustainability disclosure by REITs and funds around the world," he said. "This year, the response rate continued to increase to 550 companies and funds around the world, which, again, is a substantial increase since last year. It's good to see more companies reporting, but, most importantly, we see that performance is increasing."

Kok said performance is increasing as measured by overall GRESB scores, as well as measured by reduction in overall energy consumption.

"U.S. REITs really seem to be leading the way when it comes to reducing energy consumption right now," he said. "In part of the survey, we focus on your like-for-like change in energy consumption. What we see is that on average in the U.S., the reduction between energy consumption between 2011 and 2012 is 6.8 percent. That's a big number, especially when compared to globally, where the average was 4.8 percent."

Importantly, Kok said he has seen an increased use of the GRESB results by large institutional investors.

"We see more and more large institutional investors starting to use the GRESB data," he said. "Recent examples include CBRE Clarion Securities, Cohen & Steers, Townsend Group – large REIT shareholders and investors that are using the GRESB data in both their due diligence and their investment process."

Survey results can be found at www.GRESB.com.

(Contact: Matt Bechard at mbechard@nareit.com)
Leadership Awards Nominations Now Open
NAREIT is seeking nominations for its Leadership Awards. The REIT Industry Leadership Award is presented traditionally to a REIT executive, and the REIT Industry Achievement Award is presented to an individual member. A list of previous award recipients is available on REIT.com.

Guidelines for consideration of candidates for both awards are the following:
 
Individuals should have a distinguished reputation within the business community at large;


Individuals should have length and depth of service, both in the REIT and publicly traded real estate industry and as members of NAREIT;


Individuals should be actively involved in community service;


Individuals should have written and/or spoken on key industry issues; and,


Individuals should have contributed to increasing understanding of REITs and publicly traded real estate by the public.
Both awards will be presented to the recipients during REITWorld 2013: NAREIT's Annual Convention for All Things REIT® to be held Nov. 13-15 in San Francisco.
Please forward the names of awards candidates with supporting information for consideration via mail to NAREIT, Attention: Megan Peichel, 1875 I Street, NW, Suite 600, Washington, DC, 20006-5413; via fax at (202) 739-9401; or via email to
mpeichel@nareit.com
.
The deadline for receipt of nominations is Thursday, Oct. 3, 2013.
(Contact:
Megan Peichel
at mpeichel@nareit.com)
Council Focuses on Real Estate Education for DC Plans

NAREIT attended the third quarterly meeting of the Defined Contribution Real Estate Council (DCREC) in New York on Sept. 17. In its founding documents, DCREC is described as being formed "… to promote the inclusion of investments in direct commercial real estate and real estate securities within defined contribution plans by furthering education about, advocacy for and best practices of such investments."

In a recent press release, the New York-based DCREC said it intends to serve as a resource for investors and plan sponsors who may be considering alternative investment options, such as real estate, through their existing portfolios. "At the end of the day, our goal is to help plan sponsors and their participants achieve better investment outcomes through the use of institutional quality real estate solutions," according to Scott Brooks of SEI and co-president of the new organization.

As a founding member of DCREC, NAREIT serves as a member of the organization's research committee and co-chair of its marketing and public relations committee. Through DCREC, NAREIT has joined with a number of other organizations to promote real estate solutions to the defined contribution market. These organizations include BlackRock, Clarion Partners, Goldman Sachs, Principal Global Investors, Prudential Real Estate Investors, RREEF, State Street Global Advisors, Ten Capital, TIAA-CREF and UBS. Other members of the investment management community are expected to participate.

Activities of DCREC of particular importance to NAREIT include:
 
Supporting and encouraging dialogue and cooperation among the leaders of the defined contribution plan community and others committed to the best interests of American employees who are passionate about improving defined contribution plan investment structures and design though real estate investment allocations;


Encouraging and sponsoring research, publishing analysis and insights, and hosting events that support the advancement of improved defined contribution plan designs that include real estate and real estate allocations;


Identifying issues and removing barriers for plan sponsors so they may pursue improved real estate allocations within defined contribution institutional investment structures;


Educating policymakers and regulators about the importance of including real estate investment opportunities in institutional defined contribution plan designs as a way to improve retirement security.
(Contact:
Kurt Walten
at kwalten@nareit.com)
NAREIT Backs Extending 179D Tax Deduction
NAREIT joined a coalition of industry organizations last week in writing to the congressional tax-writing committees to endorse the extension of the section 179D tax deduction.

The deduction "allows for cost recovery of energy efficient windows, roofs, lighting, and heating and cooling systems meeting certain energy savings performance targets," according to the groups.

"The section 179D deduction is a key incentive to leverage significant amounts of private sector investment capital in buildings," they said. "It will help spur construction and manufacturing jobs through retrofits, save businesses billions of dollars in fuel bills as buildings become more energy efficient, place lower demands on the power grid, help move our country closer to energy independence, and reduce carbon emissions."

The comments were sent to the House Ways & Means Committee and Senate Finance Committee.

(Contact: Dara Bernstein at dbernstein@nareit.com)
Latest Issue of REIT Magazine Now Available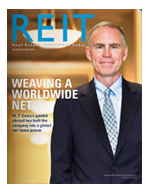 The September/October issue of REIT magazine is now available in print and online. The story of how net-lease REIT W. P. Carey Inc. (NYSE: WPC) turned itself into a global powerhouse is this issue's cover story.

The global real estate investment landscape is a theme that runs through this issue. "Continent of Opportunity" looks at how REITs are gathering momentum following a period of economic upheaval in Europe. "Consumers in Asia Spur Growth for REITs" explores how big increases in spending have meant increased opportunities for industrial and retail landlords in Asia. This issue's REIT Snapshot profiles one of Canada's largest retail owners, First Capital Realty (TSX: FCR)

Also in this issue, Sector Spotlight shines a light on the increasingly important role U.S. mortgage REITs are playing in today's market. Author and founder of Global Demographics Clint Laurent discusses the most important trends that will shape the global economy in the coming years.

(Contact: Matt Bechard at mbechard@nareit.com)
REITs in the Community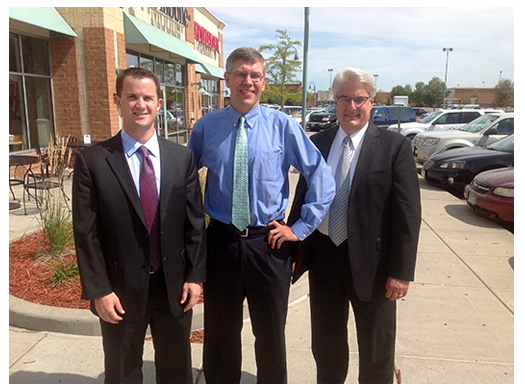 Sept. 3, 2013: Rep. Erik Paulsen (R-MN), center, visits Riverdale Village in Coon Rapids, Minn., a property owned and operated by DDR (NYSE: DDR). Paulsen, a member of the House Ways and Means Committee, received a briefing on the center's economic impact on the area and DDR's activities in Minnesota and across the nation from DDR's senior vice president of corporate operations and chief of staff, Joseph Tichar, left, and senior regional property manager for the Great Lakes Region, Thomas Rinka, right. Additionally, they discussed several legislative issues, including the Mainstreet Fairness Act, tax reform and FIRPTA reform.

(Contact: Kate Smith at ksmith@nareit.com)