Content

Message from the President

Today, NAREIT met with the U.S. Chamber of Commerce to discuss how we might expand our cooperation on a broad range of policy issues. NAREIT works on an ongoing basis to establish cooperative partnerships with other Washington-based organizations as well. In many cases, these efforts have helped produce important progress on key legislative and regulatory issues.

The Coalition to Insure Against Terrorism (CIAT) was established after the 9/11 terror attacks with the mission of returning terrorism risk insurance to the marketplace. Cooperative efforts by NAREIT, The Real Estate Roundtable, the Chamber of Commerce and other CIAT members helped achieve passage of the original TRIA legislation, as well as two reauthorizations of the law.

NAREIT's work through the Marketplace Fairness Coalition, especially with its leading members such as the International Council of Shopping Centers, has supported legislation to put brick-and-mortar and online retailers on a level playing field regarding collection of sales taxes. Additionally, NAREIT's efforts with partners like the Chamber of Commerce and the National Association of Manufacturers through the Coalition for Derivatives End Users have helped to build awareness of the need to exempt companies like NAREIT's members from costly regulations in their use of derivatives to hedge business risks.

NAREIT represents our industry on Capitol Hill regarding many important issues every day. The partnerships we forge with like-minded organizations help to make our advocacy even more effective.







Steven A. Wechsler
President and CEO
Investor Outreach Activity Supporting Market Demand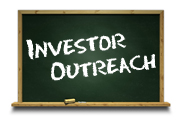 In September, NAREIT's Investor Outreach team held direct meetings with a diverse group of 39 investment organizations controlling close to a combined $18.8 trillion in assets in the institutional investment market. The 39 meetings were held with organizations across all targeted investment cohorts, including prominent domestic and international pension, retirement and sovereign wealth funds representing $43 billion in assets; institutional investment consultants with assets under advisement of $7.8 trillion, and with investment managers sponsoring global and domestic products with combined assets under management of nearly $11 trillion.

NAREIT's Investor Outreach team has positioned itself as a resource to the nearly $6 trillion U.S. pension, endowment and retirement plan industry, providing education and thought leadership to assist investors and their advisors in determining the most effective ways to use REITs in their portfolios. Through investor meetings, membership and support of national- and state-level associations representing pension fund interests, and participation at industry conferences and events, the investor outreach team identifies investment themes and trends challenging investors in today's market. Highlighting findings from NAREIT's internal and sponsored research, NAREIT delivers a perspective on the role REIT-based real estate investment should play in addressing such challenges and trends.

Providing credible research, staff expertise and a relationship-oriented approach has contributed to help boost REIT investment among pension plans. Pensions & Investments magazine has reported that the top 200 defined benefit plans, with many of which NAREIT maintains an ongoing relationship, held $22.4 billion in REITs in 2012, an increase of more than $5 billion from the amount reported in 2011. Further, data from the Standard & Poor's Money Market Directory indicate that 23 of the 25 largest public pension plan sponsors in the U.S. invest in REITs, and 16 of the 25 largest corporate pension plan sponsors report REIT holdings, including the five largest corporations.

In fact, an analysis of data from U.S. pension, retirement and endowment funds in 33 states, with each fund having total assets greater than $250 million found REIT allocations within 354 plans. These plans play a central role in providing the nation's workers and retirees with pension and other health and welfare benefits programs. Further, these organizations represent all segments of the market, including corporations, government agencies, unions and educational endowments.

Importantly, these data represent only a portion of the total investment in REITs by institutional investors because they only reflect investment by those plan sponsors that report dedicated REIT allocations. Therefore, REIT-based real estate investment among institutional investors is larger than what the available data indicate. In fact, a recent report published by Citi Research found that nearly 25 percent of total REIT market cap represents ownership by pension and endowment funds either directly or through institutional mandates, further evidence of the central role traditional pension and endowment funds play in the REIT industry.

(Contact: Kurt Walten at gyungmann@nareit.com)
Senate Banking Committee Holds Hearing on TRIA

The Senate Committee on Banking, Housing & Urban Affairs held a hearing on the state of terrorism insurance market on Sept. 25.

The terrorism risk insurance program established under the Terrorism Risk Insurance Act of 2002 (TRIA) requires insurance companies to offer coverage to commercial entities in exchange for a federal backstop that is used to protect against only those terrorism-related losses.

At the time of the Sept. 11 terror attacks in 2001 that targeted New York and Washington, nearly all of those affected were insured, and insurance companies paid more than $30 billion in claims. After the attacks, terrorism risk coverage began to disappear from the market as the reinsurance and insurance industries excluded it from their policies. The lack of this insurance coverage stalled economic activity such as lending, including lending for new construction, contributing to mounting job losses and economic dislocation.

The TRIA program is set to sunset in 2014. The original legislation was extended in 2005 and again in 2007.

Testimony at the hearing was provided by Peter Beshar, executive vice president and general counsel with Marsh & McLennan Companies; Erwann O. Michel-Kerjan, professor and managing director with the Center for Risk Management and Decision Processes at The Wharton School at the University of Pennsylvania; and Robert P. Hartwig, president of the Insurance Information Institute.

Absent TRIA, "American taxpayers might actually end up paying as much after a large terrorist attack through federal disaster relief (which it will be impossible to deny, as taxpayers have become de facto the prime funding source in the aftermath of natural disasters and financial crises alike), if not much more as they would today if insurers lower the capacity they provide when the mandatory requirement expires," Michel-Kerjan testified at the hearing.

(Contact: Ron Kuykendall at rkuykendall@nareit.com)
NAREIT Podcast: Darryl Steinhause, DLA Piper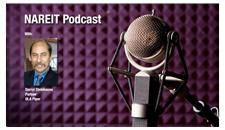 The latest edition of the NAREIT Podcast features an interview with Darryl Steinhause, partner in DLA Piper's real estate capital markets group.

Steinhause discussed the decision by the Securities and Exchange Commission (SEC) to lift its ban on the general solicitation of private placements. Under the new rules, which took effect this month, companies have the ability to advertise the sale of interests in private investment funds via the Internet, television and print media from accredited investors.

Steinhause covered the intended benefits of the decision, safeguards against fraud and other related topics on the podcast.

(Contact: Allen Kenney at akenney@nareit.com)
NAREIT Welcomes New Member

NAREIT is pleased to welcome Cyrela Commercial Properties SA Empreendimentos e Participacoes as its newest Corporate Member. The company is a publicly traded, self-advised REOC that focuses on development, acquisition, leasing and management of office buildings, shopping malls and industrial distribution centers in Sao Paulo, Rio de Janeiro, Minas Gerais, Goias, Bahia and Para. Based in Sao Paulo, Cyrela is listed on Brazil's largest stock exchange, the Bovespa Stock Exchange. Jose Florencio Rodrigues Neto is Cyrela's CEO.

(Contact: Bonnie Gottlieb at bgottlieb@nareit.com)
Register Today for REITWorld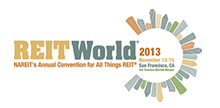 REITWorld 2013®: NAREIT's Annual Convention for All Things REIT® provides a unique opportunity where REIT and real estate executives from around the world convene with experienced investors, industry leaders and academic experts to share their specialized knowledge and experience. The event will be held Nov. 13-15 at the San Francisco Marriott Marquis. Registration is now open for this key industry event.





A series of general sessions provides attendees with valuable information, current trends, deeper understanding of specific sectors and insight into the evolution and growth of REITs over the years. Among the session highlights this year will be a conversation with the always candid Sam Zell, chairman of Equity Group Investments, during lunch on Nov. 14.





The opening day's luncheon panel features a look at the past 20 years of REITs and where the industry is headed moderated by Ronald Havner, chairman, president and CEO of Public Storage (NYSE: PSA). Panelists include Camden Property Trust's (NYSE: CPT) Richard Campo, Green Street Advisors' Mike Kirby, Cohen & Steers Capital Management's Robert Steers and Regency Centers Corporation's (NYSE: REG) Martin "Hap" Stein, Jr.

Be sure to act before Oct. 11 to take advantage of early registration discounts.

(Contact: Katelyn Rowland at krowland@nareit.com)
Last Call for Leadership Awards Nominations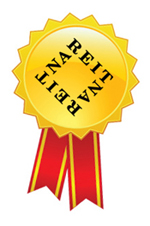 NAREIT is seeking nominations for its Leadership Awards. The Industry Leadership Award is presented traditionally to a REIT executive, and the REIT Industry Achievement Award is presented to an individual member. A list of previous award recipients is available on REIT.com.

Guidelines for consideration of candidates for both awards are the following:
 
Individuals should have a distinguished reputation within the business community at large;


Individuals should have length and depth of service, both in the REIT and publicly traded real estate industry and as members of NAREIT;


Individuals should be actively involved in community service;


Individuals should have written and/or spoken on key industry issues; and,


Individuals should have contributed to increasing understanding of REITs and publicly traded real estate by the public.
Both awards will be presented to the recipients during REITWorld 2013: NAREIT's Annual Convention for All Things REIT® to be held Nov. 13-15 in San Francisco.
Please forward the names of awards candidates with supporting information for consideration via mail to NAREIT, Attention: Megan Peichel, 1875 I Street, NW, Suite 600, Washington, DC, 20006-5413; via fax at (202) 739-9401; or via email to
mpeichel@nareit.com
.
The deadline for receipt of nominations is Thursday, Oct. 3, 2013.
(Contact:
Megan Peichel
at mpeichel@nareit.com)