The first complete quarterly measure of the U.S. listed REIT industry's operating and dividend performance
Download the 2018 Q3 T-Tracker results (with charts)
Download the comprehensive T-Tracker data
Key Takeaways For Q3 2018
Fund from Operations (FFO) totaled $16.3 billion, a 0.7 percent decrease from the second quarter of 2018. FFO was 11.1 percent higher than one year earlier, however, as robust increases in Q1 and Q2 outweighed the Q3 decline.
Net Operating Income totaled $24.3 billion, 2.1 percent lower sequentially but 4.8 percent above the third quarter of 2017.
Dividends paid by Equity and Mortgage REITs totaled $14.3 billion, a slight increase from the prior quarter, and 9.8 percent above the third quarter of 2017.
The top-performing Equity REIT property segments on a Same-Store NOI over the past four quarters were Manufactured Homes (5.6 percent), Industrial (5.4 percent), Office (4.5 percent) and Single Family Homes (4.5 percent).
Occupancy rates for all Equity REITs rose 12 basis points, to a record high of 94.3 percent.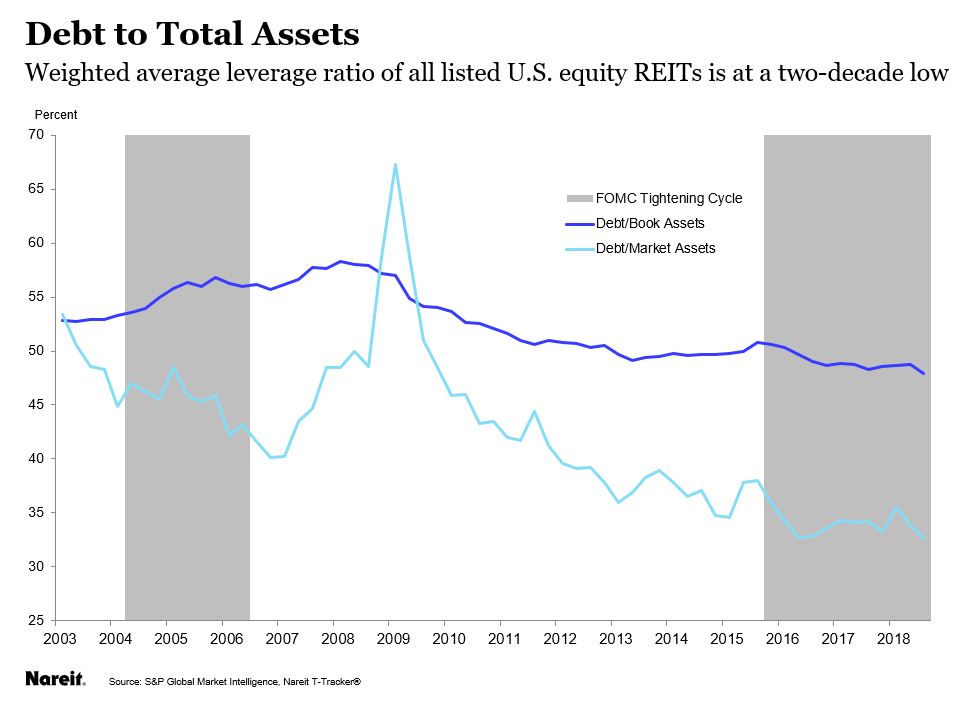 "Record-high occupancy rates and a steady increase in FFO marked another strong quarter for the REIT industry," said Nareit Senior Vice President of Research & Economic Analysis Calvin Schnure. "With leverage ratios at their lowest levels in two decades and interest expense relative to NOI at a record low, REITs are well-prepared to perform in the current interest rate environment."
Disclaimer
The Nareit Total Equity REIT Industry Tracker Series (Nareit T-Tracker) is provided for informational, non-commercial purposes only. The T-Tracker data are not intended to constitute investment advice of any kind and may not be relied on as such. Historical data and analysis do not predict future performance.  Data is provided "as is" and NAREIT does not warrant the accuracy, completeness, non-infringement, originality, timeliness or any other characteristic of the T-Tracker data.
This information is solely educational in nature and is not intended by Nareit to serve as the primary basis for any investment decision. Nareit is not acting as an investment adviser, investment fiduciary, broker, dealer or other market participant, and no offer or solicitation to buy or sell any security or real estate investment is being made. Investments and solicitations for investment must be made directly through an agent, employee or representative of a particular investment or fund and cannot be made through Nareit. Nareit does not allow any agent, employee or representative to personally solicit any investment or accept any monies to be invested in a particular security or real estate investment.
All REIT data are derived from, and apply only to, publicly traded securities. While such data are believed to be reliable when prepared or provided, such data are subject to change or restatement. Nareit does not warrant or guarantee such data for accuracy or completeness, and shall not be liable under any legal theory for such data or any errors or omissions therein. See http://reit.com/TermsofUse.aspx for important information regarding this data, the underlying assumptions and the limitations of Nareit's liability therefor, all of which are incorporated by reference herein.
Performance results are provided only as a barometer or measure of past performance, and future values will fluctuate from those used in the underlying data. Any investment returns or performance data (past, hypothetical or otherwise) shown herein or in such data are not necessarily indicative of future returns or performance.