Nareit's Total REIT Industry Tracker Series – the Nareit T-Tracker– is the first quarterly performance measure of the heartbeat of the U.S. listed REIT industry. The series includes three key REIT industry measures: the Nareit FFO Tracker, which monitors equity REIT Funds From Operations; the Nareit NOI Tracker, which reports the equity REIT industry's Net Operating Income; and the Nareit Dividend Tracker, which monitors the dividends U.S. listed equity and mortgage REITs pay to their shareholders.
Download the 2020 Q1 T-Tracker results (with charts)
Download the comprehensive T-Tracker data
Key Takeaways For Q1 2020
Funds from operations (FFO) totaled $15.0 billion, a 9.0% decrease from the fourth quarter of 2019 and 6.2% lower than one year earlier.
Net operating income (NOI) totaled $24.2 billion, 2.4% lower than the prior quarter and 0.7% higher than one year earlier.
Dividends paid by equity REITs totaled $16.0 billion, and dividends paid by mREITs totaled $2.2 billion. The $18.3 billion overall dividends paid was 7.6% higher than in the fourth quarter of 2019.
Occupancy rates were 93.6%, 50 basis points below the record high of 94.1% reached in 2018.
The ratio of debt to total book assets was 50.5%, down 30 bps from the prior quarter and 780 basis points below the peak in 2008.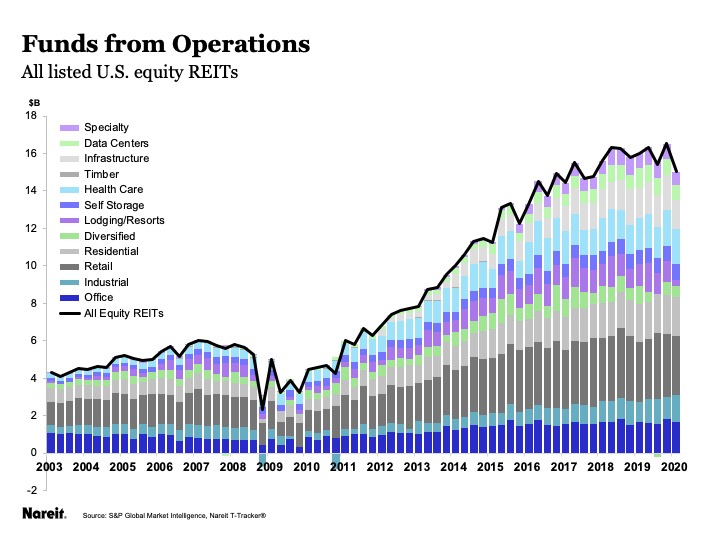 "Operating performance has been maintained through the early phases of this crisis, in part because REITs generally hold higher quality properties with investment grade tenants," said Calvin Schnure, Nareit senior economist. "Occupancy rates remain high and the vast majority of tenants continue to make timely rent payments."
Disclaimer
The Nareit Total Equity REIT Industry Tracker Series (Nareit T-Tracker) is provided for informational, non-commercial purposes only. The T-Tracker data are not intended to constitute investment advice of any kind and may not be relied on as such. Historical data and analysis do not predict future performance.  Data is provided "as is" and NAREIT does not warrant the accuracy, completeness, non-infringement, originality, timeliness or any other characteristic of the T-Tracker data.
This information is solely educational in nature and is not intended by Nareit to serve as the primary basis for any investment decision. Nareit is not acting as an investment adviser, investment fiduciary, broker, dealer or other market participant, and no offer or solicitation to buy or sell any security or real estate investment is being made. Investments and solicitations for investment must be made directly through an agent, employee or representative of a particular investment or fund and cannot be made through Nareit. Nareit does not allow any agent, employee or representative to personally solicit any investment or accept any monies to be invested in a particular security or real estate investment.
All REIT data are derived from, and apply only to, publicly traded securities. While such data are believed to be reliable when prepared or provided, such data are subject to change or restatement. Nareit does not warrant or guarantee such data for accuracy or completeness, and shall not be liable under any legal theory for such data or any errors or omissions therein. See http://reit.com/TermsofUse.aspx for important information regarding this data, the underlying assumptions and the limitations of Nareit's liability therefor, all of which are incorporated by reference herein.
Performance results are provided only as a barometer or measure of past performance, and future values will fluctuate from those used in the underlying data. Any investment returns or performance data (past, hypothetical or otherwise) shown herein or in such data are not necessarily indicative of future returns or performance.