New Research Shows Listed Equity REITs Were Top-Performing Asset in Study of 200 Major Pension Funds
With a total of $8.4 trillion in assets under management, public and corporate sector pension funds represent a major portion of the $24.7 trillion of assets on which millions of Americans rely for their retirement security. With funding liabilities on the rise, pension funds are under increased pressure to maximize returns and generate steady income.
2016 CEM Study:
CEM Benchmarking, an independent provider of benchmarking information for institutional investors, has unveiled a new study, sponsored by NAREIT, that examines fund performance and capital allocations for more than 200 public and private pension funds over the 17-year period 1998-2014.
The results of the study highlight a compelling disconnect between the increasing reliance on some alternative and real assets, most notably hedge funds, and the net investment performance of these assets, which have underperformed lesser allocated assets, such as U.S. Listed Equity REITs.
Key Takeaways From the Study:
Listed Equity REITs outperformed all other 11 assets in the study, generating average annual net returns of approximately 12 percent over the study period.
While hedge fund allocations increased nearly 500 percent from 1998 through 2014, the asset class was the second worst performer among the group over this period.   
Correlation and risk adjusted return metrics highlighted that Listed Equity REITs provide optimal exposure to the real estate asset class.
 Asset Returns: Costs Matter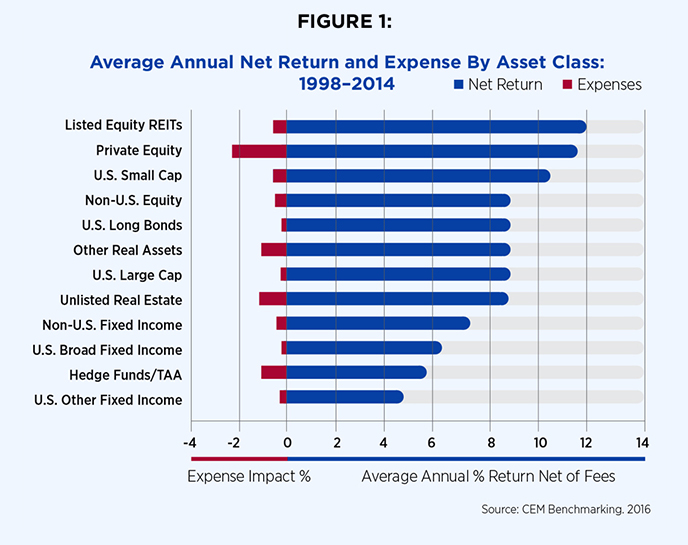 REIT resources:
Average annual investment costs of only 0.51 percent, the lowest of any of the alternative or real estate asset groups, contributed to Listed Equity REITs' 11.95 percent average annual net returns over the study period, the highest of all asset classes. Private Equity's net return was lower at 11.37 percent, pulled down by management fees that were nearly four times higher than those of REITs. REITs also outperformed Unlisted Real Estate, which delivered an average annual net return of 8.59 percent with more than twice the annual fees of REITs.
Hedge Funds, with average annual investment costs twice those of REITs, produced half the net returns at 5.50 percent. The Hedge Fund average annual return was the second-lowest of all assets surveyed, outpacing only U.S. Other Fixed Income, a category that included cash. Excluding cash from U.S. Other Fixed Income, Hedge Funds were the worst performing asset in the study.
Large Increases in Capital Allocations Flowed to Hedge Funds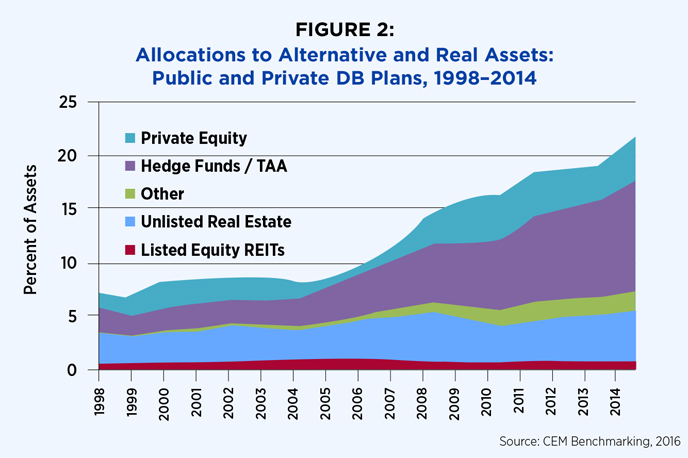 Pension funds made substantial changes to their capital allocation strategies over the course of the study period, especially their allocations to Hedge Funds and Tactical Asset Allocation strategies. This asset category averaged 1.46 percent of pension fund portfolios at the start of the study period in 1998 and grew to 8.36 percent of portfolios in 2014 – a nearly 500 percent increase.
Private Equity also grew from 1.97 percent of portfolios in 1998 to 5.93 percent in 2014. The portion of portfolios allocated to Unlisted Real Estate also increased from 2.90 percent in 1998 to 4.46 percent in 2014.
Listed Equity REITs were an extremely small allocation in pension plans' portfolios in 1998 at 0.36 percent and the smallest of all allocations in 2014 at 0.62 percent.
Listed Equity REITs Provide Optimal Exposure to Real Estate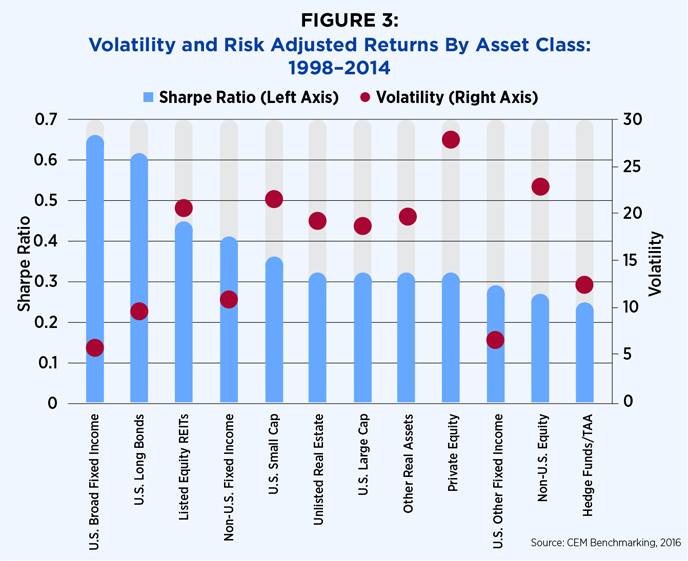 CEM Benchmarking's advancements in standardizing illiquid asset returns with those of liquid assets provide new insights into the relationship between listed and unlisted asset returns. CEM's research shows the true volatility of Unlisted Real Estate was 19.03 percent on an annualized basis over the study period, comparable to the 20.74 percent volatility of Listed Equity REITs.
The CEM methodology also provided new insight into risk-adjusted returns, as measured by Sharpe ratios. Excluding two U.S. fixed income categories with extremely low volatilities, Listed Equity REITs had the highest Sharpe ratio – 0.45 – over the 17-year study period. Unlisted Real Estate and Private Equity both had 0.32 Sharpe ratios – the same as U.S. Large Cap Stocks. The Sharpe ratio of the Hedge Fund category was 0.25.
NAREIT is the worldwide representative voice for REITs and publicly traded real estate companies with an interest in U.S. real estate and capital markets.] NAREIT is not acting as an investment adviser, investment fiduciary, broker, dealer or other market participant, and no offer or solicitation to buy or sell any security or real estate investment is being made by the Site. The information on this Site is for informational purposes only and the Site is not intended to be a solicitation related to any particular company, nor does NAREIT intend to provide investment, financial, legal or tax advice, and no information, services, or materials offered by or through this Site shall be construed as such. Past performance does not guarantee future results. Data should not be construed as investment advice and is provided for informational purposes only.