Content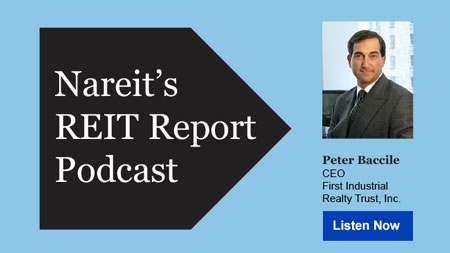 In a special edition of The REIT Report: Nareit's Weekly Podcast, First Industrial Realty Trust, Inc.'s (NYSE: FR) President and CEO Peter Baccile discusses his move from investment banking to the C-suite, priorities during his first year on the job and why this is a "golden age" for industrial real estate.
Nareit interviewed Baccile for the One-on-One feature in the upcoming March/April edition of REIT magazine.
Baccile explains how the industrial supply chain is in a constant state of motion, accelerated by the force of e-commerce. "The needs of our tenants are changing almost weekly, so offering the right form and functionality…is an area where we must stay ahead of the trends," he says.
Baccile also highlights First Industrial's focus on delivering long-term cash flow growth and value creation for investors. "We are building and managing our business to perform well through the cycle. Bad times will come; we can do a lot now to ensure we perform well during those times," he observes.