Content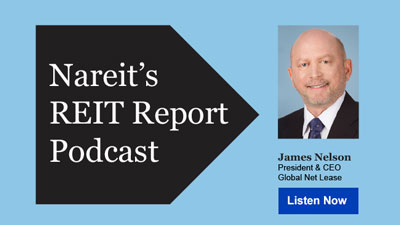 James Nelson, president and CEO of Global Net Lease (NYSE: GNL), was a guest on the latest episode of Nareit's REIT Report podcast.
Nelson, who was named CEO in August 2017, noted that GNL's net lease portfolio is about evenly split between the United States and Europe.
For 2018, the company has announced a supply chain of about $300 million of properties in various stages of acquisition. Nelson said GNL intends to close on all those acquisitions by the end of the year.
"We're very fortunate because we have a tremendous pipeline of properties available to us. We continue to act upon buying properties that are accretive to our shareholders," Nelson said.
GNL is primarily concentrating on buying industrial distribution properties located in secondary markets, according to Nelson. He also described Europe as a "very robust market" for the real estate industry.
As for the challenges associated with trading at a deep discount to net asset value (NAV), Nelson said GNL is tackling the issue by actively educating investors. "One of our priorities for 2018 is to really get the message out."