SBA Communications Corporation is an owner and operator of wireless communications infrastructure in North, Central and South America and South Africa. SBA's primary focus is the leasing of antenna space on its multi-tenant towers to a variety of wireless service providers under long-term lease contracts.
Performance Details
Previous trading day's Close
$286.27
Current high for the day
$281.59
Current low for the day
$274.60
Last paid dividend value
$0.58
Previous quarter FFO
$1077.32mil
Last updated: Apr. 9 2021
SBA Communications sees multiple drivers of growth for its core tower business.
SBA Communications Corp. (Nasdaq: SBAC) believes that the significant changes occurring to the nation's wireless communications infrastructure will boost leasing revenue and position the company for a prolonged period of growth.
That optimistic outlook follows a record year in 2019, in which SBA hit several significant milestones—including topping $2 billion in annual revenue for the first time ever, expanding in international markets, and initiating a cash dividend.
"We believe we are on the cusp of a material increase in operational activity and demand for our infrastructure," SBA President and CEO Jeffrey Stoops says.
Stoops describes SBA as more narrowly focused than its tower peers, American Tower Corp. (NYSE: AMT) and Crown Castle International Corp. (NYSE: CCI), given its concentration on macro towers rather than fiber or small cells. He says SBA's focus reflects its origins. The company got its start in 1989 by building macro networks for the telecom carriers, moving to the ownership side of the business in 1997, and ultimately becoming a REIT in 2016.
Headquartered in Boca Raton, Florida, SBA has operations and offices in 14 markets throughout the Americas and South Africa. Stoops took the company public while CFO in 1999 and later became CEO in 2002.
Long-awaited Merger & New Entrant
A key pillar of SBA's outlook for 2020 and beyond is the Sprint/T-Mobile merger, which closed in April following years of unsuccessful attempts by the two companies to combine forces. Stoops describes the merger as "very good news for our industry—and SBA in particular."
The new T-Mobile, as Stoops explains, will undertake "very aggressive" government-mandated build-out requirements to provide next generation 5G service via its low and mid-band spectrum over a three-to-five-year window.
"What that means is that the new T-Mobile will be rapidly deploying new equipment on towers like ours," Stoops says. At the same time, approval of the merger came with the stipulation that Dish Network Corp. enter the market as a fourth nationwide wireless operator, and that it also provide nationwide 5G coverage.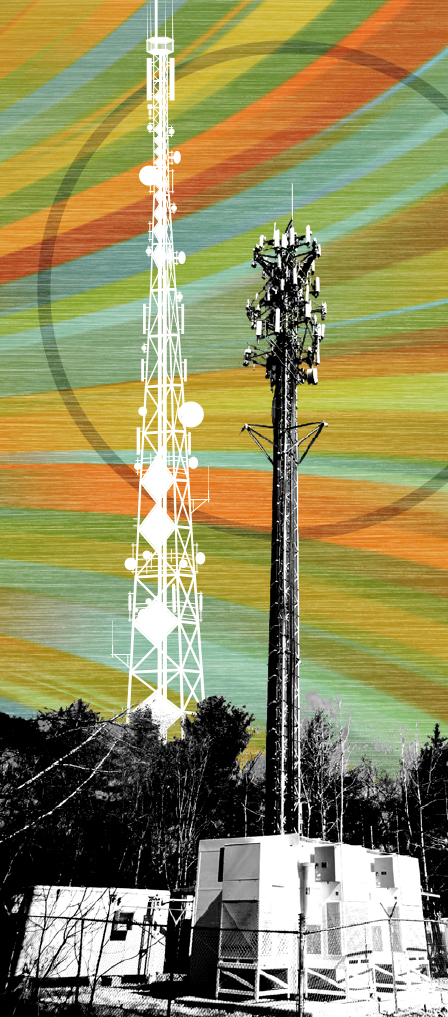 "As soon as the transaction closes, you're going to start to see a flurry of activity operationally, which will begin to start showing itself three to six months later in terms of new leasing revenue," Stoops says. "We believe this will be a multi-year initiative that will keep us very busy."
Jennifer Fritzsche, senior equity analyst at Wells Fargo, points out that "there's a lot of wireless spending to be had here and SBA, given they cover more second and third tier markets, is very well-positioned to take advantage of this new capacity coming online."
According to Stoops, the new T-Mobile will require meaningful upgrades across the combined portfolio, deploying 2.5 gigahertz spectrum to legacy T-Mobile sites and 600- megahertz spectrum to legacy Sprint sites.
Spencer Kurn, who leads coverage of U.S. towers for New Street Research, notes that for T-Mobile to migrate all of Sprint's customers onto its own network, it will have to deploy all of Sprint's spectrum onto its towers. "In the next five years, tower companies are going to get way more revenue from all of this activity than they otherwise would have. There's virtually no prospect of a loss of revenue from taking down Sprint equipment for at least five years—a lifetime for an investor," he says.
While the T-Mobile/Sprint merger and the entrance of Dish is reason enough for SBA's positive outlook, Stoops notes that the anticipated auctions of Citizens Broadband Radio Service (CBRS) and C-band spectrum later this year will further support SBA's growth over the next several years. He explains that C-band spectrum, which is midband spectrum of around 3.5 gigahertz and currently occupied by the satellite providers, is thought to be the best, most flexible, and most useful spectrum for 5G services in the future.
"When you have all this new spectrum that's being made available, it could only really be made to work when you add equipment that allows it to be used in the real world, and that's where the tower infrastructure companies come in. We're the ones that have the places where the antennas and the radios get placed that makes all of this new spectrum work," Stoops says.
On the Edge
The advent of new 5G applications will be a continued catalyst for network investment, according to Stoops. The initial 5G deployment cycle has only just begun, he says, particularly as it relates to macro sites and the deployment of mid-band spectrum. So far, he says, SBA has not seen any material delays as a result of COVID-19.
"Just as 4G continues to be built out today, I think 5G will be a long build as well. These generational technologies usually have at least 10 year lives," Stoops notes.
To better position itself for the oncoming 5G landscape, last year SBA purchased a stand-alone data center in west Chicago with a fiber loop connection in downtown Chicago. Stoops says the acquisition is a way of adding to SBA's knowledge base by providing it with a platform to test various business models so that when mobile edge computing becomes a reality, SBA will be ready.
"Mobile edge computing—the concept of bringing computing power to the cell site to minimize latency in order to enrich the content of the 5G wireless experience—is what most experts predict will be necessary," Stoops says. "We're very well-positioned for a mobile edge computing opportunity," given that SBA's tower sites could be used to host edge computing facilities, he adds.
Investor Education
While SBA's narrower focus on macro towers is one differentiator for investors to consider, another, according to Stoops, is the company's slightly higher-than-average financial leverage. He notes that the company, unlike its tower REIT peers, is not investment grade and is a high-yield issuer instead.
"We have done that consciously," he says. By maintaining leverage in a target range of 7-7.5 times EBITDA, SBA has even more capital to continue investing in the business, he explains.
Stoops points out that although he has led SBA through two difficult periods in the capital markets—first in 2002 and again in 2008—the company has never seen a drop in quarterly revenue. "It's that stability, predictability, long-term contract security, and margins in our business that give us comfort around the way we capitalize the business. It's been tested over an extremely long period of time through a variety of business and financial cycles," he says, and COVID-19 has not changed these views.
New Street's Kurn notes that SBA has chosen a capital allocation strategy that drives the fastest growth and free cash flow within the sector, allowing it to invest excess capital into more tower assets or stock repurchases. "SBA's management has been best-in-class. They have been extremely disciplined with acquisitions and how they position the company for growth," he adds.
While investors have applauded SBA's strategy, Stoops believes there is still unfamiliarity with the tower REIT model. At a recent real estate conference, for example, Stoops says he discovered that "there is still a great unfamiliarity with tower real estate." Traditional real estate investors don't appreciate fully that the effective range of wireless signals is only a mile or two from the tower source, he explains.
"That really highlights the exclusiveness of our assets and why there is such high retention with our customers because once they've engineered those sites, it's very difficult to move," Stoops says. He adds that traditional investors are not fully aware of "just how predictable the renewal rates are, as well as the restrictive zoning rules that really limit the number of towers around the U.S."
Fritzsche at Wells Fargo agrees. "There's really no better business model than the tower real estate companies," she says, because of that predictability of income, built in escalators, longer term contract, and low maintenance capital requirements.
Stoops adds that once investors understand the low incidence of customer churn, the highly recurring revenue nature of the business, and the size of operating margins, they become "very comfortable" with how SBA capitalizes its balance sheet.
Meanwhile, as Stoops reflects on SBA's achievements, he acknowledges that the company's success has produced high expectations. "We have to continue to find ways to grow. That may sound a little trite, but it's actually a very big issue around here. It definitely consumes all of my time and attention, as well as for those around me, because we take where we've gotten very seriously," he says.
A look at the role REITs are playing in the next generation of wireless technology.
Building the 5G Foundation
The advent of fifth generation (5G) wireless systems is coming ever closer to reality, as several wireless companies have already announced their intentions to release compatible devices this year, creating greater connectivity between people, things, and infrastructure. As with previous "Gs," tower and data center REITs will play a vital role globally in enabling this new generation of technology to get to the market efficiently.
5G is expected to help facilitate the increasing proliferation of the "internet of things" (IoT) and more advanced machine-to-machine technologies. It will bring an exponential increase in data speeds that will change how people interact with the internet. For example, download time for an HD movie could go from an hour to a few seconds. 5G can also power up remote surgery, and some say truly autonomous vehicles aren't possible without it.
Evan Serton, senior vice president and portfolio specialist at Cohen & Steers, says one should consider the wireless network as a toll road: 5G will have significantly larger lanes for wireless traffic and dramatically higher speed limits than the current 4G technology.
New 5G capabilities can be used by service providers to extend their reach for their enterprise mobile customers. In turn, enterprises can harness wireless-based technologies such as the IoT to provide new services to mobile users.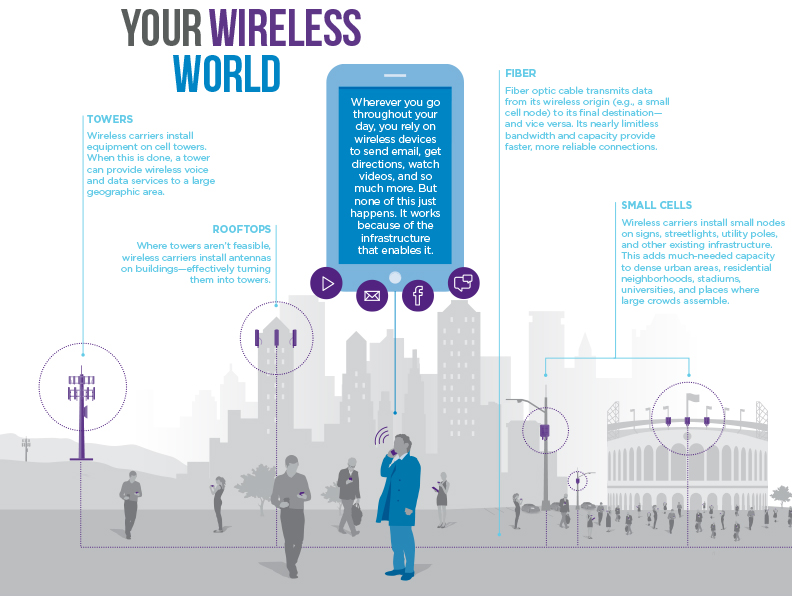 Dan Schlanger, senior vice president and CFO at Crown Castle International Corp. (NYSE: CCI), says the company has prepared for the rollout of 5G for close to a decade, beginning with owning 4,000 towers and expanding into 60,000 small cells, with 60,000 miles of metro fiber throughout the top metro markets in the United States.
"We are very well positioned for what 5G will become," Schlanger says. "The way we define it is [as] really ubiquitous, high-speed, low-latency coverage to allow people to access their data wherever they are and however they want it."
Jim Poole, vice president of business development at Equinix, Inc. (Nasdaq: EQIX), says this is where the data center REITs come into the picture.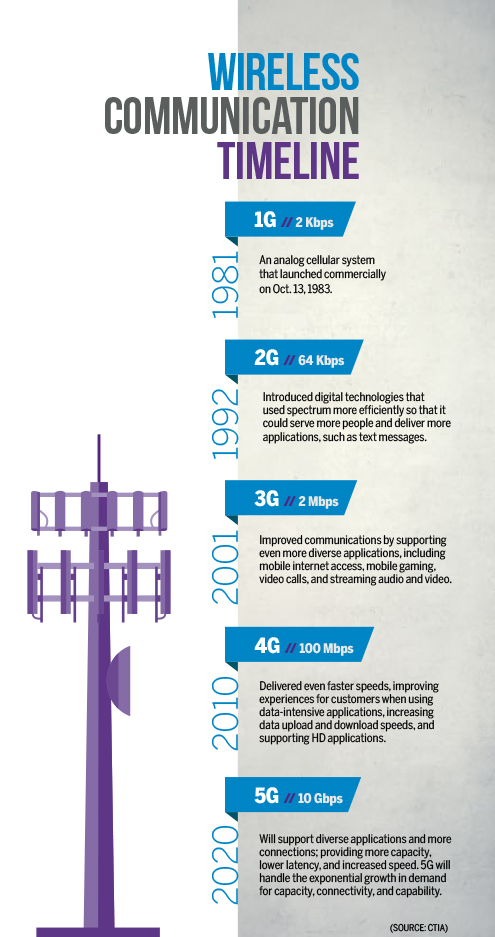 "We deliver interconnection to companies, which is the private data exchange between businesses," Poole says. "It is the fastest, most secure, lowest-latency connectivity there is, and will be a critical part of the 5G revolution." Equinix's global interconnection platform allows companies to access their clouds, networks, data, and partners directly, so they can connect to whatever they need, wherever they need it, he adds.
Playing a Vital Role
Ed Knapp, senior vice president and chief technical officer of American Tower Corp. (NYSE: AMT), says the REIT's macro towers are well-positioned to capture the deployment of 5G technology on spectrum bands like 600 MHz and other low- and mid-band spectrum assets, including those that have historically been utilized for suburban and rural deployments. 
 "We expect to continue to invest in digital infrastructure assets for in-building services and neutral host solutions, contingent on the availability of attractive returns," Knapp says. "Additionally, as 5G evolves, there may be opportunities for us to explore new assets and develop relationships with new customers."
In a second quarter earnings call, SBA Communications Corp. (NASDAQ: SBAC) President and CEO Jeffrey Stoops said that in many cases, 5G deployments will require the use of new, non-interfering multiple outlet (NIMO) antennas, which are bigger than typical antennas and take up incremental capacity at tower sites, driving revenue opportunities across the industry. "With only a small fraction of this deployment happening over the last several quarters, the vast majority of the opportunity is still in front of us," he said.
What is perhaps even more important for tower REITs over the next few years is network densification initiatives, which will be necessary for suburban and rural 4G networks to keep up with the continuing exponential growth in mobile data usage. 
"We believe carriers will need to continue to make material investments in their 4G networks, given that near-term 5G mobile deployments are likely to be an incremental complement to 4G, rather than a replacement," Knapp says.
The Pros of 5G
5G is a significant evolution from wireless capabilities that are currently available. It isn't a single technological innovation, but rather a series of advances in communication. 
"The move to 4G was a big leap when it happened, but 5G will enable so much more," Poole says. "Speed 10 times over 
4G is a common estimate, with variables such as whether a carrier prioritizes range over speed affecting just how much quicker 5G will be."
5G latency can dip to 1 millisecond, when the end user and target platform are close—within 4 to 6 miles of each other. 5G standards allow for exponentially wider bands than 4G and major increases in bandwidth. New technologies like ultra-HD video, augmented reality, and connected self-driving cars consume large amounts of data and will benefit from this greatly. 
For instance, Intel estimates that a continuously connected self-driving car would consume as much data in a 90-minute ride as 1,000 smartphone users would in an entire month. In addition, 5G may help to drive the proliferation of various internet-enabled household items such as refrigerators, heating and cooling systems, and lights.
"5G networks will also be able to better keep pace with the explosive growth of the IoT and all its current and yet-to-be discovered applications, as 5G enables up to one million connections per kilometer at very low power," Poole says. "And, 5G makes mission-critical control possible with 1 millisecond latency, opening the door for new applications that demand absolute reliability."
The benefits of 5G, Crown Castle's Schlanger notes, are still not 100 percent clear. However, he expects to see developers come in and utilize the technology in ways that have never been dreamed before—much like Uber and Waze have done with 4G.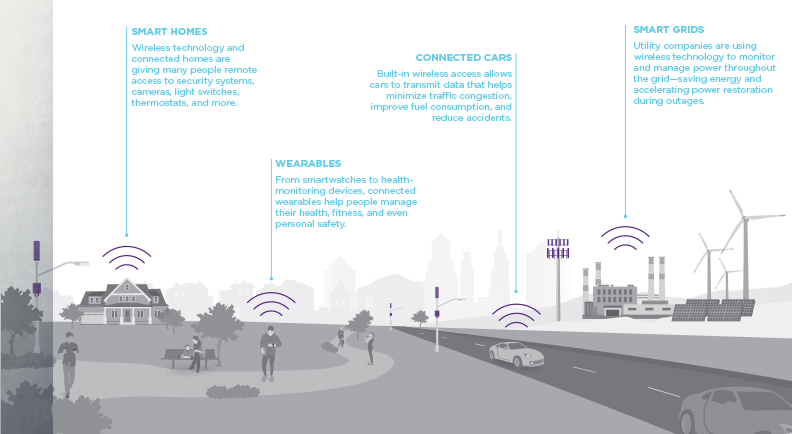 The internet revolution changed the way we use computers. Then wireless internet came along and made our phones smart and tablets possible. But that was just the beginning. Wireless data is changing the way we exercise, drive our cars, manage our homes, and even deliver power to our cities. It's called the "internet of things." And REIT-owned infrastructure is enabling the wireless connections that make it possible.
"The use cases on the forefront of it are things like fixed wireless to the home to supplement or compete with broadband via fiber optic or coaxial cable; augmented realty; and the IoT," he says. "We're not exactly sure where it will lead but we provide the underlying infrastructure for anything to happen in 5G or wired connectivity, and [to] take advantage of however it evolves."
Investor Interest
5G is a new technology and has the potential to significantly enhance the mobile ecosystem, which may bring with it opportunities for a number of parties to monetize new use cases. 
"Investors are naturally drawn to opportunity, and 5G represents an extension of the mobile revolution that has transformed all aspects of our lives over the last several decades," Knapp says.
Serton at Cohen & Steers says as improvements in wireless technology have a strong correlation to tower leasing activity, the rollout of 5G standards over the next several years will be a significant benefit to REITs that own communications infrastructure, especially in terms of the earnings and cash flow that they generate.
"Achieving 5G standards will require dramatically denser networks, which implies meaningful incremental demand for cell towers and massive deployments of smaller cell solutions," Serton says. Specifically, tower companies may benefit from: higher tenancy; higher rents from amendments to existing leases needed to place new equipment; and new opportunities to build both towers and small cell sites, he adds.
"Each new generation of wireless technology has required a greater level of investment from U.S. carriers, which closely correlates with tower leasing activity," Serton says. "We believe 5G will be a continuation of this trend."
The Need For High-Density Deployment
According to Poole, operators will need to massively deploy small cell technology in extremely high densities at the edge of the network, where their users are consuming services. In a typical city neighborhood, for instance, dozens of shoebox-sized small cells might be mounted on public infrastructure, like telephone poles and street lights. In less-populated areas, operators will need to significantly increase the density of existing networks by building macro cell sites along the way.
Poole notes that the need for high-density IT deployments isn't just about a data influx or the need for proximity. Many 5G network operators say they plan to maximize data speed by using millimeter wave—extremely high frequency spectrums," he says. "But millimeter wave also has limited range and can be disrupted by conditions as common as humidity and rain. Heavy concentrations of small-cell technologies are needed to offset that."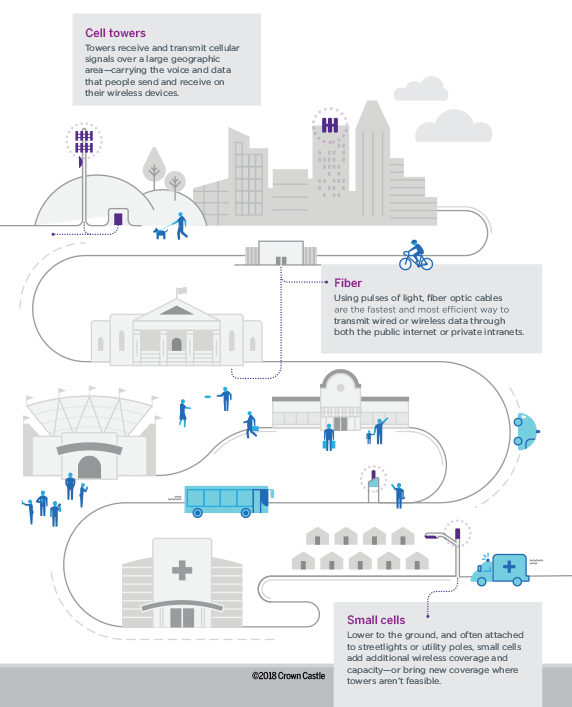 In a second quarter earnings call, Crown Castle President and CEO Jay Brown said the company's investment in small cell technology will create "decades of opportunity," just like the acquisition of towers did in the late 1990s. He added that one of the things Crown Castle learned from its experience in towers is that "investing early in the right assets in the top markets positions us to capture potential future demand that may arise beyond what is visible at the time of the investment, as communications evolve in ways we can't even conceive today."
Work To Be Done
Depending on the spectrum being utilized, additional sites for coverage and capacity will be needed to support 5G functionality on a commercial scale, Knapp says. "We are focused on ensuring that we are supporting the industry as the path to 5G becomes clearer."
Networks will be tested and 5G-capable devices will be available for consumers and businesses sometime next year. The first 5G specifications are complete, but there are additional features and specifications in the plan for future releases that will incrementally formalize the specifications and expand addressable use cases.
It's important to remember that network evolution takes a long time. Just because 5G has been introduced doesn't mean that everyone will be using 5G devices immediately. A perfect example of this is 4G today, which was first launched in 2010. Eight years later, around 20 percent of subscribers still are not using 4G networks and devices. 
 "Given the spectrum depth requirements to support the 5G standards and the limited availability of low band spectrum, we anticipate that 4G networks will continue to support a significant portion of the mobility aspects of carrier networks well into the future," Knapp says. 
There's still plenty that is unknown about 5G so what comes after is still up in the air to some degree. While the industry is well aware of technologies like connected, driverless cars and VR, new IoT applications will surely arise once the 5G standard is a reality. 
Address
8051 Congress Avenue
Boca Raton, FL 33487
United States