As demonstrated by a century of environmental leadership, the real estate industry has been and continues to be a responsible, accountable member of society. REITs have historically prioritized efforts to manage environmental risks and impacts by introducing environmentally friendly practices and standards, including efficient energy and water use, management of emissions and effluents, and the adoption of renewable energy technology.
Green Building Certifications Strengthen REIT ESG Performance
The World Green Building Council estimates that new green buildings and green retrofits decrease annual operating costs by an average of 8% and 9%, respectively, reaffirming the financial value of sustainability in real estate.
More than three-quarters of REITs pursue and achieve green building certification, in recognition of the value of actively addressing the environmental impact of their assets, according to Nareit's ESG Dashboard. Green Building certifications are awarded to buildings that have been built, retrofitted, or operated in an environmentally responsible and resource-efficient manner.
REITs Prioritize Emission Reductions
Real estate development and operation play a role in the global GHG emissions, which includes carbon, methane, nitrous oxide, and fluorinated gas emissions. REITs have recognized this fact and have taken strides to reduce their use of fossil fuels and resulting emissions. Within the past three years, REITs report having made steady progress in this area.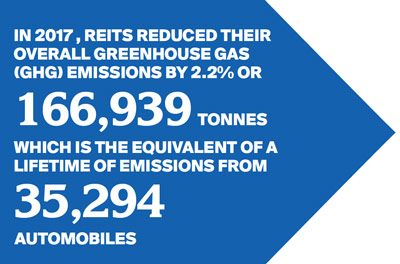 REITs and other publicly listed real estate companies are working to reduce their GHG emissions, underscoring the industry's leading commitment to climate risk mitigation and meaningful action toward climate resiliency.
REITs Provide Value Through Energy Efficiency
According to voluntarily disclosed data, the majority of REITs have reduced their energy consumption every year for the past three years, which is reflected in a 2% reduction in absolute energy consumption amongst REITs in the past year, or the equivalent of energy usage from 31,223 homes, according to the 2018 GRESB Portfolio Analysis Report.
Reducing energy consumption provides long-term value by:
Enhancing operational efficiency of building systems to extend their lifespan and,
Translating energy cost-savings to both owners and residents.
One method for reducing energy consumption and emissions that is becoming more common in the real estate industry is the use of on-site renewable energy, which includes solar and wind.
Waste Reduction & Water Conservation Decrease Costs
Waste
In 2018, REITs and publicly listed real estate companies reporting to GRESB maintained waste management practices in line with global averages and historic benchmarks.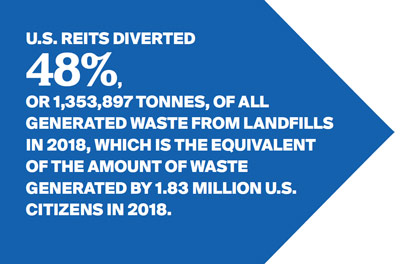 Increased waste diversion avoids costs associated with waste disposal by an average of $50 per ton in the United States and significantly reduces GHG emissions associated with waste management, according to Waste Business Journal.
Water
REITs are consistently working to decrease their water use through targeted initiatives and risk management programs.
Decreasing water consumption across all aspects of real estate has far-reaching implications for all stakeholders. Not only does water use reduction result in operational cost-savings that can be passed on to shareholders and tenants, but such measures also improve long-term property resiliency to withstand the effects of water shortage events.
Voluntarily reported and publicly disclosed performance information shows targeted efforts to reduce water use in REIT properties in 2018, representing significant contributions towards preserving this valuable resource.
Download the 2019 REIT Industry ESG report
Environmental Case Studies
Boston Properties: Green Building Leaders
Alexandria Real Estate Equities: Green Building Leaders
Kilroy Realty: Carbon Neutral Operations Goals
SL Green: Generating Impact Through Emission-Reducing Activities
Equinix: Harnessing Renewable Energy
Essex Property Trust: Leveraging Leading Practice Energy Systems
Macerich: On the Path to Zero Waste
Digital Realty: Leveraging Water Conservation Efforts
Simon Property Group:, Inc. Surpassing Energy Targets and Improving Efficiency