REITs are implementing transparency and compliance programs, prioritizing sound management and leadership approaches, and adhering to the highest ethical standards.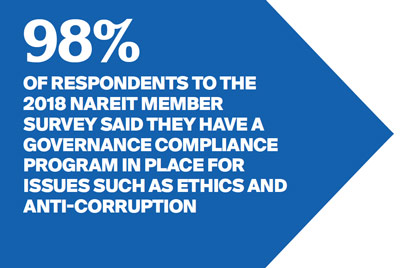 In addition to their environmental and social performance strengths, REITs get high marks for their ethics and compliance programs, and are building on disclosure practices as well as ESG integration at the board and senior levels of management.
REITs Are Committed to Sustainability at the Board Level
Based on industry surveys and leading publications, REIT Boards of Directors and senior management policies, practices, and participation match or exceed their S&P 500 counterparts.
According to an industry survey, REITs outperform U.S. corporate and publicly listed company averages in the area of board-level sustainability oversight.
Institutionalizing sustainability at the board level showcases an organizational commitment to embedding sustainability throughout the business culture and operations; increases accountability and commitments to sustainability targets, actions, and metrics; ensures appropriate deployment of resources and budgets; and builds synergies between business units.
REITs Demonstrate Good Governance Through Board Diversity
In 2018, REITs made strides to diversify board constituency and to drive inclusion throughout their organizations.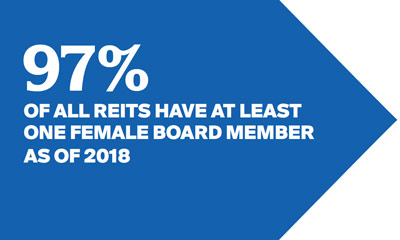 Female representation on REIT boards has now reached 21% which is aligned with the 24% rate of female board participation of al publicly listed U.S. companies.
Supply Chain Management is an Opportunity for REITs
Companies with higher rates of supplier diversity have historically reaped noteworthy returns.
According to Nareit's ESG Dashboard, 22% of REITs currently report on their supplier screening policies, which indicates an opportunity for the real estate industry to be more transparent and proactive about their supply chain management policies and practices through greater reporting and disclosure.
Download the 2019 REIT Industry ESG report
Governance Case Studies
Welltower: Diversity and Inclusion
Ventas: Board Diversity Drives Performance Improvement
Kimco Realty Corporation: ESG Governance
Brookfield Properties: Implementing a Supplier Diversity Program for Long-Term Impact
Host Hotels & Resorts: Environmentally Responsible Supply Chain Management