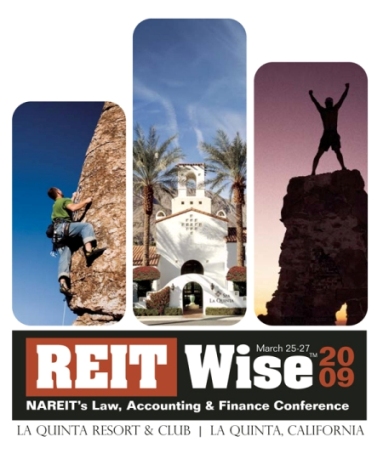 Registration is now open for this year's REITWise™ 2009: NAREIT's Law, Accounting & Finance Conference, March 25-27, 2009 at the La Quinta Resort & Club!

NAREIT combines three pillars of the real estate investment industry to create one of the most informative and useful conferences of the year. By combining legal, accounting and finance issues concerning REITs and real estate investment, NAREIT assures you that you will receive a broad perspective on the current economic crisis and the ways that REITs and real estate investment companies are responding. Some critical subject areas to be covered include:
When Will Credit Come Back?
Outlook for REIT M&A
SEC Hot Topics and IFRS Convergence Update
Debt Management
Tax Aspects to Maintaining Liquidity
Plus many more topics concerning legal, accounting and finance areas as NAREIT presents over 20 information-packed sessions from which to choose.
As important as the educational sessions are, the fourth pillar NAREIT creates is the opportunity to network with colleagues during the conference's many social activities. The level of interaction at this event between private and public REITs, real estate investment companies, and service providers from the legal, finance and accounting fields is at an all time high as NAREIT strives to create a marketplace where business opportunities become a reality. Register today either online through this site, or print out the registration form and send it to NAREIT.
Date:
Wednesday, March 25, 2009
to
Friday, March 27, 2009
Venue:
La Quinta Resort & Club
49-499 Eisenhower Drive
La Quinta, CA 92253