A majority of financial advisors recommend REITs 
The potential benefits of including REIT allocations within a diversified portfolio are key reasons why: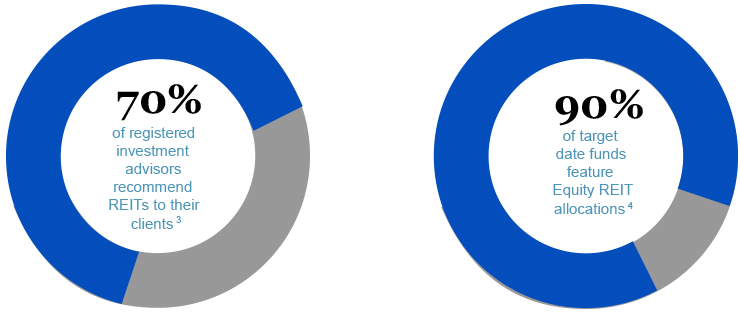 If you are among the vast majority of financial professionals who embrace the use of REITs for portfolio diversification, you already recognize that: 
Along with stocks, bonds and cash, real estate is a fundamental asset class 
Stock exchange-listed Equity REITs are an effective and liquid means of investing in this asset class 
Further validation of these facts came with leading investment managers — including BlackRock®, State Street Global Advisors® and Fidelity® —  recently adding REIT-focused exchange traded funds (ETFs) to their product lineups. This confirmed a growing consensus throughout the investment community about the wisdom and durability of the REIT approach to real estate investment. 
Why real estate? 
The real estate asset class proposition is based on specific, well-documented attributes of real estate investing, including: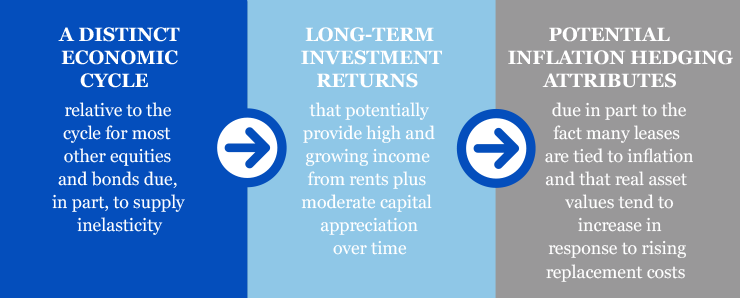 Why REITs? 
The potential role for REITs within a diversified portfolio is driven by these attributes:1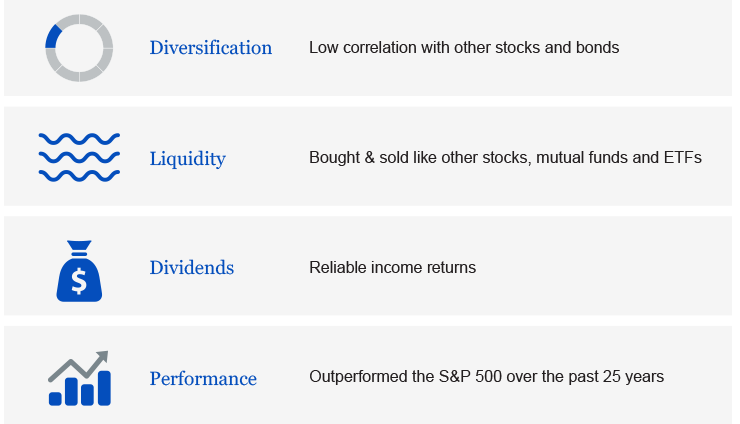 The significance of commercial real estate should not be overlooked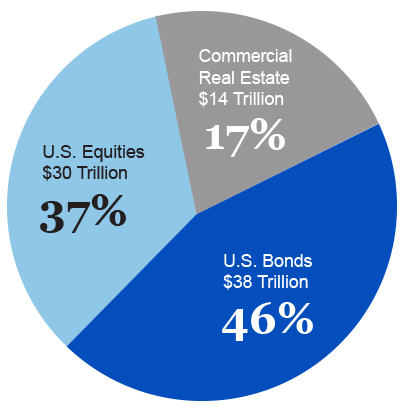 Modern portfolio theory indicates that well-diversified portfolios should include meaningful allocations to all assets in the market basket. 
This includes commercial real estate which is the third largest asset class (17%) in the U.S. investment market2 
Listed REITs represent 15% to 20% of the commercial real estate asset class. 
Past performance1 suggests that: 
The real estate market is the primary driver of Equity REIT returns 
Listed Equity REITs may be used as a liquid proxy for gaining access to the entire commercial real estate market 
Looking closer at the numbers 
The Morningstar Fact Sheets include performance data for stock exchange-listed Equity REITs through December 31, 2016. As these Fact Sheets show:5 
Defining appropriate portfolio allocations 
Many investors believe a reasonable portfolio allocation to REITs is between 5% and 10%, but multiple studies have found the optimal allocation may be between 5% and 15%. For example, this model from Wilshire Funds Management defines the optimal allocation to U.S. Equity REITs as follows:10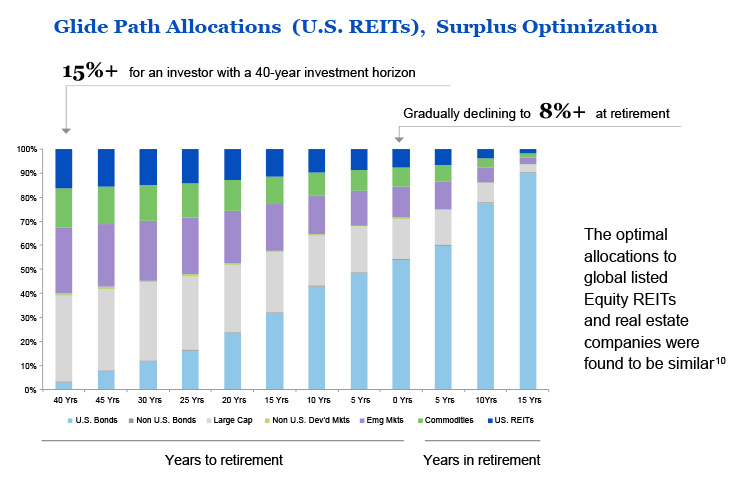 Download a PDF of this Quickfacts Guide.
---
Additional Resources
---
How REITs Work
This whiteboard video provides insight into what REITs are and how they work. Watch the video to learn more about the rules that govern REITs and how they operate.
---
Disclaimer
1. Unless otherwise indicated, REIT data presented are historical performance data which are derived from, and apply only to, publicly traded securities. While such data are believed to be reliable when prepared or provided, such data are subject to change or restatement. Nareit does not warrant or guarantee such data for accuracy or completeness, and shall not be liable under any legal theory for such data or any errors or omissions therein. See here for important information regarding this data, the underlying assumptions and the limitations of Nareit's liability therefor, all of which are incorporated by reference. Performance results are provided only as a barometer or measure of past performance, and future values will fluctuate from those used in the underlying data. Any investment returns or performance data (past, hypothetical or otherwise) shown herein or in such data are not necessarily indicative of future returns or performance.
2. Sources: Stock and bond data from Board of Governors of the Federal Reserve, Financial Accounts of the United States, 2016Q4; commercial real estate market size data based on Nareit analysis of CoStar property data and CoStar estimates of Commercial Real Estate Market Size, 2016Q4.
3. Source: Nareit-sponsored survey by APCO Insights, April 2015.
4. Source: Nareit analysis using Morningstar DirectTM.
5. IMPORTANT: These facts exclusively address stock exchange-listed Equity REITs. To learn how this type of REIT differs from a Mortgage REIT, and how listed REITs differ from non-listed REITs, see the SEC Investor Bulletin Real Estate Investment Trusts (REITs) available at http://sec.gov/investor/alerts/reits.pdf REIT investments are not suitable for all investors. Past performance is no guarantee of future results.
6. For details, refer to Performance: Stocks, Bonds, Bills, REITs, a Morningstar® Fact Sheet
7. For details, refer to The Role of REITs in a Portfolio, a Morningstar® Fact Sheet
8. For details, refer to Retirement Portfolios, a Morningstar® Fact Sheet
9. For details, refer to Dividends and Inflation, a Morningstar® Fact Sheet 
10. Source: Nareit sponsored study by Wilshire Funds Management – The Role of REITs and Listed Real Estate Equities in Target Date Fund Allocations. Large-cap stocks – Wilshire U.S. Large Cap Index; Small-cap stocks – Wilshire U.S. Small Cap Index; International stocks – Morgan Stanley Capital International Europe, Australasia, and Far East (EAFE®) Index; Emerging Market Equities – MSCI Emerging Markets Index; U.S. bonds - Barclays U.S. Aggregate Bond Index; Non-U.S. bonds – Citigroup Non-USD World GBI; U.S. REITs – FTSE Nareit All Equity REIT Index.
This information is solely educational in nature and is not intended by Nareit to serve as the primary basis for any investment decision. Nareit is not acting as an investment adviser, investment fiduciary, broker, dealer or other market participant and does not intend this publication to be a solicitation related to any particular company, nor does it intend to provide investment, legal or tax advice. Any investment returns or performance data (past, hypothetical, or otherwise) are not necessarily indicative of future returns or performance. ©2017 National Association of Real Estate Investment Trusts® Nareit® is the exclusive registered trademark of the National Association of Real Estate Investment Trusts.
All other brand names and trademarks referenced herein are property of their respective owners.