About the program
Nareit U.S. corporate members have access to best-in-class primary Directors & Officers Liability ("D&O") insurance.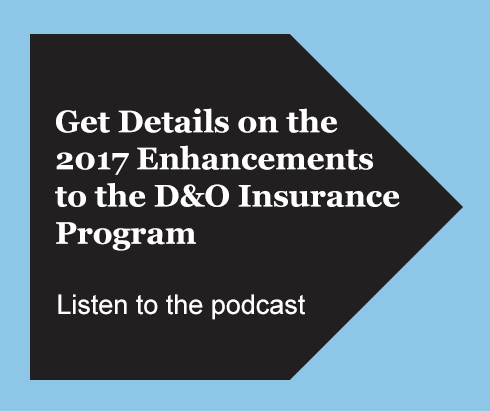 Crystal & Company ("Crystal") serves as the exclusive administrator and Arch Insurance Group ("Arch"), an A+ A.M. Best rated insurance company, serves as the exclusive underwriting partner and insurance provider. 
Through the program, Nareit U.S. corporate members have access to a talented team of individuals who specialize in analyzing and underwriting unique D&O exposures and claims trends impacting REITs.  
2017 Program enhancements
To ensure you have access to state-of-the-art terms and conditions, Nareit, Crystal and Arch recently updated the program with many features to help protect your business. Certain key areas which have been updated and expanded include:
Definition of Loss to address plaintiffs' attorney fees and certain taxes, among other items
Enhanced definitions of Defense Costs, SOX 304/Dodd-Frank 954 Costs, Investigation Costs and Outside Organizations
Definition of Insured Person to include advisory directors
Added Coverage for Extradition, Aiding & Abetting, Class Certification Event Study Costs and Books & Records Requests
New State Amendatory Inconsistency and Liberalization provisions
Added Provision for a Side A Carrier to In-Fill the Retention
Side A carve-back to the BI/PD Exclusion
Narrower ERISA Exclusion
Enhanced Cooperation Severability language
Period to Advance Defense Costs reduced to 45 Days
To learn more about the Nareit D&O Program, listen to the podcast.
To learn more about how the 2017 enhancements can benefit your company, please contact Crystal & Company Director Steve Kelly at 212-504-5847 or steve.kelly@crystalco.com