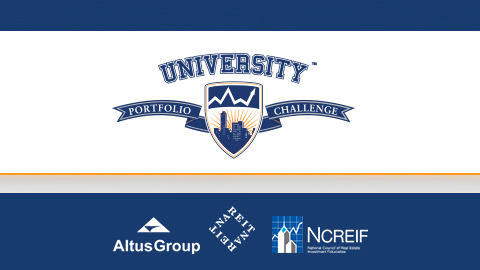 More than 195 students from 38 universities across North America and Europe are competing in the 2017 Real Confidence University Challenge, a year-long competition for university students to gain hands-on learning experience in public and private commercial real estate investing.
The 2017 Real Confidence University Challenge is made possible by Altus Group Limited ("Altus Group"), in collaboration with the National Association of Real Estate Investment Trusts (NAREIT®) and the National Council of Real Estate Investment Fiduciaries (NCREIF®).
Each university team was asked to allocate $1 billion in theoretical capital among a variety of commercial real estate investment opportunities found within the public and private equity and debt sectors that would yield the highest return in 2017. The performance of each sector's weighted investment selection will be calculated with its respective benchmark return data provided by NAREIT®, NCREIF®, Markit® and Giliberto-Levy Commercial Mortgage Performance Index℠.
The 2017 Real Confidence University Challenge Index is comprised of the total theoretical $38 billion made up of each university team's allocation and serves as the competition benchmark. This year's index allocation saw 59.2% of the total capital allocated to public equity, followed by 34.1% to private equity opportunities. The industrial sector took the top spot in both public and private equity selections making it the sector to watch in 2017. On the debt side; public debt received a 4.2% distribution, focused mainly on CMBS – AAA securities, while private debt received 2.5%, up over 13% from the 2016 challenge.  
Past Results

2017 Winner - The University of Chicago Booth School of Business
The competition will conclude in January 2018 and includes $50,000 USD in total prize money. The team with the best-performing portfolio for the year will be awarded $30,000, with quarterly prizes of $2,500 awarded to the university with the top public and private section performance of their portfolio.
Students and industry professionals can follow the portfolio performance at www.realconfidence.com/university. The interactive website showcases a leaderboard, blog posts and industry expert commentary.