In a city renowned for its landmarks, Boston Properties, Inc. (NYSE: BXP) has added the wind turbines atop its 888 Boylston Street building in Boston's Back Bay to a diverse list of sights.
Bryan Koop, Boston Properties' executive vice president for the Boston region, says the wind turbines have become a "real design feature" of the city and epitomize the bold goals set out for the building.
Indeed, from the get-go, the mission for 888 Boylston was clear – it would be Boston's most sustainable building.
Completed in 2016, 888 Boylston marks the final chapter in the development of Boston's Prudential Center, a mixed-use 23-acre site that first opened in 1965 and was acquired by Boston Properties in 1998.
"We wanted to make sure we got it exactly right," Koop says.
Building on Experience
Although building the city's most sustainable building was a lofty goal, Boston Properties is no stranger to thinking big when it comes to sustainability.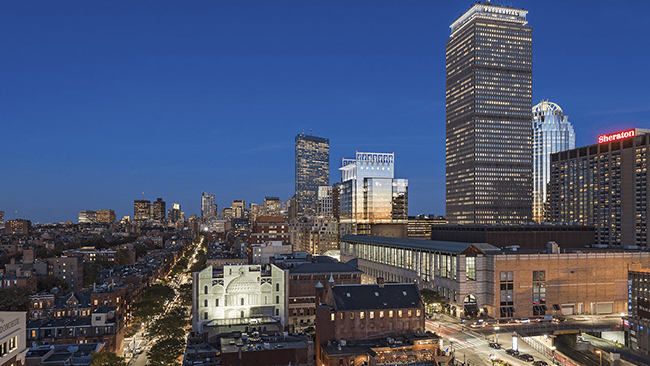 Koop says 888 Boylston builds on Boston Properties' earlier milestones in sustainability: 77 CityPoint in Waltham, Massachusetts; Atlantic Wharf, Boston; and Weston Corporate Center in Weston, Massachusetts.
Koop describes 77 CityPoint in Waltham, Massachusetts, built in 2008, as New England's first speculative green building. "To build on a speculative basis was highly unusual - it was a real moment in time in the history of sustainability in New England," Koop points out.
Weston Corporate Center, meanwhile, features the nation's first deep water cooling system in an office building, courtesy of two on-site former quarry ponds. Built in 2010, the center also features the largest privately owned, ground-mounted solar array in Massachusetts, the company notes.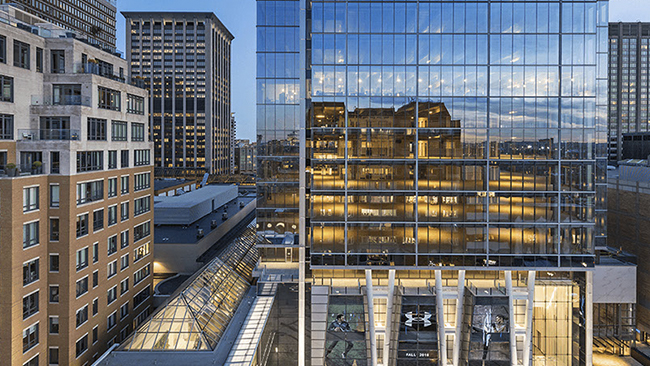 A third sustainability milestone was the construction in 2011 of Atlantic Wharf, Boston's first green skyscraper, according to Koop.
"At 888, we took everything we'd learned from those projects and put it in one box," observes Ben Myers, sustainability manager at Boston Properties. Koop adds, "it's one real giant leap for our company in terms of our progression in sustainability."
Unique Sustainability Features
Tenants that have already settled at 888 Boylston include the Italian marketplace Eataly, located in the Prudential Center's former food court. "They have been a huge success already," says Koop. Athletic clothing manufacturer Under Armour is leasing retail space, as is Tesla Motors Inc. Other tenants include professional services company Accenture and Natixis Global Asset Management.
The 17-story 888 building consists of a three-story retail base, a 14-story office tower and two levels of subgrade parking. The building's sustainability features include:
A cutting-edge chilled beam system that circulates 100 percent fresh air throughout the building;
A tight, high-performance thermal envelope encasing the building;
A rainwater harvesting system that collects water from the roof, providing 20 percent of the water consumed by the building;
A "living wall" in the lobby where plants are irrigated by water collected from the roof;
14 vertical axis wind turbines and a 120kW solar photovoltaic system on the roof capable of providing enough clean power for 15 homes;
LED lighting throughout all common areas; and
Floor to ceiling windows providing ample natural light and an upward curve on north-facing windows that allows more light to penetrate the core of the building.
Austin Blackmon, the City of Boston's chief of environment, energy and open space, describes 888 Boylston as "one of the most innovative green buildings in Boston."
"They're at the vanguard of green buildings," Blackmon adds, in reference to Boston Properties.
Measure and Verify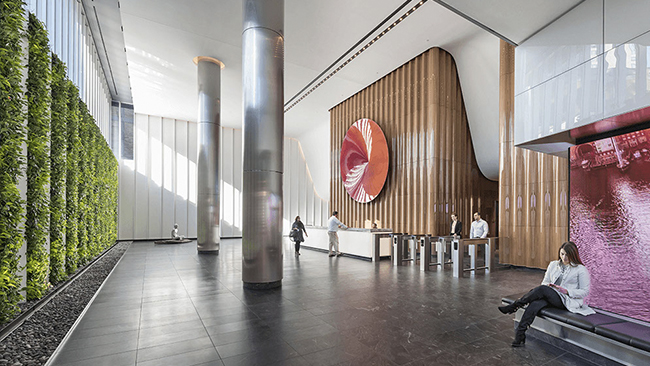 While the construction phase may be over at 888 Boylston, the learning process isn't. Myers describes the property as a "living laboratory" for sustainable design.
"What's really important now is that we measure and verify the performance that we set out to achieve," Myers says. The company has installed 46 meters throughout the building to monitor every large motor, he notes.
Koop adds that 888 Boylston not only enables the company to improve upon its own internal sustainability record and build "innovation muscle" for future projects, but functions as an important public education tool as well. He estimates that the company hosts an average of a tour per week for groups, including college architectural design schools, university sustainability departments and even grade school students.
"We have a team specifically designated to educational tours – we've never had that in any of our buildings," Koop effuses. The fact that others in the industry are seeking to emulate 888 Boylston is a "supreme compliment," he says.