Hilton Worldwide announced April 27 that it has named Thomas Baltimore, Jr. as president and CEO of the new REIT it plans to form later this year.
Baltimore is a co-founder of RLJ Lodging Trust (NYSE: RLJ) and has served as CEO since the company's initial public offering in 2011. Baltimore's appointment as CEO of the planned REIT is effective May 16, Hilton said.
"Joining Hilton Worldwide as president and CEO of their planned hotel REIT is the only opportunity within our industry that could have compelled me to make this move," Baltimore said.
In February, McLean, Virginia-based Hilton Worldwide revealed plans to form a new REIT by spinning off of the bulk of its real estate holdings. The transaction is expected to occur by the end of the year. The newly formed REIT will include approximately 70 properties and 35,000 rooms, according to Hilton Worldwide, with a portfolio concentrated in luxury and upper-upscale assets located across urban and convention markets, resort destinations, select international regions and airport locations.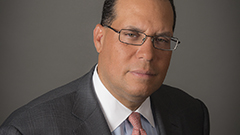 Between 1988 and 2000, Baltimore served in high-level positions across the hotel industry, including stints as vice president for development and finance and vice president for gaming development at Hilton. He also served as vice president of business development for Host Marriott Services during that period. In 2000, he became co-founder and president of RLJ Development, a forerunner of RLJ Lodging Trust.
"We are confident that Tom's extensive capital allocation experience and proven leadership make him the perfect fit to oversee the long-term success of the REIT business," said Christopher Nassetta, president and CEO of Hilton Worldwide.
Sean Dell'Orto, who currently serves as Hilton Worldwide's senior vice president and treasurer, was named as CFO of the forthcoming REIT.
"The appointments of Tom and Sean represent a major step forward in the execution of our REIT spin-off," Nassetta said.
Meanwhile, RLJ Lodging Trust said Ross Bierkan, executive vice president and chief investment officer,  will serve as interim CEO. The hotel REIT has a portfolio of 125 properties with approximately 20,800 rooms located in 21 states and the District of Columbia.