Since the start of the recession, university-based commercial real estate programs and their students have had to adapt to the changing times. School administrators say that while there are still jobs in the industry, fewer students are focusing on development and enrollment is waning.
Tim Riddiough, chair and professor in the Department of Real Estate and Urban Land Economics at the Wisconsin School of Business, which offers an undergraduate and graduate program, and former director of the school's Graaskamp Center for Real Estate, says enrollment has fallen off by about 20 percent in both programs. He attributes the recent recession and the perception of a lack of jobs in the industry to the decline. Fewer students are seeking careers in real estate development, he says, but he notes that there are opportunities in different areas of focus.
"The majority of hiring now is in direct investment and commercial mortgages," he says, adding that the school places students in fields such as real estate consulting and appraising less frequently now.
Riddiough says that despite the downturn in the real estate industry, the demand to hire students from the program has held up nicely. Additionally, firms that previously would only look at MBA students are now hiring undergraduates.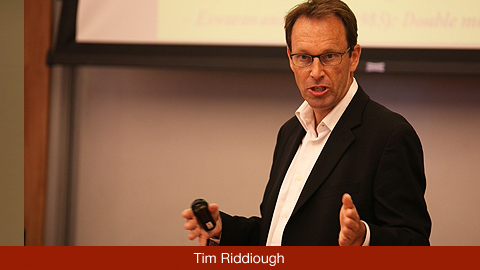 The University of Denver's Glenn Mueller, professor at the Franklin L. Burns School of Real Estate and Construction Management, has also noticed a decline in enrollment. That trend is now reversing, he says
"We have seen a little bit of a decrease in the enrollment of students over the past few years, but we are now starting to see an increase," Mueller says.
Jay Hartzell, executive director of the Real Estate Finance and Investment Center at the University of Texas, says that in the last three years students have become less focused on development, and more interested in the equity side and working for private and publicly traded REITs.
In fall 2012, McCombs School of Business at The University of Texas brought back a revamped undergraduate real estate certificate program, after nearly two decades of not offering the program. The certificate offers an industry-focused, interdisciplinary curriculum and is open to both business and non-business undergraduate students.
"It's now more interdisciplinary and broader. The idea was that a lot of students who wanted to explore training in real estate liked the idea of having other disciplines. Before, it was a dedicated undergraduate degree in the business school, but it was harder for non-business students to pursue, Hartzell explains.
He says the program is grounded in the business disciplines, while exposing students to a fundamental knowledge of architecture, economics, engineering, real estate law and urban planning.
"I think the payoff to being interdisciplinary has changed. There are cross benefits to having architecture students in the business school and business students learning about architecture," Hartzell says.
He also notes that the financial aspect of real estate has grown more sophisticated, with a need for increasingly rigorous analytical training. Students are thinking about the field more from a financial or economic perspective.
"The textbook approach to real estate is growing more heavily finance or capital markets focused," he says.
Mueller says the real estate industry as a whole has become more complex. Companies today are more interested in graduates who have an education that is completely focused on real estate, rather than those without a background in the business.
While the recession may have discouraged some from pursuing real estate, universities are emphasizing that corporations are hiring graduates with well-rounded real estate skills.
Joseph Gyourko, chairman of the real estate department and director of the Zell/Lurie Real Estate Center at The University of Pennsylvania's Wharton School of Business, has also witnessed a change in enrollment in the program.
"We've seen some change. When times are good, enrollment is high, and when it's not so good, enrollment is less," he says.
Gyourko describes three different types of students in the undergraduate and MBA programs. One-third of the students are finance-oriented. He describes them as "investment bankers who happen to be interested in real estate." About one-fifth of the students are what he calls "bricks-and-sticks" students.
"They want to build, but once the crisis hit, those folks had to go somewhere else. There are fewer Americans focusing on that for sure," he said. "That's changed the most, really, because the decline of development jobs in the U.S. went down."
The remaining 50 to 60 percent of students in the real estate programs are going to work in asset management jobs, according to Gyourko.
"They are working for owner operators, like REITs. They will do a little finance and be a little hands-on, but they are not investment bankers because they want to touch the assets," Gyourko says.
While Gyourko says the job market is tougher now than it was during the real estate boom years, he explains that it's not tougher than it is for any other industry.
"Kids have to work harder, but the reality is that real estate is not particularly disadvantaged," he says. "In a perfect world, the assets would be worth more, but companies still have to have managers to run and finance the assets. The buildings didn't go away; they are just not worth as much as they were."
Mueller says opportunities may even be picking back up.
"We have a daily e-mail that goes out to students with jobs and internship opportunities in real estate, and now we are starting to have them come in each day," he says. "We're seeing a little bit of everything come in. The REITs are hiring people at a pretty good clip. We also get some jobs for brokers from financial banks and underwriters."