NAREIT presented its Industry Leadership and Industry Achievement Awards in Atlanta on Nov. 5 during REITWorld 2014: NAREIT's Annual Convention for All Things REIT to Debra Cafaro and Keith Pauley, respectively.
The Edward H. Linde Leadership Award, named in recognition of Ed Linde, the late CEO of Boston Properties (NYSE: BXP), was awarded to Debra Carafo, chairman and CEO of health care REIT Ventas, Inc. (NYSE: VTR). The award is presented annually to a REIT executive who has made significant and lasting contributions to the growth and betterment of the industry.
Cafaro served as NAREIT chair in 2012, as well as first vice chair in 2011 and second vice chair in 2010. Cafaro has served as Ventas CEO since 1999, and as chairman since 2003. Ventas's market capitalization rose to $20 billion in early 2013 from $200 million during her first year as CEO. Cafaro was recently included on Harvard Business Review's list of 100 best-performing CEOs in the world.
Current NAREIT Chair David Neithercut, president and CEO of Equity Residential (NYSE: EQR), presented the award to Cafaro. He noted that an important focus of Cafaro's term as NAREIT chair dealt with increasing REIT investment at the nation's largest pension plans and defined contribution plan providers.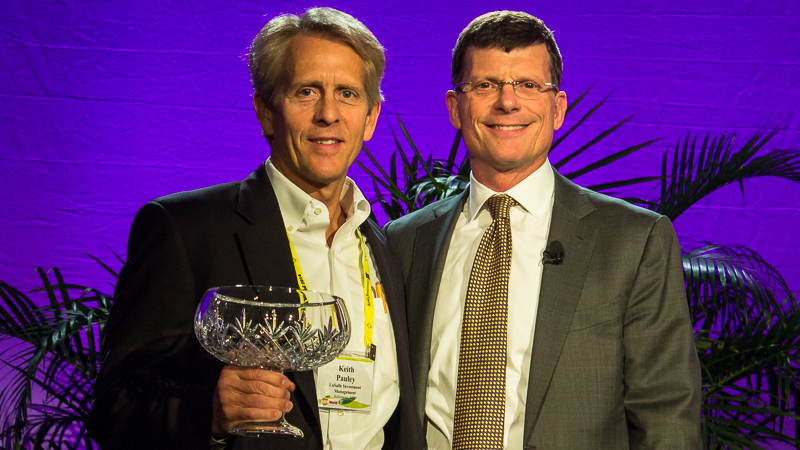 "I love our industry, it captivated me early in my career," said Cafaro, adding that she was "proud and grateful to lead our dedicated team at Ventas."
The E. Lawrence Miller Achievement Award, named in honor of past NAREIT Chair E. Lawrence Miller, the former CEO of Bradley Real Estate Trust, was presented to Keith Pauley, co-head of LaSalle Investment Management Securities.
The award is presented each year to industry professionals whose acumen and integrity have helped build awareness and understanding for the value of REITs and publicly traded real estate.
Pauley joined LaSalle as a financial analyst in 1986. During his career at LaSalle he has provided leadership in a broad range of areas: securities analysis, portfolio management, oversight of trading, and client relationship management.
As a dedicated REIT fund manager, he worked to introduce, explain and build acceptance among investors for the REIT investment proposition.
"Keith's efforts helped make possible the exceptional expansion of the U.S. REIT industry that took place in the first two decades of the modern REIT era.  His work has helped make the industry into the large and vibrant marketplace it is today," said outgoing NAREIT chair Ronald Havner, Jr., chairman, president and CEO of Public Storage (NYSE: PSA), who presented the award.
"It's clear that public real estate has become the dominant player in the commercial real estate industry," Pauley said upon accepting the award.
NAREIT has presented the Industry Achievement and Industry Leadership Awards annually for two decades to industry members who have made outstanding contributions to the REIT industry and to NAREIT's own programs.