The House Committee on Financial Services held a hearing on Sept. 19 to review the Terrorism Risk Insurance Act of 2002 (TRIA) and the role the federal government plays in connection with insurance related to acts of terrorism.
The terrorism risk insurance program established under TRIA in 2002 requires insurance companies to offer coverage to commercial entities in exchange for a federal backstop that is used to protect against only those terrorism-related losses that exceed $100 million dollars. At the time of the Sept. 11 terror attacks in 2001 that targeted New York and Washington, nearly all of those affected were insured, and insurance companies paid more than $30 billion in claims. After the attacks, terrorism risk coverage began to disappear from the market as the reinsurance and insurance industries excluded it from their policies. The lack of this insurance coverage stalled economic activity such as lending, including lending for new construction, contributing to mounting job losses and economic dislocation.
The TRIA program is set to sunset in 2014. The original legislation was extended in 2005 and again in 2007.
"For more than a decade, TRIA has been nothing short of a qualified success, supporting critical economic growth by ensuring access to terrorism coverage for our largest venues, businesses and employers," said Maxine Waters (D-CA), the ranking Democrat on the committee. "By requiring private insurers to offer terrorism coverage, TRIA actually reduces taxpayer exposure because it keeps most of the terrorism risk with the private sector. Without affordable terrorism insurance, many buildings, schools, and venues would remain uninsured against terrorist attacks, meaning that the government likely would pick up 100 percent of the tab for catastrophic losses."
The Coalition to Insure Against Terrorism (CIAT), which represents business insurance policyholders, commended the committee for holding the hearing.
"Numerous studies, including studies by the President's Working Group on Financial Markets, the Government Accountability Office (GAO) and, recently, the global insurance brokerage and risk management firm Marsh, have highlighted the unpredictable nature of terrorism and why insurers cannot reliably model for this exposure," said Martin DePoy, spokesperson for CIAT. "A new study by the global reinsurer Swiss Re concludes that terrorism remains 'uninsurable by private markets.' All available evidence continues to indicate that private terrorism risk coverage would once again disappear without the Terrorism Risk Insurance Program."
Senate Banking Committee Holds TRIA Hearing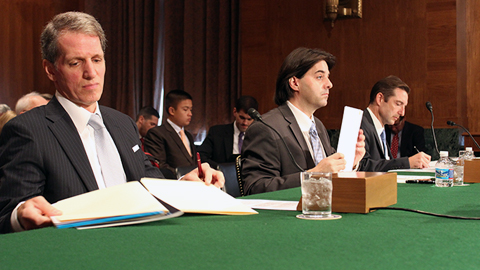 The Senate Committee on Banking, Housing & Urban Affairs held a hearing on the state of terrorism insurance market on Sept. 25.
Testimony at the hearing was provided by Peter Beshar, executive vice president and general counsel with Marsh & McLennan Companies; Erwann O. Michel-Kerjan, professor and managing director with the Center for Risk Management and Decision Processes at The Wharton School at the University of Pennsylvania; and Robert P. Hartwig, president of the Insurance Information Institute.
Absent TRIA, "American taxpayers might actually end up paying as much after a large terrorist attack through federal disaster relief (which it will be impossible to deny, as taxpayers have become de facto the prime funding source in the aftermath of natural disasters and financial crises alike), if not much more as they would today if insurers lower the capacity they provide when the mandatory requirement expires," Michel-Kerjan testified at the hearing.