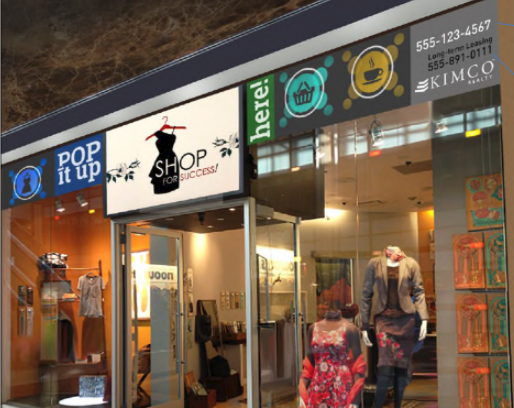 Kimco Realty Corp. (NYSE: KIM) hopes its new online database of available pop-up sites within its portfolio will make pop-up stores an even more prevalent feature of today's changing retail landscape.
Pop-ups are considered a win-win for retailers and owners—retailers can try new concepts virtually risk-free, while owners can generate ancillary income and draw crowds to shopping centers. Kimco is one of several retail REITs that have embraced the pop-up format.
David Jamieson, COO of Kimco Realty, notes that pop-ups have become a way for retailers to test market ideas, create a customer following, or transition from 'clicks to bricks' without the liability of a long-term lease.
Kimco's new online database, known as Pop It Up Here!, launched earlier this month. Its aim is to more easily identify and lease smaller pop-up shops within the portfolio, whether to an offshoot of a major seasonal retailer or a small local business just getting started.
Christina McNelis, director of portfolio management at Kimco, was part of the Kimco LABS (Leaders Advancing Business Strategy) Program team that came up with the concept. She notes that the idea was formally developed after recognizing that Kimco had a pool of inventory in operable condition, ready to lease to short-term retailers.
"Retailers' needs are changing and Kimco needs to be at the forefront of that," says McNelis.

To start with, Pop It Up Here! is focused on six markets: Denver; Dallas; San Francisco; Phoenix; Bellevue, Washington; and Wilton, Connecticut—with 34 units available across 13 Kimco shopping centers. McNelis stresses that Kimco chose locations that often have special events that drive extra foot traffic or are in areas where Kimco has more boots on the ground to facilitate leasing and operations.
Jenny Westbrook, managing director of specialty leasing at Kimco, notes that the company has a "bevy of opportunities for pop-ups," either in common areas such as parking areas and sidewalks or within a traditional inline space.
Westbrook points out that the length of a pop-up store lease can range from a single day to several weeks. That means that pop-up retailers need to build public awareness quickly, and social media is the preferred tool. "Social media plays a huge part in getting the message out," according to McNelis.
Other REITs have also been active in exploring new retail formats.
Last November, Simon Property Group (NYSE: SPG) launched The Edit @ Roosevelt Field, a retail platform at Roosevelt Field on Long Island that will feature a rotating selection of new brands displayed in micro retail units ranging from 20 to 200 square feet. Westfield Corp. (ASX: WFD) offers three pop-up formats—Pop Up, Pop In and Pop Around—depending on the amount of temporary retail space and number of locations a tenant is looking for. Macerich's (NYSE: MAC) Pop-Up EXP provides customizable modular pop-up stores, while Washington Prime Group Inc. (NYSE: WPG) has rolled out its Tangible platform to offer space to emerging e-commerce brands on a rotational basis.