The closure of a supermarket in Columbia, Maryland, more than 10 years ago forced Kimco Realty Corp. (NYSE: KIM) to take a fresh look at the retail-only strategy for its shopping centers.
Now, the site of the shuttered grocery store embodies the retail REIT's efforts to turn some of its outdated, but well-located, real estate into mixed-use developments.
"Our focus is true value creation inside the real estate we have, and that may deviate from pure retail alone," says Tom Simmons, president of Kimco's mid-Atlantic region.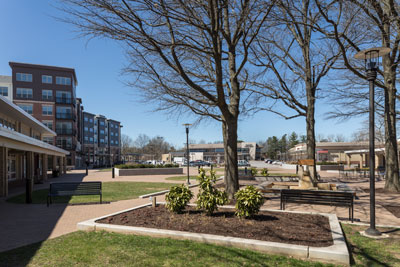 Village Centers Bought in 2002
Fifty-year-old Wilde Lake Village Center, a seven-acre site, is one of nine village centers located within the city of Columbia, a planned community situated between Washington, D.C., and Baltimore. Kimco purchased Wilde Lake and six other Columbia village centers in 2002 from The Rouse Co., a firm founded by real estate developer and urban planner James Rouse.
Wilde Lake was the first of the village centers built by Rouse and reflected his "inward-facing" community concept, Simmons explained. With a village green at its heart, the center was designed to fulfill all of the adjacent community's daily needs, with office, retail and recreational components.
The closure in 2006 of Wilde Lake's Giant supermarket, an original tenant, prompted Kimco to begin a thorough review of the village center. Ultimately, the REIT discovered that there wasn't enough national grocery retailer interest in the site due to competition from nearby village centers, especially those that had been designed with a more traditional shopping center layout.
At that point, Kimco opted to pursue a mixed-use approach at Wilde Lake.
An Exhaustive Entitlement Process
Redevelopment of Wilde Lake began in 2013. The process included the demolition of the Giant store and portions of the smaller, inward-facing retail sites. A new CVS drugstore was constructed, while organic grocer and original tenant David's Market was relocated to a new, larger site.
The LEED-certified redevelopment added freshly-paved walking paths, outdoor seating areas and community space. New landscaping throughout the center enhanced the existing vegetation, along with stamped concrete walkways and crosswalks, and pervious paver parking spaces.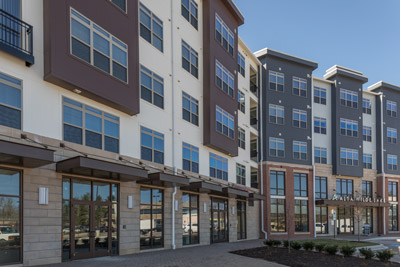 For the multifamily aspect of the redevelopment, Kimco selected Wood Partners to build two five-story apartment buildings and a multi-level parking garage.
Before redevelopment could start, however, Kimco faced an exhaustive entitlement process, Simmons noted.
To start with, the Rouse Co. still maintained overriding control over a change-in-use at the center. By the time Kimco started the process, the Rouse Co. had been sold to GGP (NYSE: GGP), then spun off into The Howard Hughes Corp. (NYSE: HHC). Kimco worked with both companies, which were "very receptive to the ideas we had," Simmons said.
At the same time, the village centers did not have any sort of means to change the zoning in order to convert the original concept, he added.
To overcome that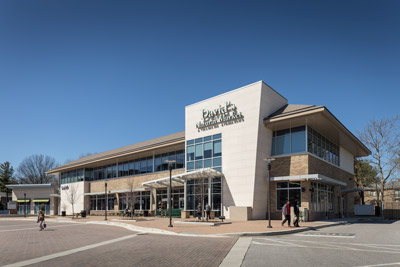 hurdle, Kimco sat down with county officials and the village's civic leadership in a "laborious" two-year process to write legislation allowing for zoning changes to be made, according to Simmons.
In January, Kimco announced that it had signed three new leases at Wilde Lake. Starbucks is opening both a café and a drive-thru in the fall. Kimco also signed a lease with Dynamic Dental Care LLC, a Washington-area practice that opened its Columbia office in December 2016. Salons by JC, a national beauty salon chain, opened in the first quarter of 2017 above David's Natural Market.
Now that Kimco has completed the $18 million redevelopment at Wilde Lake, it is studying its options at other Columbia village centers.
"Not everyone wants a lot of change, but the success at Wilde Lake really opens doors for us to potentially be able to change some, if not all, of our village centers," Simmons said. "Wilde Lake is the poster child of how you can take something that through no fault of its own is broken, and turn it into a true showpiece."