Lamar Advertising Co. (NASDAQ: LAMR) is ensuring that its billboards have a second lease on life once their advertising days are over.
Rather than ending up in a landfill, the billboards are repurposed by Los Angeles-based outdoor gear manufacturer Rareform into surfboard bags, backpacks, laptop sleeves, wallets, and other types of bags and accessories.
The Lamar-Rareform partnership began in 2012. Since then, Lamar has donated about 10,000 tons of PVC billboard material to Rareform each month. The billboards are washed, cut, and sewn into one-of-a-kind products.
In addition to recycling billboard material through its partnership with Rareform, Lamar also extends the life of old billboards by donating them to the community. Old billboards have provided temporary roofs for storm victims, and have served as canvases for aspiring artists, among other uses.  Lamar's polyethylene billboards, meanwhile, can be recycled into plastic resins that can be molded into new products, such as rail ties, nursery pots, or shipping pallets.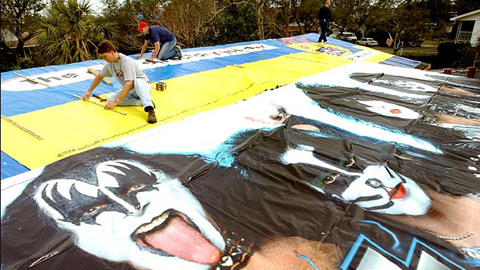 At the end of October, Lamar will donate a unique billboard to Rareform. Located at Crenshaw Boulevard and West 59th Place in Los Angeles, the billboard is not an ad, but rather artwork designed by graphic artist Milton Glaser.
The artwork features Glaser's "It's Not Warming, It's Dying" environmental campaign, the first installment of the Lamar-Rareform Art Lives campaign. The artwork, which is expected to be seen by about 500,000 people, will be displayed throughout the month of October.  
"Typically, billboards are viewed by people as a purely commercial vehicle for distributing a message," says Michael Cossota, sales manager of Lamar Advertising of Los Angeles. "This campaign gives us the opportunity to showcase artwork and enhance an urban environment."
After Glaser's work comes down, Rareform will repurpose the billboard, creating approximately 300 limited-edition backpacks, messenger bags and accessories in the first of its Artist Series collection.
"We are helping to promote the message of sustainability with tangible art pieces which can be used by people in their everyday lives," said Allie McAlpin, Lamar communications director.