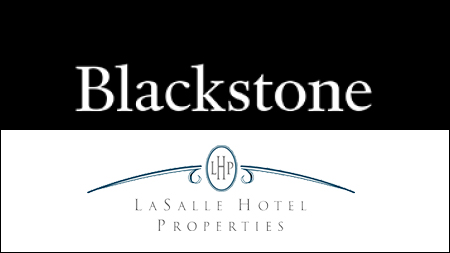 LaSalle Hotel Properties (NYSE: LHO) said May 21 that it has agreed to be sold to private equity group Blackstone Group LP in an all-cash transaction worth $4.8 billion.
Blackstone will pay $33.50 per share, a premium of about 5 percent above LaSalle's closing share price of $31.90 on May 18. The transaction is expected to close in the third quarter.
LaSalle said it contacted 20 potential buyers, including strategic parties, brands and private equity firms, and engaged in extensive negotiations with 10 of them, before accepting the Blackstone offer.
Michael Barnello, president and CEO of LaSalle said Blackstone "has a proven ability to complete large transactions on agreed terms and has extensive experience in the real estate industry." According to LaSalle, the Blackstone offer "represents the most compelling opportunity… delivering a significant premium with immediate and certain cash value."
Pebblebrook Hotel Trust (NYSE: PEB), which made three earlier offers for LaSalle, expressed disappointment about the deal.
"We continue to believe that our offer maximizes immediate and long-term value for LaSalle's shareholders," said Jon Bortz, chairman, president and CEO of Pebblebrook.
Michael Bellisario, analyst at R.W. Baird, noted that the agreement with Blackstone represents "full pricing" for LaSalle. Given this, and Blackstone's lower cost of capital, "we believe a topping bid from private equity is highly unlikely," he added.
Meanwhile, Blackstone's implied pricing metrics for LaSalle provide a "reasonably attractive comp" for Pebblebrook and most other full-service hotel REITs, Bellisario said, which could further support shares in the near-to-intermediate term.
At the same time, Pebblebrook should stand to make a "decent profit" on its approximately 5 percent ownership stake in LaSalle, according to Bellisario.
James Sullivan, analyst at BTIG, noted that there are material tailwinds that boost the prospects for the lodging industry and LaSalle specifically in 2019. The rebound in room demand seen in the first quarter should be sustained for the next several quarters, he said.
"We appear to be in the early stages of a rebound in business travel demand," Sullivan said, while leisure demand has remained strong for several quarters and international demand has shown a recovery.