For Life Storage, Inc. (NYSE: LSI), the summer of 2016 has been anything but a time to slow down and relax.
Executives from Life Storage, the REIT formerly known as Sovran Self Storage, Inc., rang the New York Stock Exchange closing bell on Aug. 16 to commemorate the company's recent rebranding and new stock ticker symbol.
Sovran changed its name to Life Storage following its acquisition of LifeStorage, LP, a privately owned self-storage operator, in July for approximately $1.3 billion.
Life Storage CEO David Rogers spoke to REIT.com about the recent acquisition and rebranding, which involves phasing out Sovran's familiar Uncle Bob's Self Storage brand, as well as opportunities for further growth.
REIT.com: What is the timetable for the rebranding process?
David Rogers:  We completed the acquisition of LifeStorage on July 15 and we've been training their employees for the last month. On Aug. 8, we put the 90 Life Storage stores onto our web advertising, customer care center, revenue management and training platforms.
Beginning this month and continuing through early 2017, the company will rebrand all its properties from Uncle Bob's Self Storage to Life Storage. The brand better fits our image now. We're in much more vibrant and exciting markets, and the services we offer are more technology-driven. We've traded in a sleepy little name for one that better reflects our customers' needs. It's an exciting time.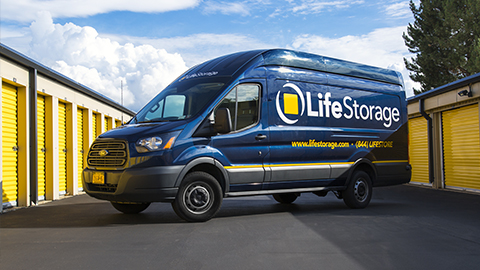 REIT.com: Geographically speaking, how has the acquisition impacted the company?
Rogers: We're at about 650 stores and we're truly coast-to-coast now from Maine to California. We've typically done acquisitions in (combinations of) two or three or four properties at a time. This is an unusual transaction for us to take 90 down in one fell swoop, but we felt it was a very high quality portfolio, with 55 of the stores in markets where we already had a presence. We got into two markets, Sacramento and Las Vegas, right off the bat with scale.
REIT.com: How do the new Life Storage properties compare with your existing portfolio?
Rogers: They're a significant upgrade. One of the ways we measure the quality of a store is the density of the population within three miles. Our existing portfolio has a population density of about 80,000 [people], whereas the Life Storage properties are on the order of about 122,000.
Our average store does about $800,000 in rental revenue per year. Life Storage does about $1.15 million per year. Our portfolio [age] averages 19 years per store, versus 12 years for Life Storage. The Life Storage facilities are younger, bigger and in much denser areas. Those are three reasons why we liked the portfolio so much.
REIT.com: Would you be interested in any additional acquisitions?
Rogers: We're going to take a breath here and digest these for a couple of quarters at least and make sure that everything is integrated well. The market is certainly a bit pricey, but there are quality properties for sale.
We'll continue to add to the markets that we have a presence in already. We like almost all of the markets we have, so we'll continue to grow by acquiring new stores. We're also working with developers to build new stores, and can take on other peoples' stores as a third-party management company.
REIT.com: How important is customer retention for Life Storage?
Rogers: A lot of our strategy is geared toward retaining the customer. What we want to have is a long-stay customer; we don't want to churn our portfolio. Over the course of the last five years, we've taken our tenants who have been with us for more than one year from the mid-40 percent range to over 60 percent. That's important because when a customer has been with you for a year, you can raise the rates in most markets. Our best source of growing revenues is to increase rates for existing customers.
REIT.com: Are you concerned about new supply?
Rogers: The industry is talking about 750 to 800 new stores coming online through next year, on a base of 50,000 existing stores. Occupancy across the industry is in the mid-to-high-90 percent range, so the industry can absorb some new development.
New supply hasn't been something we've worried about too much of late. It is creeping a little bit in some markets like Houston and Austin, where it's harder to put rate increases through.
REIT.com: Is the consolidation trend alive and well?
Rogers: There are about 50,000 storage facilities in the U.S. About 45 percent of those are institutional quality, so about 22,000 institutional-grade facilities in all. The big guys have about 5,000 of the 22,000 properties, so our penetration into the market isn't that deep yet; there's room for more consolidation.
There's a long time to go before we run out of stores to buy.