A major vertical expansion is underway at Columbia Property Trust Inc.'s (NYSE: CXP) 80 M Street property in Washington, D.C., which the REIT says is the district's first commercial office construction project to rely primarily on mass timber and glass.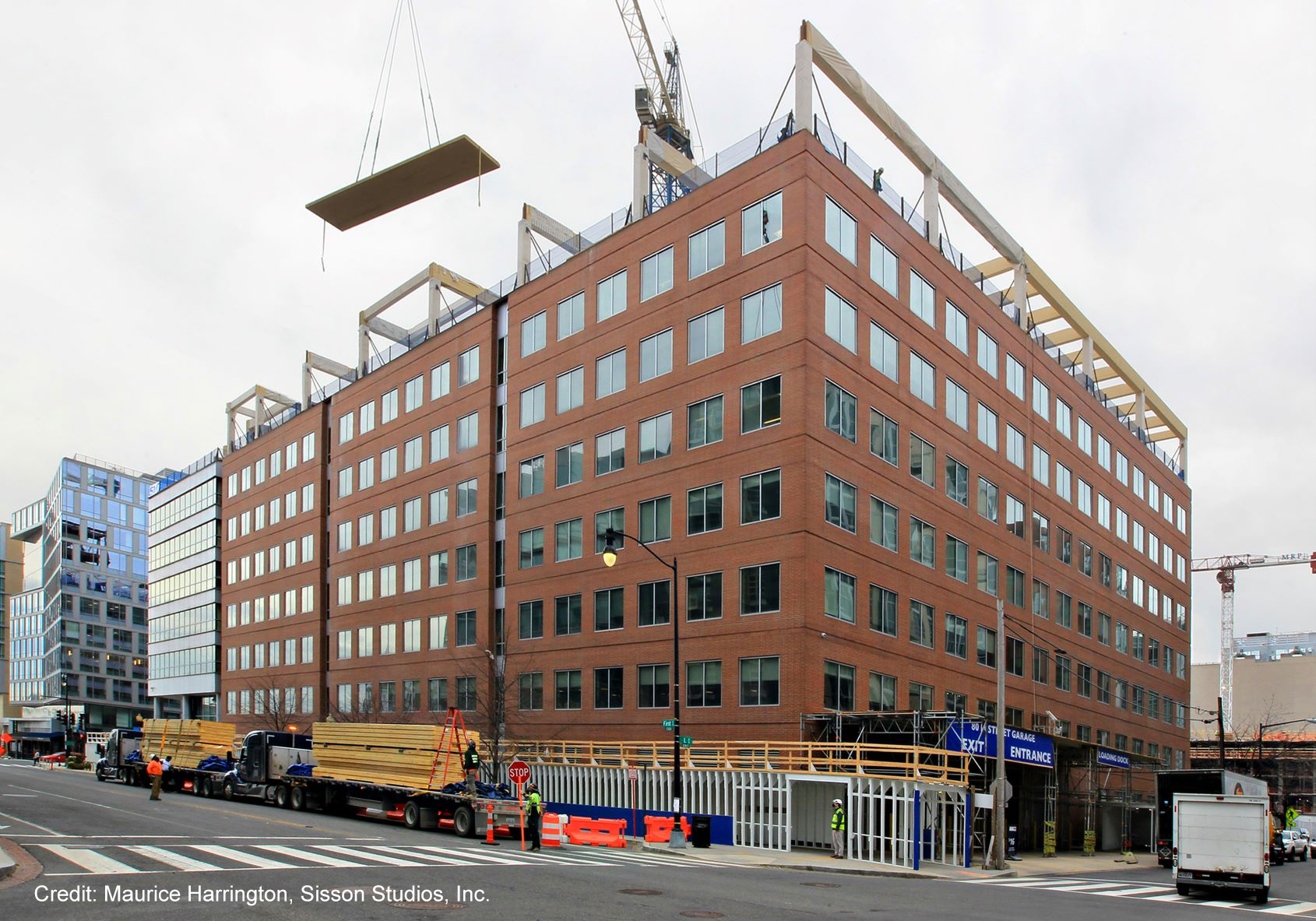 Mass timber is comprised of multiple solid dimensional wood members glued together, which provide exceptional strength and stability. Mass timber design is considered to be a low-carbon alternative to traditional steel, concrete, and masonry building and allows for increases in height with minimal impact on the overall structure. Mass timber projects can also be constructed faster and with less on-site labor.
Over 1,380 tons of mass timber used in the project were sourced from the forests of the Pacific Northwest and Eastern Canada. The largest of the giant wood planks measures 32 feet long and weighs more than 6,300 pounds, according to the REIT.
The expansion is scheduled for completion in 2022. Columbia says it will "create the ideal environment for companies seeking creative, light-filled, sustainability and wellness conscious space" in the Capitol Riverfront neighborhood.
"With its singular blend of innovative design, enhanced sustainability and wellness features, and modern efficiencies… we believe it is the most uniquely attractive workspace available in the D.C. market at this time," says Paul Teti, executive vice president of national real estate operations for Columbia.
The mass timber's biophilic design—which seeks to connect building occupants with the natural environment—will result in 15-foot ceilings and 12-foot windows. Columbia says this combination will bring double the amount of light penetration possible in standard Washington, D.C. office space.
Columbia is working with architecture and design firm Hickok Cole; general contractor DAVIS Construction; construction firm Katerra; and engineering firm Arup to construct the expansion space, which will consist of two new floors and a habitable penthouse atop the existing eight-story office building.