Global Net Lease, Inc. (NYSE: GNL), which began trading on the New York Stock Exchange June 2, plans to increase its exposure to European net lease assets by taking advantage of the current supply-and-demand imbalance in the region.
Formerly known as AR Capital Global Trust, Inc., Global Net Lease is a REIT focused on sale-leaseback properties in the United States and Europe. Its portfolio of more than 300 assets is located across five countries and includes 79 tenants and 35 industries.
The company targets "mission critical" assets, or high-quality properties with investment-grade tenants, said Scott Bowman, Global Net Lease's CEO, in an interview with REIT.com. The assets also have to be strategically important to those tenants, both in geographic terms as well as the level of investment that tenants have already made in the properties to structure them specifically to their business.
About 60 percent of the REIT's assets are located in the United States, with the remaining 40 percent in Europe. Bowman said he expects to see an equal distribution of assets between the two markets within the next couple of years.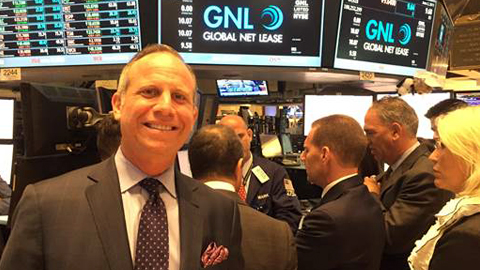 Competition for Assets in Europe Muted
"We see tremendous opportunity in Europe," Bowman said. "We have become the buyer of choice because of the amount of capital we have already deployed and the high-quality team on the ground that has a wealth of experience in the European net lease business."
"We have a strategic advantage of being able to source and secure deals that are highly advantageous and accretive to our shareholders," he added.
Global Net Lease's prime focus in Europe is centered on Germany and the United Kingdom, although the company also owns assets in the Netherlands and Finland. Further expansion in Europe will likely focus on Luxembourg, Belgium, France and Scandinavia, according to Bowman.
Andrew Winer, the firm's president and chief investment officer, said Global Net Lease has been fortunate in regard to the pursuit of European assets.
"The competition, oddly, is a lot less than we thought it would be at this point in the cycle," he said. While money is flowing into other sectors of the European real estate market, the net lease sector has been "unattended to," according to Winer.  Although a few U.S. net lease companies compete for assets in Europe in addition to local European property funds, they're not consistent, large-scale buyers, Winer said.
In addition to lower demand for net lease assets in Europe, Global Net Lease also looks to benefit from the high level of real estate assets that still remain on corporate balance sheets in the region. According to Winer, German companies hold about 75 percent of their real estate assets on the books. That number is around 50 percent in the U.K. In the U.S., however, the level drops to "the low twenties," Winer added.
"Europe is probably 25 years behind us in terms of the use of corporate sale-leaseback as a way to monetize their assets for non-core parts of their businesses. The economic disruption is causing that to come to a head more rapidly," Winer said.
"The more assets we buy, the more that we get out there, the more interest we pique with the folks who are responsible for real estate on the balance sheets of these companies," Winer added. "We see a good window of opportunity in the near future of assets like these coming for sale."