NexPoint Residential Trust's (NYSE: NXRT) public listing on April 1 capped more than a year of rapid growth in the multifamily REIT's portfolio.
The Dallas-based REIT focuses on the middle-income rental sector. Matt McGraner, an executive vice president with NexPoint, spoke with REIT.com about the company's strategy and the outlook for its properties located in the Southeast and Southwest of the United States.
REIT.com: How did NexPoint evolve to where it is today?
Matt McGraner: In late 2012/early 2013, our founder, James Dondero, took over a closed-end fund, NexPoint Credit Strategies Fund, which was a credit-focused yield fund targeting equities and debt. At the time, he didn't love the yield we were getting in the public market, but he really liked real estate, so we came up with the idea of forming a private REIT underneath a closed-end fund.
We bought a few triple-net retail deals, then, late in the third quarter of 2013, we focused on the value-add multifamily space and closed on the first acquisition—an apartment complex in a Dallas suburb. From there, we've acquired about 41 properties, or about $1.1 billion in assets. We've grown pretty significantly.
REIT.com: Do you expect the pace to slow?
McGraner: Absolutely. We did most of the acquisitions in 2014. Quite a number were portfolio buys, which we like to do. It's a great way to enter a specific geography and get a wholesale discount price. We did about six portfolio transactions in 2014.
I think we'll see some acquisitions in 2015 and 2016, but they will be more opportunistic, one-off deals. We want to focus more today on developing or adding value to the properties that were bought really well in 2013 and 2014. Also, today's pricing is somewhat rich compared to the last few years.
REIT.com: How would you describe NexPoint's strategy?
McGraner:  We target garden-style, low-density apartment communities and modernize them. On the exterior, we bring in a renovated clubhouse, a Starbucks-style café, a new leasing center, a new fitness center, a resort-style pool, outdoor kitchens and dog parks. On the interior, we add hardwood flooring, two-inch blinds, brushed nickel finishes and new appliances. That allows our net operating income (NOI) to grow organically, versus going out and doing new deals. That's going to be the primary focus of the REIT for the near-term.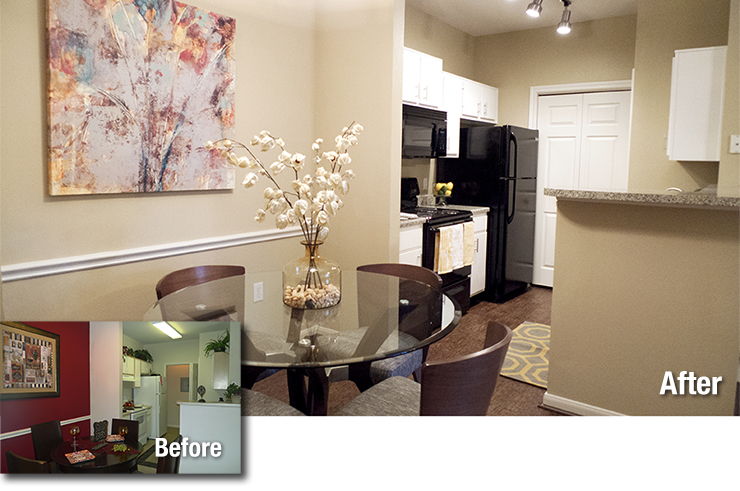 REIT.com: What sort of returns are you seeing?
McGraner:  We fund all of the planned rehab capital expenditure upfront when we close the deals, so those are all funded with equity rather than debt. We have no redevelopment risk. Once we are finished improving the units, we are usually getting anywhere from a $90 to $115 rental increase per unit, bringing our average monthly effective rent to about $780. That's about a 25 percent return on investment over the lease term. It's very accretive to continue to do these programs, and, especially since we have the capital, we're finding this is a better use of cash than buying new deals at lower capitalization rates.
REIT.com: How does your rent structure compare to the rest of the market?
McGraner: Single-family rental rates for a three-bedroom unit in our markets are anywhere from $1,000 to $1,200, and core suburban-style new development rents are $1,300 to $1,500. Infill urban core units are anywhere from $1,750 to $2,500 a month.
The delta between our rehabbed property and the next best option is so great, and yet we're still receiving a 25 percent return on the dollar spent. It's a great risk-reward profile. I wouldn't say it's recession-proof, because nothing is truly recession-proof, but it's a great model.
REIT.com: Who are your typical tenants?
McGraner: It's primarily a blue-collar type of renter. We're seeing a lot of younger workers in hospitality, teaching, construction—folks that are leaving the nest for the first time or graduating from college and trying to get their first job.
REIT.com: Which geographic markets look most promising?
McGraner: Our two largest markets are Atlanta and Dallas. We love those markets—we see them as having the best job growth and household formation for us and our strategy in the near term. They are also markets where young people are moving to. You can add to those markets Charlotte and Nashville, where we also see an influx of young renters. In August we entered a new market, Phoenix. We like that market a lot. It's like Atlanta was a couple years ago.  A lot of college graduates are staying and new jobs are being created.
REIT.com: Do you have concerns about new supply?
McGraner: While we are seeing new supply coming into multifamily, to us it sends a message that the local economy can support these new, higher rents. For us, being the lower-rent, quality-affordable provider, we like to see that investment by the bigger guys. That's starting in Phoenix and has been the case in Atlanta and Dallas for a while now.
REIT.com: Describe some of the biggest challenges you've faced so far.
McGraner: When we first started it was trying to efficiently deploy capital and get the rehabs done in a mechanical process. We've done a really good job of being able to hit the ground running on day one when we take over the property. Our property manager has done a phenomenal job of getting their processes in place, together with our asset management, to really drive value from day one. That was a difficult learning curve to get a process that was repeatable and scalable, but we've done that.
Since we've been public the biggest challenge has been telling the story. It's a great story, and everyone that listens to it likes it. It's just that we are small and new. We've only had two quarters of independent reporting, so it will take another quarter or two for investors to get comfortable with us and the strategy. We're well received because there are not a lot of other players doing what we do.
At the same time, the management team owns 15 percent of the company stock. We have cash invested in the company, and that's been attractive to investors.