Chances are, if you've been stuck in traffic or waited for a bus or subway train lately, your eye has been drawn to an advertising display created by OUTFRONT Media Inc. (NYSE: OUT).
Formerly known as CBS Outdoor Americas Inc., OUTFRONT began operating as a REIT in July 2014 following its spin-off from CBS Corp. Today, its portfolio includes approximately 57,000 billboard faces and 316,000 transit displays across the United States. Around 70 percent of the company's revenues are derived from billboards, and 30 percent come from transit.
Out-of-home (OOH) advertising revenue across the sector rose 4.6 percent in 2015 to a record-high level of $7.3 billion, according to the Outdoor Advertising Association of America. As one of three main players in the industry, alongside fellow REIT Lamar Advertising Co. (NASDAQ: LAMR) and Clear Channel Outdoor, OUTFRONT is positioning itself to tap into the growing share of the advertising market that OOH now occupies.
OUTFRONT Chairman and CEO Jeremy Male and CFO Donald Shassian, recently spoke with REIT.com about the development of the OOH sector and the role they see for OUTFRONT in a changing advertising landscape.
REIT.com: What are the main changes you've seen in the OOH market?
Jeremy Male: If you look back from 1990 to 2015, you've had national GDP growth of about 2 percent and OOH growth of about 4 percent. The share of the total media marketplace that OOH comprises has increased from 3.4 percent to 4.3 percent during that time.
In the last 10 years you've seen a seismic change in the media landscape. You've seen a flood of dollars going to online, internet and mobile advertising, which has really changed the picture for certain advertising sectors, such as the press and classifieds. Even when you've had that huge weight of money shifting to that online bucket, we've still continued to grow our share.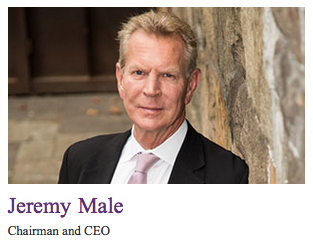 REIT.com: And is that growth sustainable?
Male: It's pretty hard to go out now and develop new OOH locations in today's regulatory environment. Meanwhile, our audience continues to expand. People are spending more time out of the home. We are reaching more people through digitizing our boards, whereas most other media, to some extent, are fragmenting. We haven't had that fragmentation; increasingly we are the media of mass reach.
REIT.com: What position do you envision OUTFRONT holding within the sector?
Male: We very much see ourselves as a leader, both in absolute terms and in terms of thought leadership and how we are trying to re-position the industry within an increasingly digital environment.
REIT.com: What impact is technology having on how you operate?
Donald Shassian: Instead of just selling locations, we're going to be selling audiences so that advertisers can target specific demographic groups where their dollars can best be deployed.
As we have more digital displays, we'll be able to sell advertising by time of day or day of the week. Technology is going to change the utilization of our assets.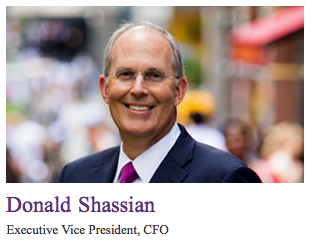 Male: We now have the opportunity to combine our assets with mobile messaging through geo-fencing our billboards, for example. You see a billboard message and then you will receive an in-app advertising message reflecting the same creative copy that's on the billboard.
REIT.com: Where is the biggest opportunity for growth coming from?
Shassian: We're hoping that technology will drive even more dollars into this industry and this company; we're competing for digital dollars that are being spent outside the OOH industry, such as social media. That's where we really think the biggest opportunity to grow is coming from.
Social media has grown exponentially. Being more data driven, more analytical and having the right digital capabilities as a company will help OUTFRONT's tenants make the decision to move some of those dollars that they are spending elsewhere into OOH.
REIT.com: Does OUTFRONT's portfolio have a particular geographic focus?
Shassian: We're focused on the top 25 designated market areas (DMAs) in the country; location is what is driving our business. We've got some great assets and are continuing to enhance and expand them and extend the lease for as long as we can. At the same time, we're maintaining the underlying lease contracts for the land those structures are on at a very predictable increase.
REIT.com: Is there more potential in the local or national advertising market?
Male: The top 200 national advertisers are only spending about 2 percent of their dollars on OOH. If you compare that to most other markets across the world, that's a very low number. We believe that if we can start supplying the right data and strategy, that we have the ability to go after those dollars. We believe that over the medium-term, national advertisers will be a higher-growth area than local advertisers.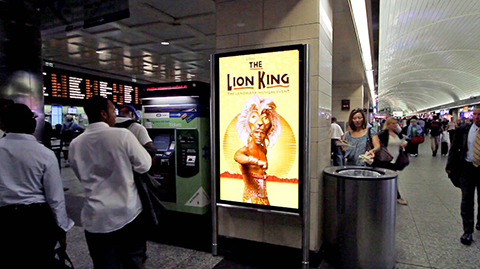 REIT.com: Are there particular advertisers who are fueling your growth?
Male: Apple is our largest advertiser and is spending around 10 percent of its ad dollars on OOH. Netflix is spending over 10 percent, as is Google. It's a great validation of how relevant our medium is in today's media landscape.
REIT.com: What is the outlook for acquisitions?
Shassian: About 35 percent of the business in this country is owned by smaller, independent companies. We did one large acquisition in 2014 and a number of smaller tuck-ins since then. There continue to be opportunities for those, but we are truly trying to be smart and selective. We're focused on certain markets that make sense and where there are expense and revenue synergies.
Male: We've got a very strong asset base, particularly in New York and Los Angeles. In general, if there are independent assets within those top DMAs that make sense, we'd be comfortable adding in those areas.
We recently completed the sale of our Latin American assets, which is evidence of a slight redeployment of capital out of international markets, where we were a little subscale, and where the assets could not be included in the REIT.