Since becoming a public company 20 years ago, Post Properties Inc. (NYSE: PPS) has witnessed a plethora of changes in both the apartment industry and the needs of its residents.  
The Atlanta-based REIT, which was founded 42 years ago, held its initial public offering on July 15, 1993, at a price of $25.50 per share. The IPO generated proceeds of $234.6 million. As of July 15, the stock price is double that amount at $49.62. Post Properties currently has more than 20,000 apartment units in 61 communities.
Some of the major changes for Post Properties center on an apartment's location, new technology and upgraded amenities, according to Dave Stockert, president and CEO of Post Properties since 2002. He said location remains a big driver of apartment choice and added that residents want to be near their places of employment, restaurants and night life.
"One change is a trend of our younger, well-educated customers to increasingly want to live in town in in-fill locations," Stockert said. "They want to migrate back to city centers. We had a lot of suburban flight in the 1970s and 1980s. In the 1990s that trend began to reverse and gained momentum as city center-type space become more attractive. That trend will continue."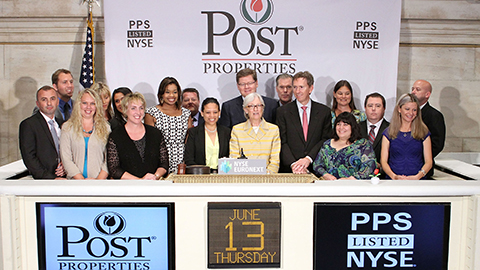 Technological Transformation
Stockert also said technology has had a large impact on his company and the entire apartment industry in the last two decades. For example, technology now helps dictate how the apartment units are priced.
"We use pricing models similar to hotel and airline pricing," Stockert said. "That is something that's changed the way we approach our business. Technology has also changed the way we interact with current and prospective customers and the way we market our apartments. It's now all about Internet marketing and mobility."
Post Properties launched MyPost, a smartphone application for its residents, in April 2013. The mobile app allows residents to do things such as pay rent, submit maintenance requests and view service history. Additionally, the company launched a new website that allows apartment hunters to search and compare units across multiple properties within various markets.
Competing with Condos
Stockert said the growth in popularity of condominiums caused Post Properties to become more aware about the look of its units.
"As we came into our own, we've become more competitive with condos," Stockert said. "Today's units typically have stainless steel appliances, granite counters and hardwood floors. The condo wave really raised the bar on high-quality apartments a lot. The whole apartment industry has been a little bit upgraded in the last 20 years."
Pools and fitness centers are still important amenities, but residents today desire the latest aerobic equipment and workout machines with individual television screens, according to Stockert.
"We've also seen a shift away from community centers that were popular back in the day to now more of a cyber café setting," he said. "It's a lot more like Starbucks with single-serve coffee machines and snacks, outfitted with comfortable furniture and Wi-Fi connectivity. People want to congregate and be with other people, but not necessarily engaging."
Looking ahead, Stockert said the company will continue to focus on high-quality apartment communities. Stockert credited the fact that Post Properties has always branded its communities with building loyalty. He also noted that Post Properties has benefited in the last 20 years from the discipline and transparency required of public REITs. 
"Being a public company certainly sharpens your focus and the way you operate," he said.