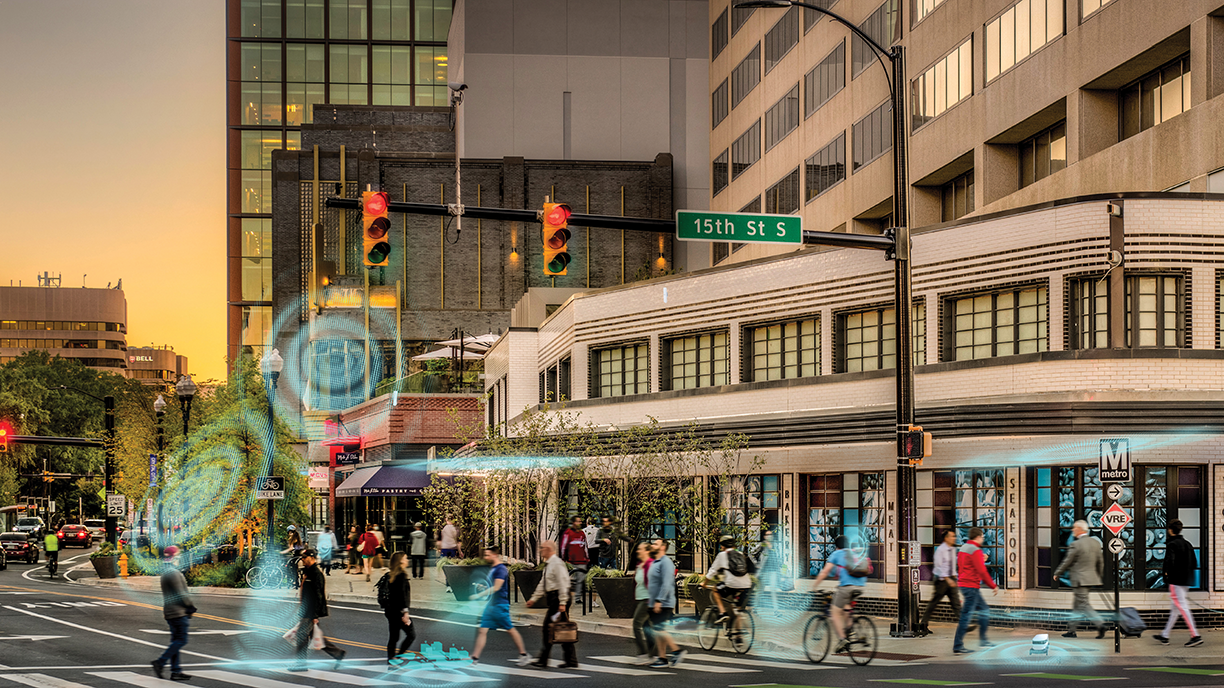 In the competitive world of commercial real estate leasing, providing robust connectivity to office tenants, apartment residents, and hotel guests is an essential requirement. But as technology improves and expectations for speed and security increase, property owners must invest in digital enhancements.
At National Landing in Northern Virginia, an urban submarket anchored by Amazon's second global headquarters, the Pentagon, Boeing's global headquarters, and Virginia Tech's planned Innovation Campus, JBG SMITH (NYSE:JBGS) and Federated Wireless, a private wireless and shared spectrum services company, recently partnered to develop an innovative digital infrastructure platform.
"At National Landing, we're creating the nation's first converged digital infrastructure platform," says Adam Rashid, senior vice president and head of smart cities and digital infrastructure at JBG SMITH. "The components of the platform often exist as silos, so what's unique about this is that we're planning everything holistically. We're building all the components as one system, and we're operating them as one system."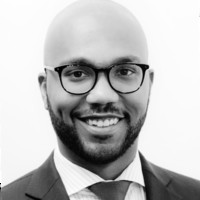 National Landing's infrastructure includes a neighborhood fiber network, edge data centers, indoor and outdoor public 5G networks, and private 5G networks.
"5G is the next generation of wireless services that offers significantly more speed and greater capacity for consumer activities," says Iyad Tarazi, president and CEO of Federated Wireless. "At National Landing, consumers will have a choice to use a 5G wireless network to connect instead of cable. The private wireless network allows tenants to deploy their own networks and manage and control their own applications."
The partnership between JBG SMITH and Federated allows them to move more quickly than a traditional telecom company to take advantage of innovations and meet tenant needs, Rashid says.
Next Generation Technology
The variety of tenants and residents in existing and future buildings in National Landing will have access to customizable technology to match their specific needs.
"Companies are merging the two-dimensional digital world with the three-dimensional physical world and a private wireless network is a key component of that," Rashid says.
The private wireless networks and the digital infrastructure will support activities such as increased use of robotics in warehouses, sophisticated security cameras, automation in retail sites, remote health analytics, cloud computing, and AI, Tarazi says.
"In the past, building owners asked wireless carriers to extend their networks to their location and the carriers and building owners would bear all the costs," Tarazi says. "With a private network, each network owner deploys their own network, pays for it, and controls all access."
In addition, Wi-Fi networks can often be overloaded, Tarazi says. "A private network offers an empty, pristine network that also guarantees security," he says.
Digital Placemaking
There were 889 private networks worldwide in August 2022, up from 528 in September 2021, according to the Global Mobile Suppliers Association, which tracks private network deployments globally. Tarazi anticipates that more companies will demand private wireless networks as part of their lease negotiations as they become more widespread.
"A key principle of our smart cities group is 'digital placemaking,' and we see our role as similar to physical placemaking," Rashid says. "We want to enable the best-in-class services from a digital perspective so that every tenant thrives and our whole community thrives."
National Landing has the same office density as downtown Austin, Rashid points out. "We have a significant portion of both green field development and existing stock that we own and operate, so of course there's a benefit of scale that comes with that," he says. "But the types of infrastructure we've installed can be deployed building by building and different components can be installed as needed in smaller developments."
The scale of National Landing and JBG SMITH's ability to connect with partners in the project made it easier to control the entire digital platform including things like the aesthetics of the outdoor 5G network and where they placed conduits, Rashid says. "You could do this for one building, too, but to deploy it you need converged digital infrastructure such as the fiber network," he says.
Financing Private Wireless Networks
In 2020, JBG SMITH invested $25.3 million to acquire licensed CBRS (Citizens Broadband Radio Service) Spectrum from the Federal Communications Commission covering all of Arlington County and the City of Alexandria, including the National Landing submarket. The company will leverage its collaboration with Federated Wireless to monetize that investment.
"In the grand scheme of National Landing, that's a small amount of money, since approximately $12 billion in public and private investments are being made in this micro market," Rashid says.
While tenants and residents want the speed and coverage that come with 5G networks, there hasn't been a good economic model to cover a building with a 5G network, Tarazi says.
"There's only so much that operators are willing to pay for 5G and no good way for REITs and other property owners to recoup the costs," he says. Private networks offer a solution to that because the targeted model can come at a lower cost. "Owners can deploy a lower cost network because it can be targeted for the applications their tenants need, such as the specific needs of a warehouse, a hospital, or a retail site, at a similar cost to traditional Wi-Fi."
JBG SMITH can market private wireless networks to all their tenants in National Landing, while at the same time the public networks will benefit from the company's digital investments. "We can monetize the private wireless network services, but the prime benefit for us is that the digital innovation helps us attract and retain tenants, which in turn increases the value of our properties," Rashid says.
Tenants and Private Wireless Networks
Perhaps one of the most enticing aspects of a private wireless network is that it's customizable.
"A tenant can choose to extend their private wireless network over all of National Landing, a single office space, or an entire building," Rashid says.
At National Landing, approximately 130,000 square feet of new office leases were signed just between March and November 2022, in part because of the attraction of the 5G private wireless network and digital infrastructure available at the development, Rashid notes.
Four years ago, JBG SMITH surveyed business development and team leaders at 125 companies to ask them what was important to their choice of a new location for their offices. "The first thing was availability of talent, but the second was connectivity. That validated our proposition that they need not just reliable Wi-Fi, but they want robust digital infrastructure to build their business," Rashid says.
Federated makes it easy for tenants to set up their networks with one click or one phone call, according to Rashid. "All the component parts make it easy for an office or a retail site and they can make their network as narrow or as wide as they want," he says.
"Tenants can control their own network and integrate it with the cloud solutions they choose," Tarazi adds. "They can integrate it with the devices they use and make innovations with their own IT departments."
While most 5G networks are more secure than regular Wi-Fi, a benefit of private networks is that tenants can control access and lock off their network, Tarazi notes.
"At National Landing, we of course have the tailwinds of Amazon and the Pentagon, but clearly this is a tumultuous time in the office sector and we want to differentiate our office space," Rashid says. "We want to get ahead of digital innovation and be agile and nimble enough for future innovations. We also want to enable digital services that employees will need to go to the office for and get something they can't access at home."