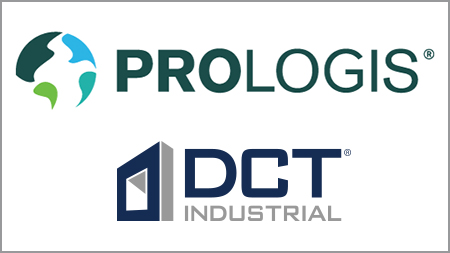 Prologis, Inc. (NYSE: PLD) will acquire DCT Industrial Trust Inc. (NYSE: DCT) for $8.4 billion in an all-stock transaction including debt, the two companies said April 29.
Under the terms of the agreement, DCT shareholders will receive 1.02 Prologis shares for each DCT share they own. That represents almost a 16 percent premium over DCT's closing share price of $58.75 on April 27. The transaction is currently expected to close in the third quarter of 2018. The boards of directors of both companies have unanimously approved the transaction.
"For some time, we have considered DCT's realigned portfolio to be the most complementary to our own in terms of product quality, market position and growth potential," said Hamid Moghadam, chairman and CEO of Prologis. He added that the high level of strategic fit between the companies "will allow us to capture significant scale economies immediately."
DCT President and CEO Philip Hawkins noted that the transaction "underscores the exceptional quality of DCT's portfolio, platform and customer relationships." Hawkins is expected to join the Prologis board of directors.
DCT's 71 million square foot operating portfolio is expected to deepen Prologis' presence in high-growth markets including Southern California, the San Francisco Bay Area, New York/New Jersey, Seattle and South Florida.
Eric Frankel, an analyst at Green Street Advisors, commented that the transaction would expand Prologis's portfolio by roughly 15 percent to about $54 billion in total asset value – nearly five times larger than its next largest domestic peer. "The merger makes ample strategic sense as the companies own comparable geographic portfolios in the United States and also possess a similar mindset surrounding capital allocation," he said.
The deal is anticipated to create near-term synergies of approximately $80 million in cost savings, operating leverage, interest expense and lease adjustments. It also has the potential to generate $40 million of additional annual revenue and development profit in the future, the companies said.
Frankel observed that the financial success of the deal "hinges on whether scale and operating efficiencies will be especially valuable going forward for industrial owners versus other property sectors."
Matt Kopsky, analyst at Edward Jones, described the near-term benefits of the deal as "fairly neutral." However, "well-located industrial real estate has pricing power, and we believe that Prologis paid a fair price to acquire more of this."
Kopsky added that "while we are later in the economic cycle, we believe that the industrial market has a long runway given growing e-commerce related demand and the subsequent modernization of company's supply chains to accommodate for this."
According to Frankel, the deal may indicate that industrial property values in select U.S. markets have "substantial room to run higher after an already precipitous recent rise." The odds of privatization or public mergers and acquisitions for other industrial REITs trading at modest net asset value (NAV) discounts are now "meaningfully higher," he said.