09/16/2022 | by
Nareit Staff
Nareit's REITworks: 2022 Conference convened more than 300 real estate executives and REIT industry professionals Sept. 12-13. The two-day educational program focused on current issues of importance for REITs and publicly traded real estate companies in all areas of environmental, social, and governance issues. The event attracted attendees from 144 companies, including 93 member REITs, and featured almost 70 panelists and keynote speakers. Presentations featured various formats, including fireside chats, panel discussions, workshops, and roundtables. The event featured 13 sponsors, including Platinum sponsor Deloitte.
Read on for a recap of general and concurrent session presentations.
General Session: The Future of ESG Investing in Real Estate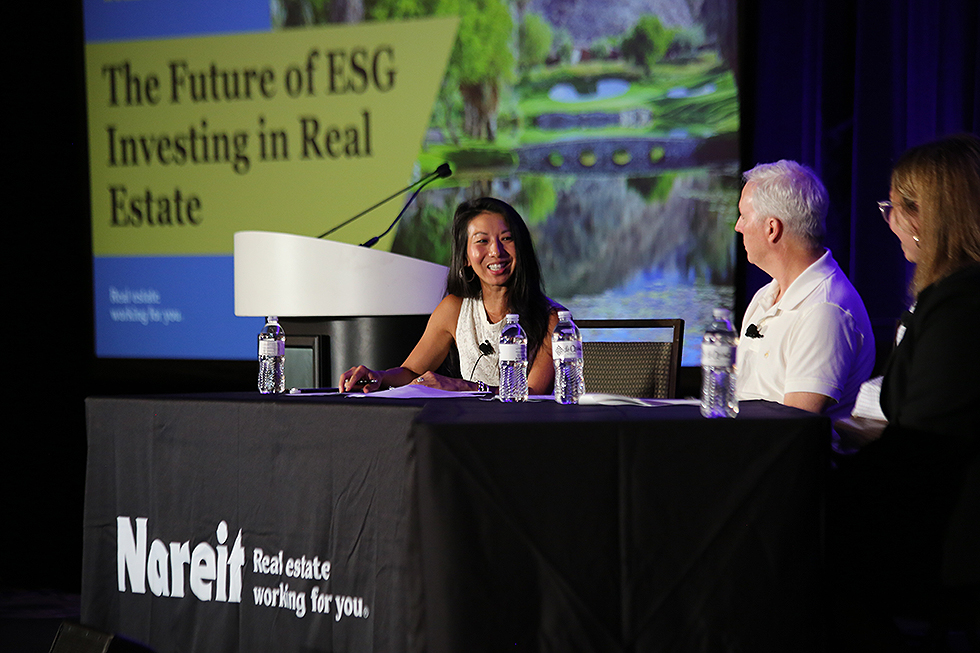 Discussions focused on investor perspectives on the evolving methodologies used to measure ESG commitments and performance, changing landscape of ESG regulation, and which environmental, social and governance topics are top of mind for REIT investors, including climate change, ESG commitments and accountability, along with diversity, equity, and inclusion. Speakers included: Christina Chiu, Empire State Realty Trust; Alaine Coffey, Green Street; Khalid Husain, Cohen & Steers; and Michael McGowan, California State Teachers' Retirement System.
What's on the Minds of FASB and SEC Leadership?
Christopher Drula, SVP financial standards, Nareit, spoke with SEC Associate Chief Accountant Sarah Esquivel and FASB Assistant Technical Director Alicia Manders about their respective standard setting priorities. Esquivel provided an update on the SEC rulemaking proposals on cybersecurity and climate change disclosures. Manders provided attendees with an overview of the feedback the FASB received on its agenda consultation and a status update on projects relevant to the real estate industry, including segment reporting, disaggregation of income statement expenses, and accounting for joint venture formations.
From Targets to Action: Net Zero in Practice

Discussions started with the difference between carbon neutral and net zero and continued with practical tips on how to implement a net zero pathway for real estate. All panelists agreed that launching a net zero philosophy and practice begins with having a robust data management system in place. Speakers included: Aaron Binkley, Digital Realty; Fulya Kocak, Nareit; Kimberly Pexton, JBG SMITH; and Dana Schneider, Empire State Realty Trust.
Leading After a Promotion
This session focused on topics including how to work through power shifts and changing dynamics, to advice on leading through influence versus authority. Brent Obleton (Hudson Pacific Properties) led a deeply informational discussion about how to lead after a promotion. Kelly Meyers (Macerich) and Colleen McKeown (Prologis, Inc.) lead attendees through how to communicate effectively with your team, telling your leadership story, and how to create a space for others once you've gained a leadership role.
Climate Change Disclosure and SEC Proposed Rule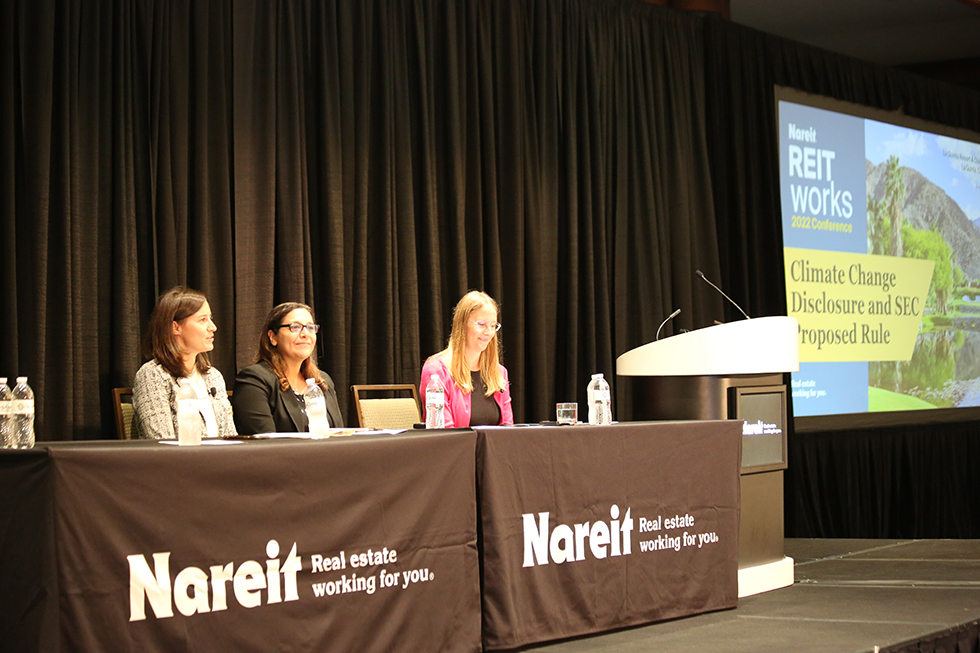 Panelists discussed how the SEC-proposed rule may impact REITs and where REITs can start to prepare what is to come. The session room was filled with accountants and ESG practitioners taking notes on various practical tips provided by the panelists. Speakers included: Kelly Meissner, Ventas, Inc.; Christine Robinson, Deloitte; and Carol Samaan, Healthpeak Properties, Inc.
Influencing Decision Makers
Tanya Foster (Equity Residential) moderated an active conversation about how to lead through influence. The panel, including Jason Fooks (iStar), Keith Rummer (Philips Edison & Co.), and Ayris Scales (Nareit), discussed what it entails to manage up, working cross-functionally to create business partners and allies, and how learning details about your stakeholders can help create a narrative to sway your audience.
General Session: The Economic Opportunities of Advancing Equity Across the REIT Industry
The general lunch session brought a fresh perspective to the economic opportunities of advancing equity across the REIT industry. Ayris Scales, Nareit's SVP of social responsibility and global initiatives, led a discussion with Nikki Lanier, CEO of Harper Slade, a racial equity advisory firm, and former leader of the local Federal Reserve board. The intimate chat engaged in a wide-ranging discussion, including on the macroeconomic opportunities of dismantling structural racism, remedying failed policies, addressing implicit biases, and separating out personal DEI approaches. Lanier's perspective on the link between inequality and macroeconomics was compelling and further supported Nareit's advancement of the industry's understanding and undertaking of DEI efforts within their companies.
SEC Comment Letter Trends and PCAOB Updates
Merryl Werber, SVP, CAO & controller, Kilroy Realty Corporation, led a discussion of SEC comment letter trends and a PCAOB standard setting update. Dustin Schultz, partner at Deloitte, indicated that the top areas of SEC comments are management's discussion and analysis, non-GAAP measures, and segment reporting. Paul Westbrook, VP & CAO, Kimco Realty Corporation, shared best practices in responding to SEC comment letters. Robyn Werner, partner at EY, reviewed the current organization and the agenda of the PCAOB. Werner summarized the trends in critical audit matters for the real estate industry, which have been impairment, asset acquisitions, and business combinations, loans and related receivables, and leases.
Addressing ESG in Real Estate Development, Design and Construction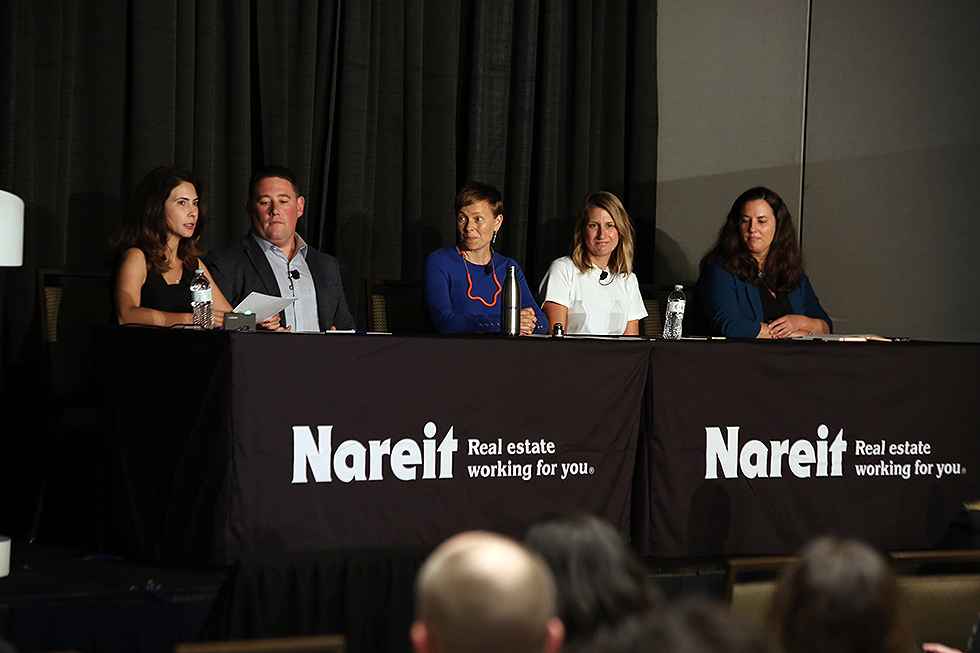 Panelists in this session discussed ESG strategies at the asset level during design, procurement, and construction of projects. These included climate resilient design and health building strategies, embodied carbon, and green building certifications. Speakers included: Heidi Creighton, Skanska USA Commercial Development; Sarah King, Kilroy Realty Corporation; Fulya Kocak, Nareit; Ben Myers, BXP; and Natalie Teear, Hudson Pacific Properties.
Ways to Create and Maintain Supplier Diversity
Nathaalie Carey led a robust discussion on using Supplier Gateway, an organization that hosts a database of more than five million women- and minority-owned businesses and enterprises. Nareit, in conjunction with other industry associations, is creating a platform for members to gain access to Supplier Gateway to create a more resilient supply chain by diversifying their vendors. Supplier Gateway leaders who were in attendance included: Ade Solaru, CEO; and Rock Irvin, chief commercial officer. Jazmen Johnson, VP, diversity, equity & inclusion, ICSC, was also on the panel.
How to Build and Manage an Effective Team in a Post-Pandemic Workplace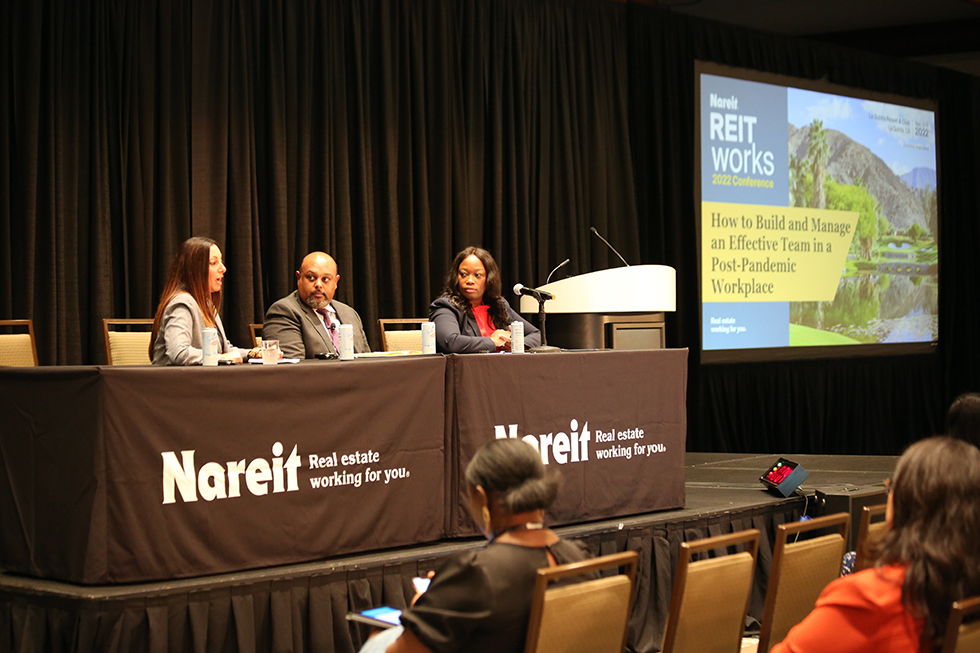 Post-pandemic, businesses have had to adjust perspective to keep up with the shifting demands of their employees. Collen Richards Powell discussed these demands and how best to navigate them to keep in line with an organization's business goals and culture. Angela Bradley and Nishit Mehta added to the discussion with advice on providing an array of benefits to teams and departments, as well as the benefits of tapping into a hybrid or fully remote workstyle. Speakers included: Angela Bradley, Cubesmart; Nishit Mehta, Grant Thornton; and Colleen Richards Powell, American Tower Corporation.
Trends in REIT Compensation Policies, Workforce Practices & DEI Strategies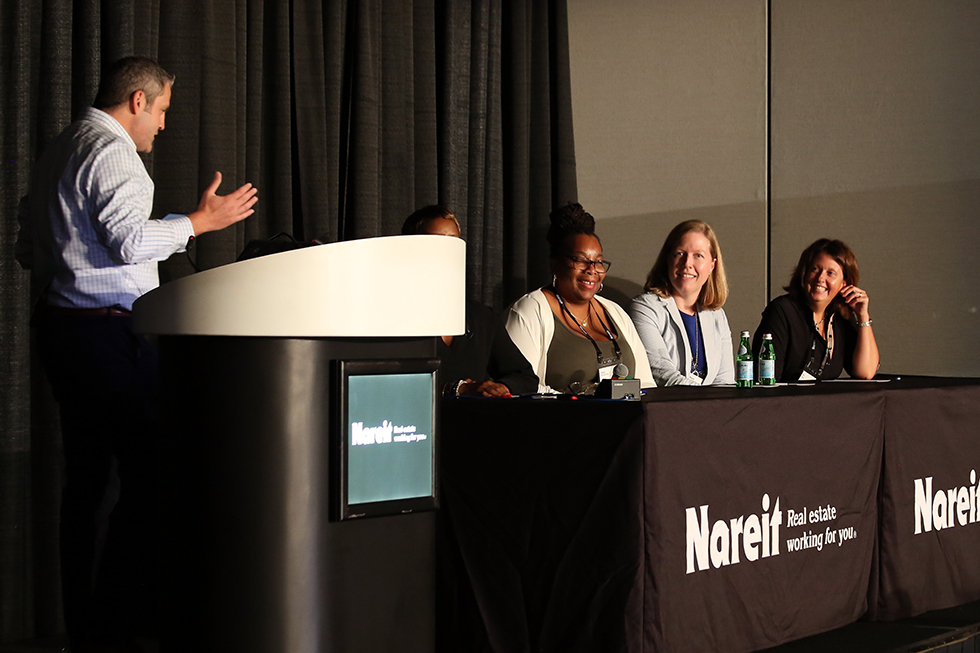 Jeremy Banoff (FPL Associates L.P.) began the session with The Weakest Link game, providing the audience with fun facts about industry trends and historical data. He then moved on to a conversation with Ayris Scales (Nareit) about the change in benefits and compensation in the REIT industry as the pandemic evolves, the effects of inflation, and the possibility of a recession. This session gave the audience a glimpse into the upcoming 2022 Nareit Compensation & Benefits Survey, which will be available at the end of September.
ESG Townhall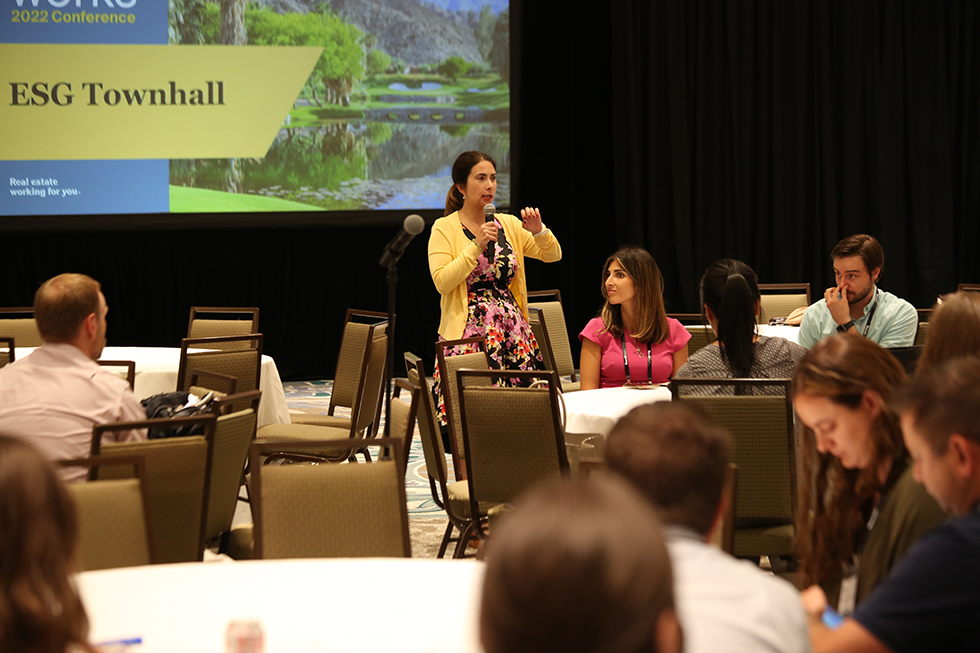 Engaging discussions and peer-to-peer best practices sharing among RESC members and other stakeholders took place in a townhall setting. Participants discussed waste and water management, biodiversity considerations, tenant engagement, ESG career development, and more.