With less than 1 percent of the nation's approximately 14 million rental homes in institutional hands,  the market for single-family REITs looks ripe for growth,  according to Starwood Waypoint Residential Trust (NYSE: SWAY) co-CEO Gary Beasley.
"It's basically a mom-and-pop industry, and there haven't been a lot of standards or brands that have emerged for people to choose from," Beasley said in an interview with REIT.com.
Current market capitalization in the sector, excluding private companies such as Blackstone's Invitation Homes LP, stands at about $6 billion. While not large, Beasley points out that listed REITs only began focusing on this sector about a year-and-a-half ago.
Beasley predicts that the single-family rental market will develop in a pattern similar to that seen in the multifamily sector, and that over time 5 percent to 10 percent of all single-family rental homes will be owned and managed institutionally.
"My sense is that there won't be as many single-family REITs, but the ones there are will be large companies," with equity market capitalization of $10 billion plus, Beasley said. He added that due to the importance of scale in the single-family sector, "it's quite likely that there will be consolidation."
Focused on Increasing Scale in Existing Markets
Starwood Waypoint was formed when Starwood Property Trust, Inc. (NYSE: STWD) announced it was spinning off its single-family rental business. Starwood Property Trust shareholders approved the spin-off of Starwood Waypoint last year, and its shares began trading on the New York Stock Exchange on Feb. 3.
The main priority at this time for the Oakland, Calif.-based REIT is to increase scale in its existing markets by continuing to buy homes and non-performing residential loans. Starwood Waypoint has secured a $500 million credit facility to help achieve this, and is considering increasing its borrowing capacity. "We think we could comfortably kick that up to $1 billion and still have less than a one-to-one leverage ratio," Beasley noted.
Starwood Waypoint's existing markets are primarily located in northern and southern California, central and southern Florida, as well as Phoenix, Chicago, Atlanta, Houston and Dallas. "We're continuing to buy in all of those markets," Beasley said.
Renovation Averages $15,000 Per Home
For the most part, Starwood Waypoint is buying homes that require renovation averaging about $15,000 per unit. "We cut our teeth buying homes in California that were often 40 or 50 years old," Beasley said. Such homes are attractive, he explained, due to their location in land-constrained areas that offer potential for rent growth and asset appreciation. The turnaround time for buying, renovating and leasing a home averages about four months, according to Beasley.
In addition, Beasley expects 2014 to be an active year for non-performing loans, which currently account for about 25 percent of the REIT's assets. "We think there'll be a significant amount of sales this year, and we'd like to get our fair share…we plan on being pretty aggressive," he said. Beasley added that he expects one-third to one-half of the REIT's purchases this year will be on non-performing loans.
Shift in Public Perception Toward Renting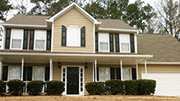 Looking more broadly at the single-family rental market, Beasley believes a shift in public perception has already occurred. "We think rent is no longer a four letter word. More and more communities are being receptive to companies coming in and renovating the worst houses on the street and turning them into the best houses," he said.
And while the level of homeownership has certainly fallen as a result of the most recent housing crisis, the decline also reflects the fact that the younger generation "doesn't feel the same need to own," Beasley said. Government data underscore this trend.  According to the Census Bureau, the U.S. homeownership rate in the fourth quarter of 2013 was 65.2 percent, down from 67.2 percent in the fourth quarter of 2009.
Starwood Waypoint hopes to attract and retain tenants not only through the quality of its homes, level of service, and by developing a strong brand identity, but also by unique features such as a loyalty program similar to airline frequent flyer points. Under the loyalty program, renters can accrue points that can be used for home customizations, cash back, free rent in December, or even a cruise.