Starwood Capital Group Chairman and CEO Barry Sternlicht is expressing confidence that the single-family rental housing sector has the potential to become a major REIT asset class, but he acknowledges that investors remain skeptical.
Sternlicht, chairman of single-family home REIT Starwood Waypoint Residential Trust (NYSE: SWAY), spoke on April 23 at the Real Estate Luminaries Series at Georgetown University. He discussed the company's foray into a new segment of the REIT market.
"We think it's a real business, but the jury's out," said Sternlicht, adding that he expects the housing market to see four to five years of "good growth" going forward.  Sternlicht is also keeping an eye on whether Blackstone Group LP decides to launch its Invitation Homes business into the public market. He expressed the view that Blackstone would likely want to assess Starwood Waypoint's success in the public market before making a decision.  "We're their little guinea pig," he said.
While single-family homes are a new area of interest for Sternlicht, he has a proven track record when it comes to hotels. He reflected on the nature of the hotel business.
"Hotels are a good asset class, but they're volatile creatures," he said. "It's important to know how to differentiate yourself."
Turning to the broader global economy, Sternlicht offered a cautious view:  "I don't see robust growth anywhere."
Sternlicht said he was "very surprised" by the weak level of retail sales over the Christmas holiday season, and he stressed that muted U.S. consumer spending is stifling growth. With regard to specific geographic areas, Sternlicht is avoiding investment in China and France, but he favors Latin America and Eastern Europe.
Panel of Global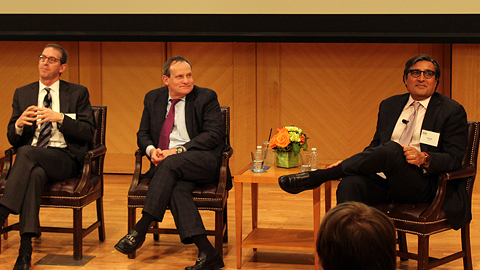 Investors Highlight Challenges in Finding Opportunities
Sternlicht's cautious outlook for global investment was echoed by another panel of investors at the Georgetown event.
Adam Metz, head of international real estate for global alternative asset management firm Carlyle, said the most challenging aspect of investing in the U.S. today is understanding how far the real estate cycle has progressed. GreenOak Capital founder and partner Sonny Kalsi agreed, adding that investors are going through "a very nervous time."
Ron Kravit, head of real estate investing with Cerberus Capital, remarked that U.S. real estate "is priced to almost perfection," and in many cases, prices are beyond peak levels seen in 2007.
"The U.S. is a tough market," he said. "You have to be very judicious."
Opportunities still exist in Europe, "but that window is closing," Kravit added."There's still a lot of clean-up to do in Europe," he said. "We'll continue to focus on that, but it is getting competitive."
Metz agreed that "great value" is hard to find in the U.S., while Europe is a "hot spot." However, he stressed that "there's not really one story throughout Europe."
Kalsi added that his concern with Europe is based on his assessment that the region is "equally or more competitive that the U.S."
"It's hard to have conviction in Europe that the market's going up," he said.