Crowds gathered along the Benjamin Franklin Parkway in Philadelphia this month to catch a glimpse of Pope Francis probably didn't notice them, but 37 small cell nodes, or wireless antennas, located along the papal parade route were helping their smartphones connect to the rest of the world.
For Crown Castle International Corp. (NYSE: CCI), the Pope's visit capped months of work to upgrade wireless capacity in the area by installing the network of antennas attached to streetlights and connected by underground fiber optic cable to a hub. According to Mike Kavanagh, president of small cell for Crown Castle, the proliferation of small cell technology throughout all major cities, as well as more secondary cities, is the "next evolution" in wireless networks. "Towers are still in place, and we are still building towers, but in capacity areas and dense metro areas, small cells are particularly effective," he said in an interview with REIT.com.
Growing Small Cell Network
Three wireless carriers – Verizon, AT&T, and T-Mobile – signed on for Crown Castle's small cell network in Philadelphia. Crown Castle acted as a neutral host for the carriers, Kavanagh explained, creating an overall design for the project and working with the city to get it implemented. The company's investment totaled between $5 million and $10 million.
Kavanagh notes that the infrastructure, which has room to accommodate a fourth wireless carrier, is permanent and will allow the city to handle future events, including the 2016 Democratic National Committee convention.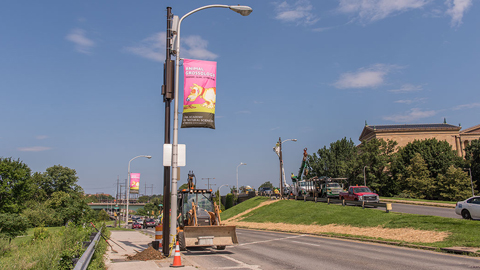 Crown Castle has installed approximately 15,000 small cell devices throughout its markets, with many thousands more in the process of deployment. Small cell technology currently accounts for about 8 percent of Crown Castle's overall revenue, and it is growing at a 30 percent year-on-year rate, Kavanagh said. He emphasized that the growth rate reflects the participation of just two wireless carriers: "We think that when all four carriers start spending for small cell, which we believe they will have to do, it puts us in a pretty good position."
Crown Castle demonstrated its confidence in small cell technology when it paid $1 billion earlier this year to purchase Sunesys, a fiber services provider that owns or has rights to nearly 10,000 miles of fiber in major metropolitan markets across the United States.
"It's a little bit of a build-versus-buy strategy, but it gave us the advantage of having the assets and getting more of that fiber expertise," Kavanagh said. He added that he does not expect Crown Castle to make many more acquisitions on the scale of Sunesys. Going forward, he said, the focus will be on organic growth.
"We're pretty much up to scale at this point," Kavanagh said. With around 16,000 miles of fiber in total, Crown Castle is in a position to serve the needs of all the major wireless carriers, he noted.
Complementing Towers
Kavanagh stressed that the economics of the small cell business are similar to that of the tower sites. The anchor tenant on a small cell node offers a return on investment of roughly 8 percent. Adding a second or third tenant to the site can bump that return up into the range of 20 percent. "We see it as a good business and very complementary to what we are doing on the tower side," Kavanagh said.
Speaking at the Goldman Sachs 2015 Communacopia Conference this month, Crown Castle CEO Benjamin Moreland agreed that small cell is a "complementary and additive technology" to the tower model. Moreland emphasized that while there will be hundreds of thousands of small cells installed over time, the tower model still represents more than 90 percent of Crown Castle's business. "Frankly, our success depends on that model continuing, and we have every confidence that's the case."